I absolutely believe that starting a blog is one of the best side hustles for those who want to make money from home.
But what's the best way to monetize your blog?
If you are at the beginning of your blogging journey, I think affiliate marketing is a great idea to start generating income. You don't need to have a ton of content, a large social media following or a huge email list to make money with affiliate marketing.
As you create more blog content and start to grow your online audience, selling a product on your blog should be a monetization strategy that you seriously explore.
I was about a year and a half into my blogging journey before I decided to create and sell my first product–an online course teaching other bloggers how to create a lead magnet to build their email lists.
I used what I learned through months of trial and error to create a digital product that I believed would help other bloggers have an easier time growing their email lists.
Waiting until my blog was a little more established with a decent amount of blog posts and a small email list made selling a product from my blog much easier.
Had I jumped into creating a product right at the beginning of my blogging journey, I think I would have felt overwhelmed. Creating and selling a product is a larger investment of time and money, both of which I had very little of when I first started blogging.
Because I waited to implement that monetization strategy, I gained more experience, had a better handle on my blogging priorities, and was able to crank out a better product for my audience.
If you're ready to start selling products on your blog as a new revenue stream, keep reading. In this post, I'll walk you through some tips and ideas to consider as you get started with creating and selling products.
Creating Great Content and Building a Loyal Audience
You can come up with a million great product ideas to sell on your blog, but if you haven't invested the time to create great blog content or the time to create a loyal audience of readers, your products will not sell.
Creating blog content that your target audience finds super helpful and valuable is key. The tips, advice, and recommendations you offer through your blog content has to be valued enough that your readers feel a connection.
Many readers are looking for the content they read to provide a solution to a specific problem they face. They are searching to find answers to burning questions and issues that they need resolved.
Your goal should be to let the content on your blog create opportunities for you to positively impact the people who are reading it.
Your readers do not want to be sold to. They want to feel connected to others and feel like they are not alone in their struggles.
If you can make sure you have a really good understanding of who your target audience and find out what their pain points are, then it will make the process of creating good content and successful products much easier.(Note: I will touch on both of these topics later in this post.)
And in case you're wondering, there's no magic number for how many blog posts that you need to have on your blog before you start selling products.
If anything, my advice is that you focus on quality over quantity.
Related Article: 21 Super Easy Blog Post Ideas for Any Niche
Now, with that said, I will say that having a decent number of good quality blog posts that cover related topics will help you to keep your blog readers engaged and on your blog for a longer period of time.
With more blog posts, you have more opportunities to link to more related posts to continue to keep your audience captivated and learning from your content.
People make product purchases from those who they feel they know, trust, and like. Giving your readers as much valuable content as you can will increase the likelihood of them purchasing your products.
What Type of Product Should You Sell on Your Blog?
When it comes to deciding what type of product to sell on your blog, the first decision you have to make is whether you want to sell physical products or digital products.
For me, selling digital products is more appealing. It doesn't require me to keep up with any inventory, I can sell an unlimited number of products, and the instant download capability means instant gratification.
However, selling physical products on your blog can certainly be a good income source for some bloggers. Selling books, mugs, shirts, jewelry, and more can be a profitable revenue stream. Heck, I still sell physical copies of books and planners using a print on-demand service so I don't have to worry about inventory or shipping.
But because I believe digital products involve less hassle than physical products, the content below will dig deeper into to how to sell digital products and services from your blog.
List of Digital Products to Sell on Your Blog
There are a ton of variations of digital product ideas that can work for bloggers in any niche! Below are just a few digital product ideas to get you started!
Sell E-books
You can decide on a specific topic and package the information you know on that topic into an e-book. E-books can be sold directly from your blog and it's also possible to self-publish your books on Amazon.
Sell Online Courses
As I mentioned above, an online course was the first digital product I created. Online courses for business moms continue to be the main type of digital products that I profit from on this blog. Creating an online course allows you to combine text, audio, and/or video lessons to teach what you know on a particular topic.
Related Article: Best Platforms to Create and Sell Online Courses
Sell Email Courses
An email course is great digital product to sell on your blog. The content of your course can be "dripped" to the reader over the course of a few days. Convertkit an email marketing tool that easily allows you to create and send email courses.
Sell Photography
If you're into photography, you can make passive income selling photographs from your blog. You can sell your photos individually or take it a step further and sell a service where you deliver X number of photos each month to paying customers.
Sell Worksheets
Creating worksheets for your audience is a great digital product idea. You can sell worksheets that help with budgeting, parenting, exercising, blogging, etc.
Sell Video Tutorials
If you are good at demonstrating processes step-by-step, then selling video tutorials could be a great idea for a digital product. You can sell tutorials across any niche. Your tutorial might show someone how to use a specific software, how to cook a certain dish, how to DIY a custom chair, etc.
Sell Printable Planners
Digital planners continue to be popular digital products for nearly every niche! You can sell meal planners, exercise planners, self-care planners, date night planners, budgeting planners, and the list goes on and on.
Sell Access to Virtual Summits or Live Workshops
Hosting a virtual summit or live workshop is a perfect digital service idea for those who enjoy hosting events.
Sell Private Coaching
Offering one-on-one coaching or group coaching is a great service to sell from your blog. You could sell mindset coaching, business coaching, fitness coaching, etc. in weekly or monthly time blocks. You would then connect with your coaching clients via Zoom or Skype or even by phone.
Payment and Delivery Platforms for Digital Products
Before we discuss design tips for your digital products, let's talk about payment and delivery systems. Here are a few trusted platforms for selling digital products:
SendOwl easily allows you to directly sell your digital product to your audience from your blog. It's a pretty affordable tool to use with pricing starting at just $9 per month.
Podia not only hosts your digital products, but you get a complete sales funnel that allows you to capture emails, market to your list, collect money, sell digital downloads, and even upsell with additional products like online courses. Pricing starts at just $39 per month.
Gumroad is a well-known platform for selling digital products. It was made for artists and creators to sell everything from ebooks to music to courses and more. The premium plan for Gumroad starts at just $10 per month.
DPD is an easy to use digital publishing platform helping creators sell downloads and deliver content like ebooks, software, themes, music, graphics, and more. Pricing for DPD starts at just $10 per month.
This post may contain affiliate links, as we earn on qualifying sales.
Disclosure.
Although Teachable is most known for helping creators to sell online courses, the platform can also be used as a way to sell ebooks, PDF guides, private coaching, and more! Here are 7 ways to make money with Teachable.
A few things to keep in mind when choosing your digital product delivery platform:
Most, if not all, of the above platforms allow you to embed a payment link on your blog.
Most platforms allow you to accept payments via PayPal, Stripe, most major credit cards, and sometimes Bitcoins.
Be sure to look closely at the payout process. Some platforms allow you to be instantly paid out for any sales you make, while others may only release payments on a weekly or monthly basis depending on the pricing level you choose.
Pay attention to the transaction fees. Most platforms charge a small transaction fee for using their service. Those fees can add up.
How to Design a Digital Product
I use Canva to design most of my digital products like ebooks, worksheets, planners, etc.
Most times I don't have the extra time or the energy to create my own design from scratch, so I use pre-made templates to cut my work effort in half.
A few places you can find pre-designed Canva templates include:
These digital product templates can be customized using the free version of Canva. If you're not up for the task of designing your product completely from scratch, these templates are a life saver.
How to Plan a Digital Product
The key to creating a successful digital product is understanding your audience and creating a product that solves a specific problem they are experiencing.
To do this, you must understand who your target audience is. Is your blogging audience marrried women? Men? What's their age range? Are they 30-something moms with kids who need help planning meals? Single dads with well-paying professional jobs who want to exercise more?
What do they want vs. what do they need? What are some of the big problems they face in life or business? What price are they willing and able to pay when it comes to a digital product? Which formats work best for them?
Here's a free sample lesson from my course Plan Your Digital Product. This 5-minute lesson discusses how to identify one problem from your audience to create a digital product that is a solution to that one problem.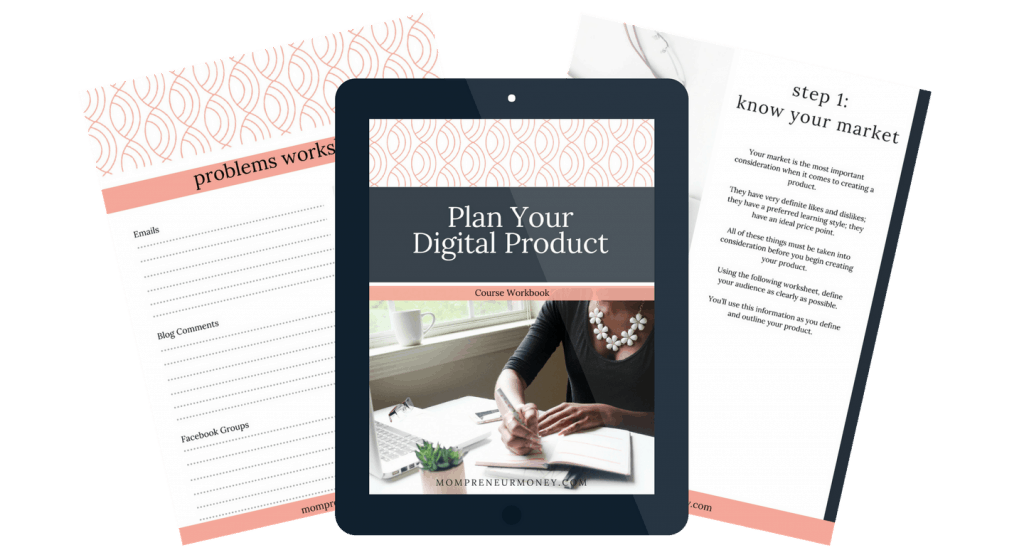 Wrapping Up
When it comes to selling a digital product or service from your blog, make sure it's on a topic you know well and that you enjoy talking about. Focus on creating content that is super valuable and creating a product that solves a problem that is experienced by your audience.
Remember to focus on providing solutions for your readers, rather than focusing on how much money you can earn from your product or service. If you follow this golden rule, you will be better off in the long run.
I hope this post has inspired you to monetize your blog by selling a product. I truly believe that all growing businesses need to make sure they are creating multiple income streams. Never put all your eggs in one basket with just one revenue stream. It's a recipe for disaster!
Whether you decide to sell a service, sell digital products or sell physical products from your blog, products are a great income stream to add to your bottom line and grow your business.
How to Sell Digital Products on Your Blog
Pin for Later!
Keep Learning:
How to Market Your Side Hustle
How to Start Affiliate Marketing