How to Start Affiliate Marketing
If you are a new blogger and you want to make money from your blog, affiliate marketing is the best income source to start with.
When I first started blogging, I could not believe  there were bloggers making thousands of dollars each month without creating a single product of their own.
Honestly, it wasn't until I received my first affiliate commission of $65 that I truly began to see how affiliate marketing could be a substantial portion of my online income.
What is Affiliate Marketing?
A simple definition for affiliate marketing is the practice of promoting products or services created by other individuals or companies and receiving a commission on any sales that you make.
In my opinion, affiliate marketing is one of the best income sources for bloggers in any niche.
How Does Affiliate Marketing Work?
Here's a simple layout of how affiliate marketing works:
You sign up to be an affiliate partner for a particular product.
You get access to a unique affiliate link for that particular affiliate product.
You then take the affiliate link and embed it within blog posts, emails, social media posts, etc.
Your unique affiliate link has a tracking code within it. When an individual clicks on that link (and eventually makes a purchase), you receive a commission for referring the sale.
When I have a good experience with a product or service that I use on my blog, I always look into joining the affiliate program of that product and sharing it with my readers.
It's typically a very natural flow for me to promote an affiliate product. I can speak about the benefits from a first-hand perspective, explaining how I use the product and why I like it.  Sharing my personal experience helps to build credibility for the product, and makes the sale more likely.
How Much Money Can You Make with Affiliate Marketing?
I Googled "How much money can you make with affiliate marketing?" about a million times when I was first getting started. Just knowing the potential earnings from this income source motivated me to learn more about affiliate marketing.
The honest answer is that there really is not a ceiling on the amount of affiliate commissions that you can earn each month.
I know bloggers making $5,000 per month in affiliate sales and bloggers making over $50,000 per month with affiliate marketing.
How much money you make from affiliate marketing is really dependent on how well you can drive traffic to your affiliate offers.
More Traffic = More Exposure = More Affiliate Sales
Promoting high-quality affiliate products that are useful to your audience will help you to scale the amount of income that you earn from your affiliate links.
How a Beginner Blogger Can Start Affiliate Marketing
Before I walk you through the steps of how to get started with affiliate marketing, let me make one suggestion. While it isn't 100% necessary to have a blog in order to start earning money from affiliate marketing, I highly suggest that you do actually have one.
Many companies and affiliate networks will not approve you to become an affiliate partner without a blog or website.
In some cases, if you have a large social media following on Facebook or Instagram, you may be able to get by without having a blog.
But for most of us, having a blog is a prerequisite for affiliate marketing. If you don't yet have a blog, start here.
If you are ready to get started with affiliate marketing, follow these steps.
1. Find Affiliate Programs for Products and Services You Already Use
I always suggest starting with a product that you already use and love. For instance, if you are a fitness blogger, you have all kinds of products and services from exercise equipment to fitness apparel to diet plans and more that you have likely purchased for yourself.
Chances are that many of these products that you use have affiliate programs. If you go to the websites of the companies that create these products, many will have an affiliate partner link that can be found somewhere at the top or bottom of their homepage.
When you click on the link, it will generally take you to a page that gives you more information about the affiliate program including the potential commission rates, a list of resources they get access to as an affiliate partner, and the process for signing up to be an affiliate partner.
While some affiliate programs will instantly approve you as an affiliate partner from the moment you complete the application process, other's have a more rigorous process for accepting affiliate partners. This process could include checking that you have a website, checking the level of traffic that your website received, checking your social media following, etc.
Unless the company specifically mentions certain thresholds that must be met before applying to their affiliate program, don't let the what ifs deter you from applying. The worse than can happen is that you get rejected and you can just try to apply to the program again at a later time.
2. Find a Good Affiliate Network to Join
As you are reading other blogs, you may comes across products that others are promoting and realize they are a good fit for your blog too!
On a blog I follow, I saw that this particular blogger was promoting a product from a website that I visit every week, but had no idea they even offered an affiliate program. So, I investigated to figure out where this company's affiliate program was being hosted.
As it turns out, the affiliate program was hosted on an affiliate network that I already had an account with.
I logged into my account with the affiliate network, found the affiliate program I was interested in, and then completed the 5-minute affiliate application.
I waited 24 hours or so for a response from the affiliate manager, then did a little dance for joy when I received a thumbs-up to join the program.
Many companies choose to host their affiliate programs through a third-party affiliate network. Knowing the best affiliate marketing platform for beginner bloggers is super helpful.
A few of the more popular affiliate marketing platforms include:
ShareASale
Amazon Associates (great for physical products)
Flex Offers
CJ Affiliate (formerly Commission Junction)
Rakuten Marketing
ClickBank
Related Article: Best Affiliate Programs for Mom Bloggers
My preferred affiliate network is ShareASale. This platform is easy to navigate and it has thousands of affiliate programs to choose from based on your blogging niche and blogging topics.
I love that ShareASale clearly lays out the details for each affiliate program hosted through it's platform. Each affiliate program page gives details such as the dollar amount or percentage that can be earned per sale, how long the cookie (aka tracking code) will last, a preview of the creative graphics you have access to use, and more! Here is an example from Daily Harvest: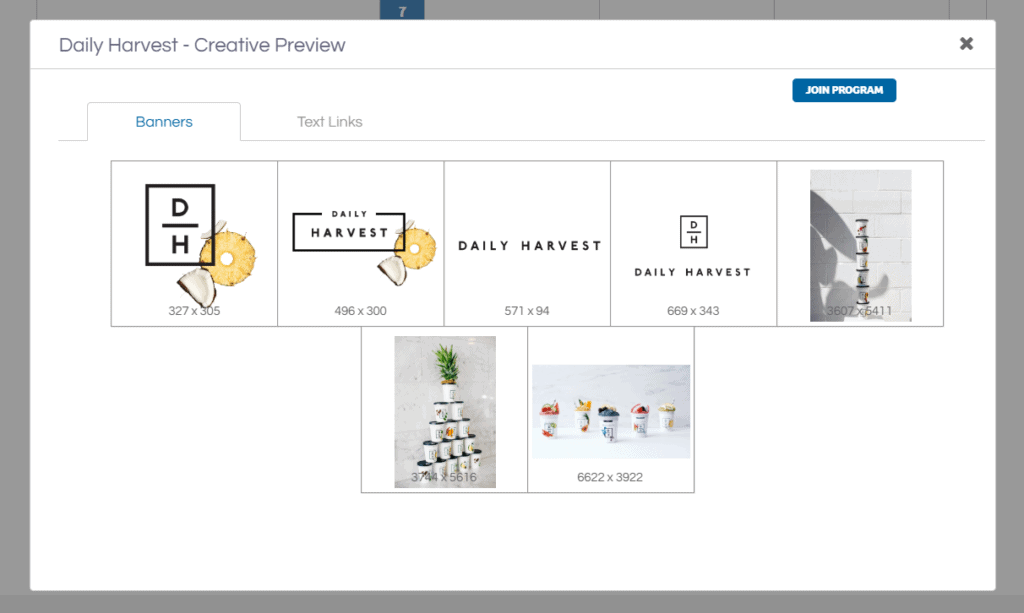 Creating an account with ShareASale is absolutely free. You can get started here.
Once you have created an account, you can spend some time browsing the different categories to see which affiliate programs might be a good fit for your. As you find affiliate programs that you like, hit the little start icon to add them to your favorites. This way after you finish browsing you will have a list of the affiliate programs you are most interested in.
From there you can hit the "Join Program" button and follow the steps to apply to each program. In general, most affiliate applications simply want to know how and where you plan to promote the products (i.e. on your blog, on Pinterest, with an email list, etc.)
Each program has their own set of guidelines so make sure you thoroughly read through the information so you know the rules.
After being accepted to an affiliate program, you'll have access to the affiliate resource area to find the affiliate links and banner images offered by the affiliate manager.
Most of the companies I work with via ShareASale include great graphics that you can use on your blog.
3. Create Content for Your Affiliate Offers
Creating content in which to feature your affiliate offer is one of the most important steps in being successful with affiliate marketing.
A well laid out blog post that is full of useful information for the reader is a great place to embed affiliate links. The key here is to make sure you are creating content that is super valuable and allows you to share your affiliate links without disrupting the natural flow.
We've all read terribly organized blog posts that are obviously riddled with affiliate links. That is a complete turnoff for most readers!
You want to make sure that the meat of your blog post is educating or inspiring the reader to take some action. Any affiliate links that you embed should be icing on the cake in terms of the information you have already provided within your blog post.
How do you add affiliate links to your content?
Adding affiliate links to your content can be as easy as copying the link from the affiliate resource area you are given access to after being approved for a particular program and hyperlinking it to a few key words in your content.
Because I like to create short affiliate links that I can track more easily, I typically use a link shortening tool such as Pretty Links. This tool allows me to brand my affiliate offers with my blog url and allows me to track that link directly from my website.
In the example below, my affiliate link for the Beloved WordPress Theme taken directly from ShareASale is a long, "ugly link" (see Target URL). I use Pretty Links to shorten the URL to http://www.mompreneurmoney.com/beloved-theme instead.
Once I have created a short link, I can insert the link within relevant content on my blog.
In the blog post example below, I've highlighted the words "choose a theme" that I want to connect to my short link. Next, I click on the link icon (circled in blue). When the information bar pops up, I add my short link and hit the blue arrow to make it stick.
What types of content work well to promote affiliate offers?
Product Reviews and Tutorials
Product reviews are a great way to share what you know about a product and include your affiliate link. Turning a written product review into a video is a great way to increase your reach and drive more traffic to your content. Here's a product review example.
Tutorials also work well for promoting an affiliate offer because you are offering a step by step guide on how to best use the product or service. Here's a tutorial example.
Resource Page
Your resource page on your blog is also a great spot to include affiliate links. Readers typically visit resource pages for the sole purpose of finding out what tools you love to use a blogger. So adding your affiliate links within the content on your resource page is a good move.
Email Content
If you use email marketing, including affiliate links within the body of your emails is a great way to promote products and make affiliate sales.
This method, however, comes with an extra caveat. Some affiliate platforms (like Amazon Associates) do not allow you to include their affiliate links in emails. Make sure that when signing up for an affiliate program you understand the rules of that program.
What are the rules for disclosing your affiliate partnerships?
When creating content that will include affiliate links, you want to make sure that you disclose this information at the beginning of your blog post.
The FTC requires that any affiliate or sponsored links be properly disclosed to your audience so that they know in advance that you may potentially earn a commission from any link they click within your content. This goes for blog posts, social media, email lists, etc.
Disclosing your affiliate relationship is pretty easy. For my blog, I add a little line at the very top of each blog post and I also share my disclosure policy in the footer of every page. Here's my example.
4. Drive Traffic to Your Affiliate Offers
The best way to increase your affiliate sales and earnings is to drive more traffic to your content.
Creating SEO friendly content will help you to get more traffic from search engines. Creating content that is good for SEO includes using keywords and keyphrases that are being searched online by readers and formatting that content in such a way that it is optimized for Google, Yahoo, etc.
Sharing your content via social media is also a great way to increase affiliate sales.
For instance, you can use Pinterest to share pins that lead to your blog post content and you can also use Pinterest to share pins that lead directly to your affiliate offers.
If sharing a pin that leads directly to an affiliate offer, you want to make sure that in your pin description area you disclose the fact that you are using an affiliate link.
Here's an example of one of my pins that leads directly to an affiliate offer. Notice that I disclose that I am using an affiliate link by including #afflink in the description area under the header.
Disclosing this information helps me to stay compliant with the FTC, Pinterest's rules, and the rules for that particular affiliate product.
What are the Best Affiliate Programs for Beginners?
As a beginner, it's good to know what to look for in a good affiliate program.
First and foremost, I like affiliate programs that have a dedicated affiliate manager. A good affiliate manager will be able to answer any questions that you have and keep you updated on the affiliate program with weekly or bi-weekly emails.
Second, I love affiliate programs that have a recurring commission structure.
A recurring commission means that once someone clicks on your affiliate link and makes a purchase, you will continue to receive a commission payment each month as long as the person remains a paid customer.
A few affiliate products that I promote with recurring commissions include:
Online Course Hosting.
Commission: 30% monthly recurring
Online Course Hosting.
Commission: 20% monthly recurring
Email Software.
Commission: 30% monthly recurring
Another good tip is to become an affiliate partner for a few high-paying affiliate programs.
Personally, I consider an affiliate program high-paying if the commission is $50 or higher.
The high-paying affiliate programs that I promote are for products/services that I have previously paid for and utilized to grow my business.
Here's a case study from one program I promote.
How to Create an Affiliate Marketing Plan
My hope is that you walk away from this post knowing that sharing affiliate links to products and services you love and believe in is a great way to make affiliate marketing work for any online business model.
Success with affiliate marketing starts with a good plan. I created an Affiliate Marketing Income Planner that walks you through a step by step process of how to make affiliate income from your blog.
If you are looking for an in-depth affiliate marketing course, the best affiliate marketing course I've ever taken is the one offered by Michelle Gardner. Her affiliate marketing course is what lead me to really take my affiliate marketing work more seriously.
Affiliate marketing can be a game changer in terms of earning money with your blog.
Affiliate Marketing for Beginners
Pin for Later!
This post may contain affiliate links, as we earn on qualifying sales.
Disclosure.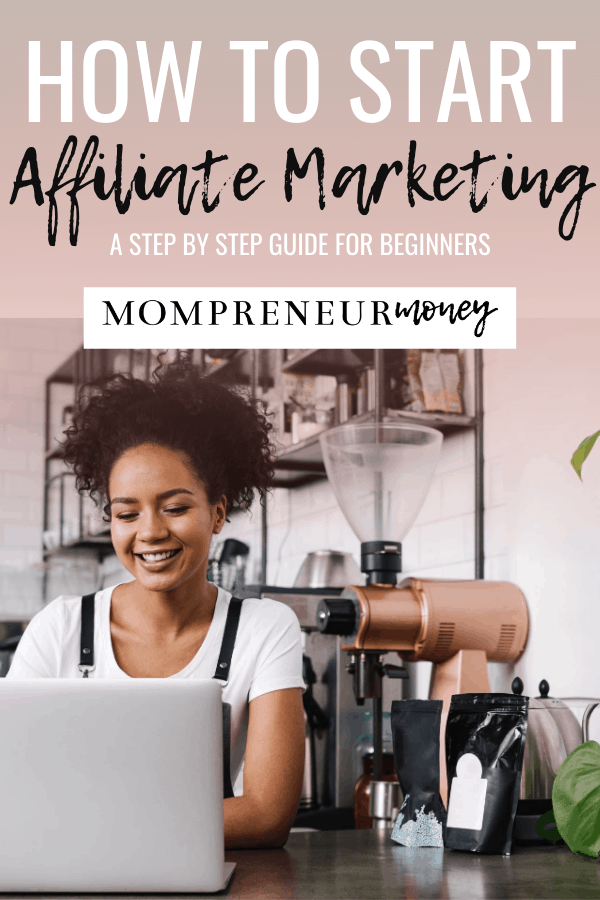 Keep Learning:
5 Reasons Affiliate Marketing for Mom Bloggers is Awesome
3 Super Easy Ways to Find Affiliate Programs