When I started my first personal blog in 2014, it was a breath of CREATIVE FRESH AIR in the midst of an underwhelming career as an unhappy, unfulfilled marketing liaison.
(If you don't have a blog yet, here's my post on how to start a blog you can monetize.)
My blog was my personal escape. I wrote about my feelings and about the life I wanted to live. It was both therapeutic and exhilarating!
The burst of creative energy I experienced was a catalyst that inspired me to eventually make blogging and writing my full-time job.
As it turns out, I'm not the only blogger whose motivation for starting a blog was to have a creative outlet.
In fact, according to the 2017 State of the Blogging Industry Report by ConvertKit, about 16% of the bloggers who responded to their survey stated that the need for CREATIVE EXPRESSION was the main reason they started their blogs.
What was the number one reason people started a blog? To become self-employed! This probably isn't surprising to most people, but it's awesome to be able to see real numbers and stats from real bloggers.
When I look at reason #4 on the list above–TO TEACH WHAT I KNOW–it really hits home for me. After having started my first blog for the purpose of creative expression, and realizing that I could turn it into an income-generating opportunity to be self-employed, teaching people what I know became my next goal.
TeachandFlourish.co is a manifestation of my desire to TEACH WHAT I KNOW. Is it a coincidence that other bloggers had the same intent? I think not! Great minds think alike, right? 🙂
The 2017 State of the Blogging Industry Report
I absolutely love that the good folks over at ConvertKit have gone out of their way to collect these amazing stats that help tell the story of the people, the habits, the goals, the struggles and the numbers behind blogging.
And if you've ever wondered why people start blogging? How often they post? What bloggers struggle with? Or how much revenue they're actually bringing home? The State of the Blogging Industry 2017 report will answer all those questions and so much more.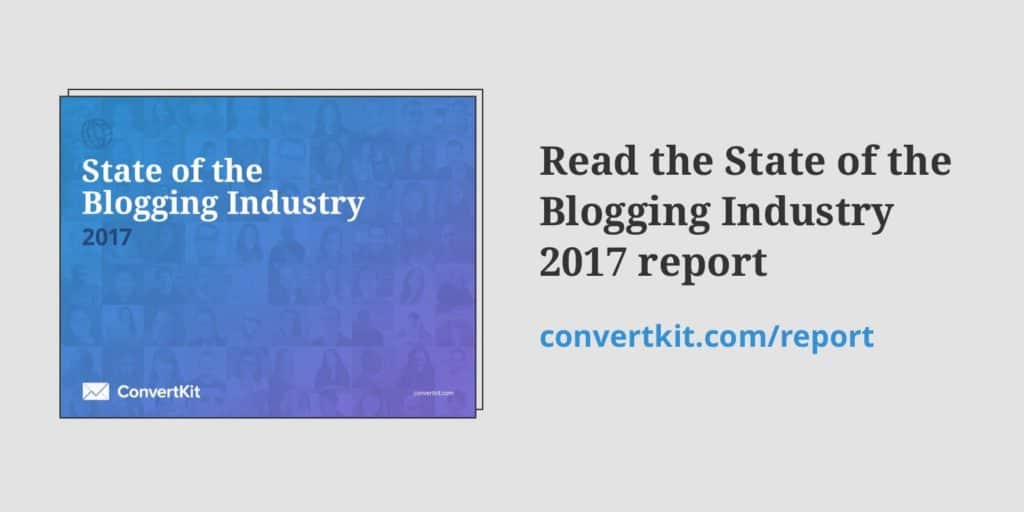 With this information, the blogging industry can continue to prove that it's a career path that really matters.
Because of this, solopreneurs like you and me get to keep pushing forward with our efforts to share our message/passion with the world, and earn money doing something we love.
I'm excited to share this report with you! It's full of amazing information, and I know you will find it as intriguing and educational as I did.
If you are just getting started on your blogging journey, this a great way to soak up some knowledge and use it to create a better blogging strategy.
And if you're a veteran to blogging, I think it solidifies that blogging is a career path that isn't going anywhere anytime soon. Let's hang on and see where this wild ride takes us!