Are you ready to create and sell online courses, but not quite sure which tools are best?
Want to know which platform gives you the best bang for your buck? Keep reading my dear…this post is for you!
And by the way, have you enrolled in one of my awesome free or premium training for new course creators?
Let's dive into how to create and sell online courses, step-by-step.
How To Create And Sell Online Courses
It's no secret that selling online courses is a fantastic way to monetize a blog or really any business.
Just a few years back, creating an online course would have been a costly production that involved purchasing expensive software–that only a technical expert could work–and possibly even hiring a videographer.
Barriers like these kept many bloggers and online business owners from pursuing course creation as a realistic monetization strategy. We simply didn't have the time, money, or expertise to pursue it!
However, times change and so does the technology we have access to! There has never been a better time to create your first online course and the process to do so doesn't have to be overwhelming.
In general, creating an online course can be broken down into four steps:
Validate Your Course Idea
You want to make sure that your course idea is actually solving an issue that your potential students will be willing to pay for. It's important to really understand your target audience and know what their pain points and problems are.
Your online course (or any digital product that you create) should solve a specific problem that your audience is facing.
A few easy ways to validate that you have a good course idea include browsing course marketplaces, searching for ideas in online forums, and checking Facebook groups for hot topics.
Free Course: How to Find and Validate Online Course Ideas
Outline Your Course Content
After you have validated your course idea, take some time to create a plan and an outline for your course content.
Course creators often want to skip this part. Taking the time to actually outline your course content will give you a better picture of how to deliver your content in the most effective way and it will help you as you record your content lessons.
Record Your Course Content
There are affordable and accessible tools that allow virtually anyone to get an online course up and running in just a few hours if you really wanted to! Choosing the best platform to host your online course is very important–more on this below!
Market and Sell Your Online Course
Once you are done with the creation process for your course, you will need to find the best way to market and sell your course.
At the end of the day, really knowing your audience is what sells your course.
Knowing their pain points is how you should come up with your course idea to begin with and knowing where to find them online (or in person) is what can help you to drive traffic to your course.
One idea to help drive traffic to your course is to create a lead magnet and use email marketing to sell your online course.
A lead magnet is a free gift that you give away in exchange for the email address of a prospective student.
The lead magnet can be something as simple as a checklist or a workbook related to your online course. You can use social media to drive traffic to your lead magnet.
Once you have the email address of a potential student, you can add them to a sales funnel. A sales funnel is just a series of emails that help to nurture your relationship with the reader by showing them that you are knowledgeable and trustworthy.
Having a simple sales funnel can help to increase your conversion rate and make more money from your online course!
---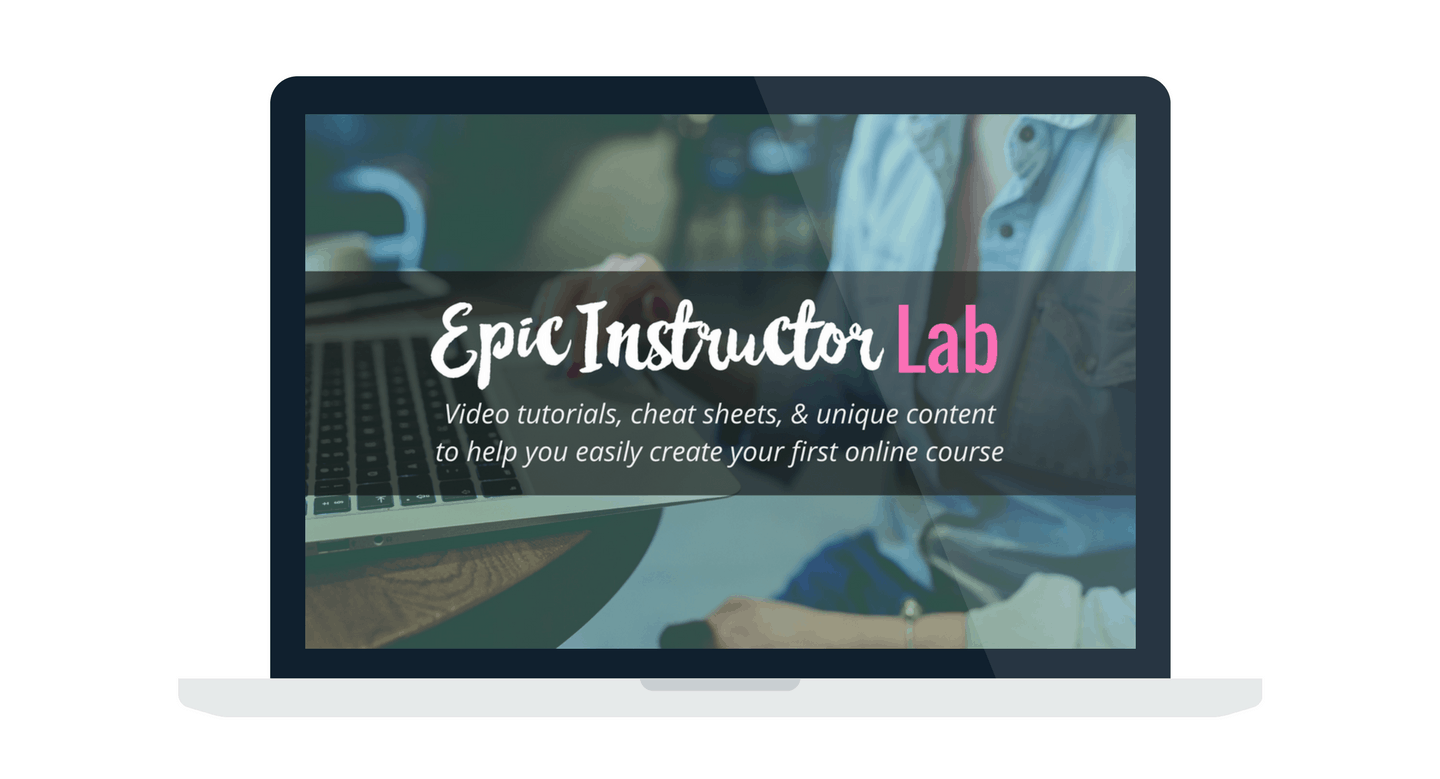 If you are looking for a step-by-step process to create your first online course,
you can take a closer look at the course framework I layout in Epic Instructor Lab.
---
Getting back to exploring course platforms, with so many options available it can get overwhelming trying to decide which one is best for you.
But no worries…I've got you covered!
Below we will explore several of the popular online course platforms that creative entrepreneurs, solopreneurs, and mompreneurs should consider if you are interested in creating and publishing your first online course.
These platforms were created with the small business owner in mind, so you will find that many of them have free trials or free options available, making the tools affordable for even a shoestring budget.
The premium plans of these platforms offer access to extra perks like live training, the ability to integrate with other website tools, ability to run your own affiliate program, and much more!
Best Platform to Create and Sell Online Courses
[toc]
---
I totally get the fact that this can be pretty overwhelming, so here's my top choice: Kajabi.
If you want to learn how to create an outline for your online course in an hour or less, you can access my training and course planning worksheets here.
---
Kajabi
Kajabi is the #1 best platform to sell online courses. It is an all-inclusive platform that allows you to create more than just courses.
You can also create a membership site, open an online store, develop a training portal, sell other kinds of digital products, send marketing emails and more.
You can choose one of several templates to start building the look and feel of your site.
Pricing plans start at $149 per month, and a 30-day free trial is available with this link.
Teachable
Teachable is a platform that allows you to publish multiple courses and enroll unlimited students.
From experience, as a student of courses hosted on Teachable and as a course creator, I can say that this platform is worth checking out if you are a beginner, or you don't have the budget for Kajabi.
Their premium plans start at just $39 per month, but you can get started with their $0 free plan.
This is the platform I had used for years, before upgrading to Kajabi. Teachable is super easy to get started. This is my platform of choice for beginners for so many reasons including affordability, beautiful page design, and ease of use for my students!
It's a great platform, and I know you will love it! 
Read More: 7 Creative Ways to Make Money Using Teachable
Thinkific
Thinkific focuses on empowering modern course creators as their mission. With their excellent customer service and free training offered to course creators, this platform is an easy-to-use option, especially for new course creators. From personal experience, I can vouch for the ease of use of this platform and the simplistic yet powerful interface it provides for students.
Thinkific has a $0 starter plan. Their premium plans begin at just $49 per month. Try Thinkific's 5-Step Blueprint and access the free webinar to learn more.
Which Thinkific plan is best?
Course Cats
This platform allows you to easily build an online course using WordPress. It's considered a no-hassle "customizable course website in a box."
You can create as many courses as you want, creating landing pages and sales pages, and you get customer support throughout the process.
They do not charge any transaction fees, however, this option does require an upfront cost with pricing starting at $59 per month or $497 annually. Course Cats offers a free 14-day trial.
CourseCraft
CourseCraft is a new addition to this list! The platform allows you to create self-paced online courses using their simple editing tool.
You can create multiple lessons, add videos, images, and downloadable file. The course layout/design is aesthetically pleasing to the eye. Pricing plans start at $0 per month. The free plan includes up to 100 participants per course and a 9% transaction fee.
(Read my 7-step CourseCraft tutorial here.)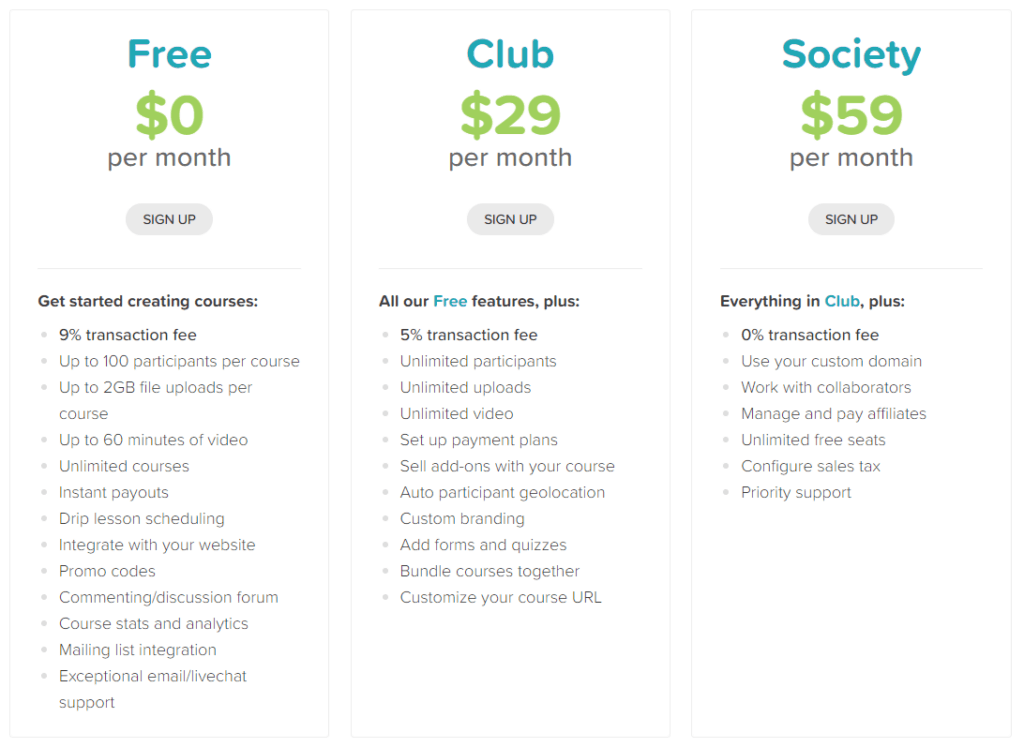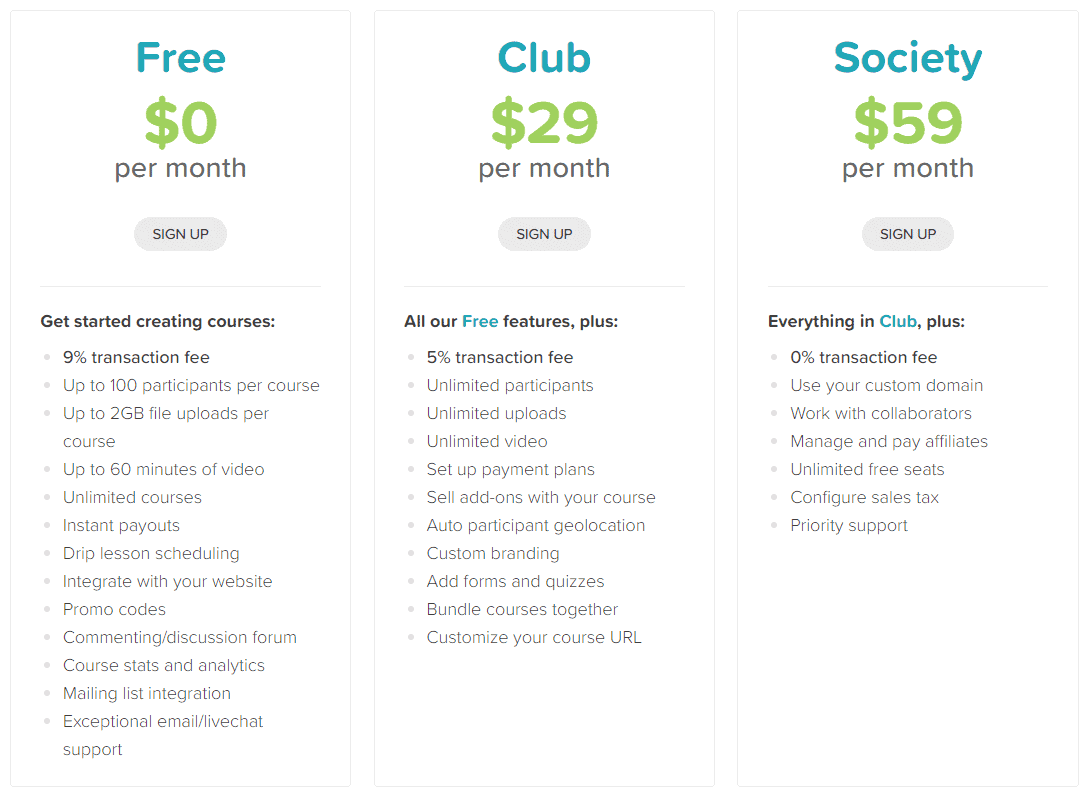 GumRoad
Gumroad is a platform that once was considered more for selling digital copies of artwork and books, but has evolved to be so much more over the years.
They offer course creators the option to publish and sell online video, audio, and/or text courses to their audiences.
Even cooler, your courses can be rented or purchased by a paying customer. You choose your own pricing either way. Pricing plans for Gumroad starts at $10 per month, and a 3.5% + $.30 per sale transaction fee is applied. They offer a free 14-day trial.
LearnWorlds
LearnWorlds is an all-in-one learning platform for creating, selling and promoting your online courses.
The platform gives you access to hundreds of beautiful templates to build out your course pages with an easy-to-use drag and drop editor.
You can create marketing funnels, white-label your online course, integrate your favorite third party tools, and more. Pricing plans start at $29 per month after the free trial.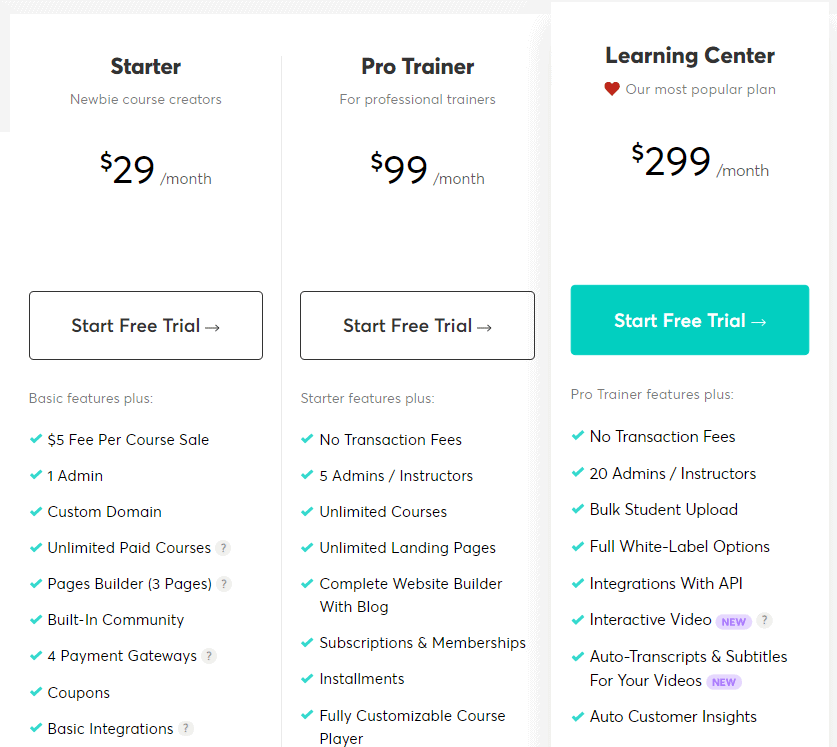 Podia
Podia is an online platform that allows you to create unlimited online courses, sell digital products, create landing pages, send emails, and drip content.
There are no transaction fees! So you keep every dollar you make.
Podia also offers free migration–so they can help you to move your content to Podia from another platform.
Pricing starts at $39 per month. They offer a 14-day free trial.
Read More: What kind of courses can you create with Podia?
Ruzuku
This platform is pretty straightforward offering course creators the option to host unlimited students and unlimited courses across all plan levels.
I've personally taken a few courses on Ruzuku and found it easy to navigate as a student, however, I've never taught my own course from the platform.
One notable difference is that some of their plans include the ability to host webinars–so that's kind of cool. Ruzuku has plans starting at $99 per month, and they offer a free 14-day trial.
Uscreen
Uscreen is an easy-to-use, all-in-one video monetization platform. The platform includes video hosting, streaming, built-in billing, monetization, analytics, end-user support, and anything else you need to succeed.
Unlike some of the other platforms, Uscreen does not charge per-user fees or revenue share per sale.
You keep 100% of your revenue and depending of the payment gateway you're using. Uscreen has plans starting at $149 per month.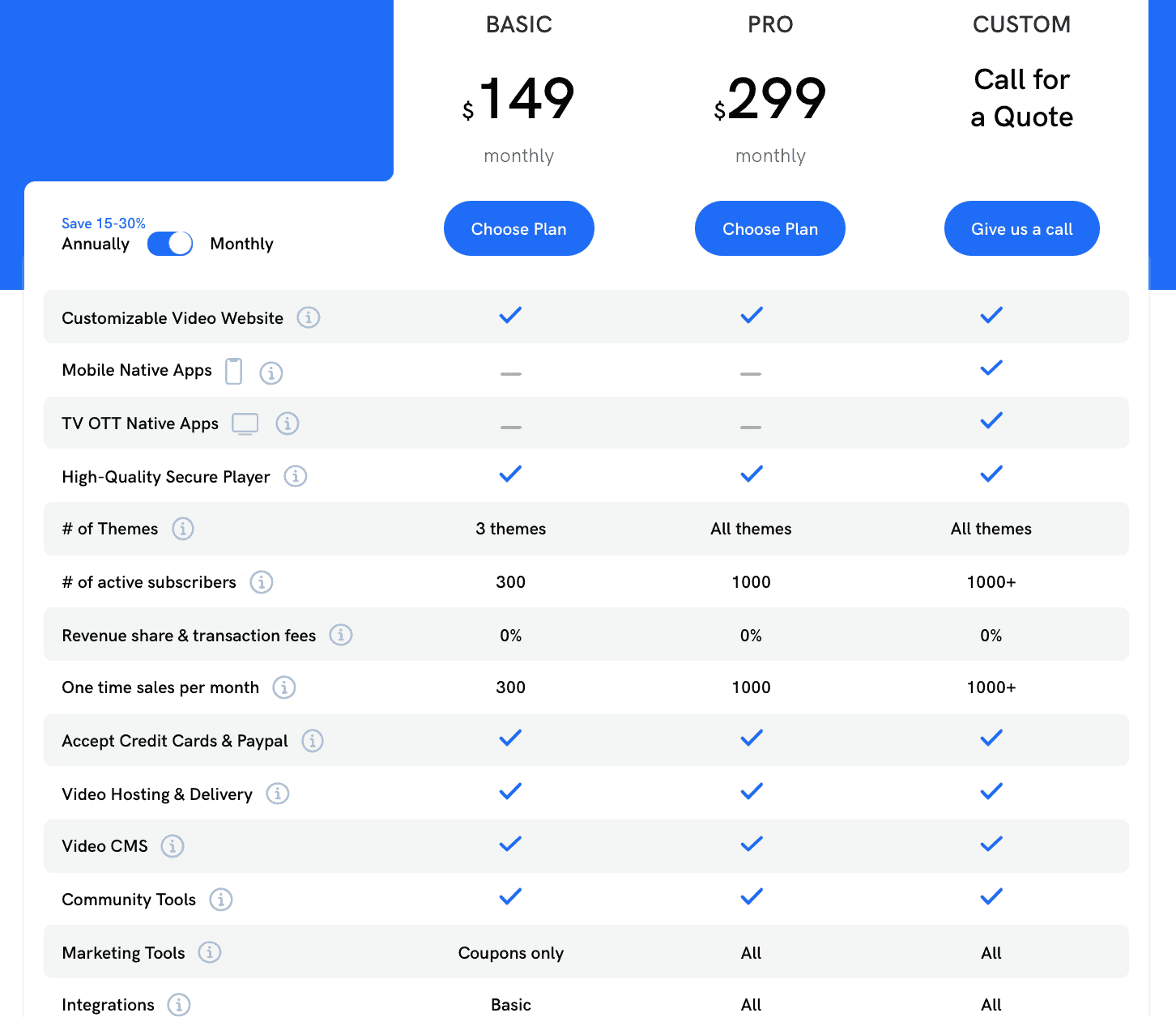 Course Marketplaces
For the options mentioned above, it's important to note that you have full control over your pricing.
This means you get to set how much you want to charge. Whether it's $20 or $2,000–you are in full control of your pricing. In many cases, you can even offer a monthly payment plan as an option to your audience.
However, when it comes to course marketplaces–like the ones listed below– they typically have a different set of rules when it comes to pricing your courses.
Normally, there is a predetermined pricing range set-up by the marketplace itself, and you will have to price your course according to their guidelines.
Read more: How to Teach a Class on Skillshare
While these pricing restrictions may not be ideal for some course creators, there is an obvious perk of publishing your course on a marketplace–built-in exposure.
Course marketplaces showcase your course based on its category, and it's possible that the marketplace will even promote your course on their homepage and to their email list. This can be a huge boost to your course visibility and enrollments.
The previously mentioned options require you to take full control of your marketing and promotion process.
Here are a few course marketplaces to check out for yourself. Remember, none of these marketplaces require exclusive rights to your course.
This means you can–and in most cases should–publish to multiple course marketplaces so you can enjoy the exposure of multiple audiences.
Listenable
Listenable is audio-based learning platforms. The audio-only courses are broken down into 7-20 audio lessons, 3-10 minutes long each.
All courses on the platform are paid, and instructors keep 30% to 50% of the revenue. Here's one of my audio classes on Listenable.
Skillshare
With over 2 million students, Skillshare is one of the more well-known course marketplaces. Students pay a $10 monthly membership fee for access to unlimited premium courses.
Skillshare teachers are paid based on the number of minutes watched across all their courses.
A threshold of 30 minutes (across all courses offered) must first be watched before a teacher is eligible for payment in a given month.
It's completely free to publish your course on Skillshare. They offer a 30-day Teach Challenge for new course creators.
Udemy
Udemy is a course platform with over 15 million students worldwide. Course creators can publish their courses for no up-front costs.
Udemy does a revenue share with course creators, keeping 50% of the course sale if made from a Udemy promotion or 3% of a sale made directly by the instructor.
Instructors are allowed to set the price of their courses within a range of $20 to $200.
Creative Live
This platform has over 10 million students and 650 instructors across multiple disciplines.
The courses listed here appear to be priced higher than many of the marketplaces, and it likely equates to better income for the instructors–a nice perk, right?
It is unclear, however, what the process is for becoming an instructor on these two platforms. It may be by invitation only or it's possible that they accept proposals from would-be instructors via email.
---
There you have it. A quick overview of some of the most popular online course platforms available right now.
In my opinion, picking the right online course platform for your business can be boiled down to two major factors:
What price are you willing to pay annually or per month for the platform?
Which online course provider has the best features for what you need?
The answer to these two questions will help you to narrow down your options pretty quickly.
As you've read above, if you want a built-in audience, then starting with a course marketplace might be your best bet.
If you already have an audience either through your email list or a large social media following, it could be more lucrative to create a course using one of the non-marketplace options listed above.
But again, you can always take advantage of selling your online course on multiple platforms.
---
If you would like to share your own personal experience with any of the platforms mentioned above or others that you know of, please share in the comments below!
The plan is to continue to update this post with more places to sell online courses, so please bookmark this page and check back soon!
Best Online Learning Platforms
Pin for Later!
Keep Learning: