Stay at Home Mom Jobs in 2020
When I was pregnant with my twin sons, I ended up having to go on bed rest for nearly three months.
The manager of the company I worked for at the time, a father to twins himself, offered me the opportunity to work from home while on bed rest.
That little taste of a more flexible schedule was the spark of a different career path for me.
While I was on maternity leave, I found myself wondering how to quit my job and and work from home full-time with kids.
If I went back to my same job after my maternity leave was over, I would be working a 9 to 5 job and away from my babies ALL DAY LONG for a paycheck in which every SINGLE DOLLAR would have gone to childcare for two infants.
My husband and I crunched some numbers and made the financial decision for me to quit my job and stay at home with our new baby boys.
All I needed to do was bring in a little bit of money to offset our expenses.
Unfortunately, at the time, I didn't realize that there were a ton of work from home jobs for moms that I could have gone after.
I thought the only way I could have a flexible stay at home mom job was if I started my own business.
So at two weeks postpartum, I got to work creating my first business–an advertising site for local wellness shops.
The business model I had required in-person sales pitches and attending networking events. It was mentally and financially exhausting to maintain.
I ended up back in the workforce after 11 months of staying home with my kids. I felt like a failure–like I'd failed myself and my kids.
But I didn't give up on my dream to become a work at home mom. Instead, I created a new goal for myself.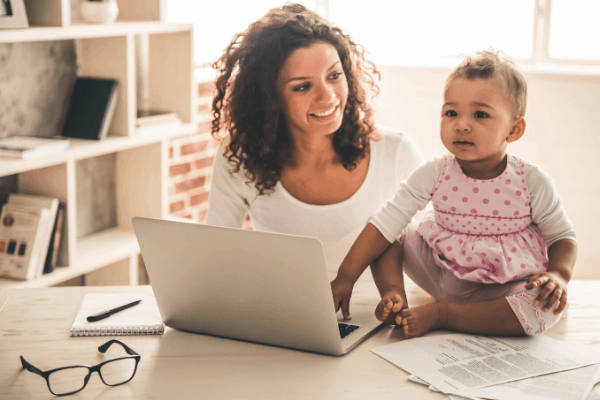 I decided that  before my children started kindergarten, I would figure out how to make money from home and sustain it.
I wanted to be able to drop-off and pick-up my kids from school everyday.
If they were sick, I wanted to be able to stay home and care for them without freaking out about missing work.
I wanted flexibility to make a living on my own terms.
With my new goal in mind, I began to intensely research How to Become a Work From Home Mom.
My journey led me down the path of starting a money-making blog and earning money by selling online courses.
Had I known the first time around that these were viable stay at home mom jobs, I would have started back then.
If you are wondering if you can find legit stay at home jobs for moms, the answer is undoubtedly YES.
If you are wondering if there are easy work from home jobs for moms that you can work while raising a family, the answer is again YES.
My hope is that this list of creative stay at home jobs for moms will help you to confidently get started.
Work at Home Jobs for Moms that Pay Well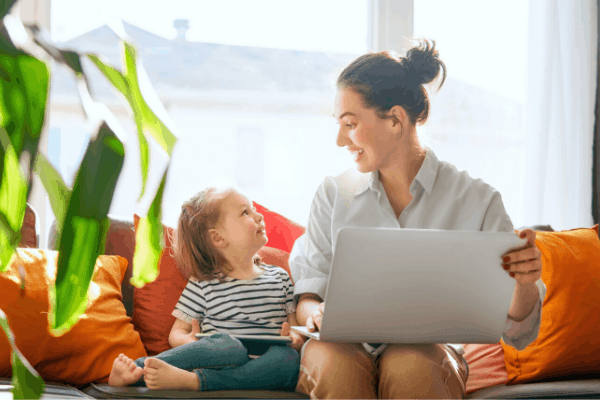 1. Start a Blog
Blogging is still one of the best online jobs for moms in my opinion.
When I decided to go for my goal of working from home (the second time around), I knew that starting a blog absolutely had to be a part of my plan.
Starting a blog allows you to write about a topic you are interested in and monetize that content.
A few of the most profitable blogging niches include personal finance, lifestyle, parenting, food, health and fitness, business, DIY, and personal development. Within these blogging niches there are tons of sub-niches as well.
The more you niche down, the easier it is for you to establish your audience and who you can help with your content.
I especially love blogging as a business for stay at home moms because it allows you to make money with affiliate marketing. You make money promoting products that you love.
2. Teach Online Classes
When I realized I could earn money as a stay at home mom by teaching online classes, I was thrilled!
I purchased a few inexpensive course tools and got to work creating my first online course.
My first experience with teaching online classes was with Skillshare. This online course marketplace has thousands of students who pay a monthly fee to access classes.
As an instructor, you upload pre-recorded lessons to the platform and get paid for all the minutes watched by students who enroll in your classes.
Related Article: Where Should You Teach Online Classes?
The wonderful thing about teaching online classes as a work from home job option is that you can create the content once and sell it on multiple platforms (i.e. Skillshare, Udemy, Creative Live, etc.) So one class quickly turns into multiple income streams.
There are also opportunities for you to teach live classes on platforms like Outschool.
You can also sell online courses through your own blog and charge more per course.
3. Become an Online Health and Fitness Coach
For health and fitness-loving moms, becoming an online health coach is a great work-from-home option.
Working from home as an online health coach, you can sell meal plans, one-on-one live coaching, fitness apparel, cookbooks, and more!
My niece is a work-from-home mom and online health coach. She earns a high 4-figure income each month selling access to her online coaching challenges and meal plans for women.
4. Become a Social Media Manager for Real Estate Agents
I made $2000 per month as a part-time work from home social media manager for real estate agents.
I sort of fell into this job while looking to save additional money for a new house.
There are a ton of real estate moms out there who need help managing their social media accounts. These mamas are busy helping clients and most do not have the time to devote to posting content on a regular basis.
If you love social media and can juggle a couple of clients, this could be a lucrative work from home opportunity for you.
I used Canva to create social media graphics and a tool called Later to schedule social media posts to Instagram and Facebook.
Here's a helpful Q&A on How to Become a Social Media Manager.
5. Sell Photography
Do you enjoy taking pictures? Not really interested in being a wedding or family photographer? You can work from home and make passive income as a photographer!
A few work from home opportunities for photography loves include:
Selling prints on Etsy, Zazzle, and other online marketplaces
Selling stock photography on Shutterstock, RawPixel, and other image platforms
Teaching a photography class on Skillshare
It is absolutely possible to use your photography skills in multiple ways that still allow you to stay at home and earn money!
Related Article: How to Create Passive Income with Photography
6. Become a Freelance Graphic Designer
Once upon a time, you had to be a master of Photoshop to become a graphic designer.
Nowadays, with tools like Canva and PicMonkey, it's much easier to master the craft of graphic design.
But even with the availability of tools like these, not everyone has an eye for design. This creates an opportunity to earn money as a freelance graphic designer creating blog graphics, Pinterest pins, social media posts, website design, and more for clients.
With the ability to set your own hours and your own rates, working as a graphic designer is still a great stay-at-home mom job to take into consideration you do have a good eye for design!
7. Teach English Online
If you have teaching experience and love working with children, a work-from-home teaching gig could be a good stay at home mom job for you!
Companies like TeachAway, Dada, VIPKids, and Qkids are just a few platforms that allow you to work from home with an online English teaching job.
Most of these companies require you to have at least a bachelor's degree and be fluent in English. Pay can be as high as $25 per hour for some of these remote jobs as English teachers.
8. Become an Audiobook Narrator
When I decided to create my first audiobook, I hired an audiobook narrator instead of going through the trouble of trying to narrate my book myself.
There are tons of authors who want to turn their published books into an audiobook. You can become an audiobook narrator and get paid for your narration work.
Working from home as an audiobook producer starts with finding opportunities to "audition" for authors looking for a specific reading style, accent, and tone.
You get paid a per-hour rate or choose to do a royalty split with authors.
If you are interested in this work-at-home job opportunity, try using ACX–a platform that connects you with potential gigs for audiobooks.
9. Sell T-Shirt Designs on Amazon
If you've got a knack for graphic design, you could make passive income from home designing and selling t-shirts on Amazon.
Merch by Amazon is a print-on-demand service that allows you to upload your designs and sell t-shirts as Amazon products without having to keep any inventory!
I currently have one t-shirt design uploaded via Merch by Amazon. It's been up for a few years and still brings in passive income. On a $20 shirt, I earn $5 profit for each sale. Pretty good considering I don't have any inventory costs.
The interesting thing is that I didn't even create the design myself! At the time, I wasn't confident in my graphic design skills so I outsourced the work by hiring someone from Upwork to create the design for me based on my specifications.
If I were to pick up this revenue stream again, I can now easily design t-shirt ideas using the templates in Canva or this guide from PlaceIt.
There are definitely people making a good amount of income by uploading tons of t-shirt designs to this platform and promoting their products with online ads.
One downside is that you have to "request an invitation" to be able to create an account. At times the wait to access the platform has been as long as 6 months.
10. Start a YouTube Channel
If you are comfortable getting in front of the camera, earning money from a YouTube channel could be a great work from home job for you!
How do you make money on YouTube?
This is certainly an income source that will take longer to build. You first need to create and publish great content that encourages people to subscribe to your channel.
You can monetize your YouTube channel in several ways:
Link to affiliate products that you mention in your videos
Sell services that are relevant to your viewers
Earn money through the Google Partner Program (this is an option after you reach 1,000 subscribers and have 4,000 hours of watch time)
One of my friends has a very niche YouTube channel with fun Halloween recipes. When October rolls around, her traffic and her income increase significantly.
Here's a free class on How to Build a YouTube Following.
11. Become a Freelance Writer
Working as a freelance writer is a great work-from-home job for moms who enjoy writing. You get to set your own rates and manage your schedule.
When starting a freelance writing business from scratch, building a writing portfolio to show clients examples of your work is one of the most important steps you can take.
Blogging, writing guest posts for bigger websites and submitting articles on platforms like Medium are great way to build your portfolio.
Here's a free class on How to Start a Freelance Writing Career.
12. Sell Printables on Etsy or Shopify
Creating and Selling Printables is like the holy grail of passive income for creative stay-at-home mom jobs in my opinion!
One quick glance at Pinterest and you will find hundreds of both free and paid printables being featured on the platform.
You will find that most of those pins lead to either an Etsy or a Shopify site.
Selling on Etsy, with its built-in audience of over 45 million buyers each year, can be a very profitable online job for moms.
You can potentially make thousands of dollars each month selling printables online if you are able to tap into a good niche with a loyal audience.
13. Become a Virtual Assistant
There is a constant flow of businesses that are hiring virtual assistants to take care of a variety of tasks from replying to emails to sending invoices and more!
The average rate for an experienced virtual assistant is $30-$40 per hour and anywhere from $15 to $25 per hour for a new virtual assistant.
For a stay-at-home job that can be done part-time, that's pretty darn good income!
Here are 6 steps to get started with your Virtual Assistant Business.
14. Start an Online Dropshipping Business
Creating a dropshipping business basically means that you put up an online storefront with links to products that are shipped by a third party after you make the sale.
The biggest benefit of a dropshipping business is that you get to sell physical products without having to keep an inventory.
Building a successful dropshipping business does require a time investment, but it's possible to build it into a business that generates $2000 per month or more with a little work.
15. Become a Proofreader
If you are a rock star at editing and finding grammatical errors, a remote job as a proofreader is worth looking into.
I've hired proofreaders for everything from editing my blog posts to editing my book manuscripts!
Proofreading works great as a stay-at-home mom gig because you can get the work done in your own time–whether that's during naptime, while your kids are at school, or even late at night once everyone has gone to bed.
You can find work from home proofreading jobs on remote job sites like FlexJobs, HireMyMom, and may other sites.
16. Become an Instructional Designer
This work-from-home job opportunity is something that I only learned about recently!
I've been a big fan of creating online courses for a while now. While researching eLearning careers, I accidentally discovered instructional design.
What does an Instructional Designer do? Instructional designers (also known as learning experience designers) are responsible for designing, implementing, and evaluating content and curriculum for instructional courses.
You can find remote job opportunities within educational institutions, with corporations, and even with the government.
You don't necessarily need an advanced degree to land a job as an instructional designer, especially if you are interested in working in a business setting rather than with an educational institution.
However, you will want to take a few instructional design classes and build a portfolio of work before you start applying for jobs in this field.
17. Become a Tutor
If you love teaching people, you can become a tutor and earn money from home.
As a private tutor, you can offer tutoring services based on your area of expertise and promote yourself on sites like Varsity Tutors and Care.com.
18. Become a Pinterest Virtual Assistant
If you want a stay-at-home mom job that helps you to capitalize on your love for Pinterest, becoming a Pinterest VA could be a good fit.
Pinterest has become a powerhouse tool for many business owners. Because of this, there is a growing need for Pinterest Virtual Assistants who can help business owners and bloggers to grow their traffic from Pinterest.
At one point, I hired a Pinterest VA and paid $250 per month for her services. That's $250 she earned from just one client per month spending an hour or less per week creating and scheduling pins for my account.
As a Pinterest Virtual Assistant, you should understand Pinterest best practices and know how to make beautiful pins with compelling pin descriptions at the very least.
You can offer services such as setting up business accounts, organizing Pinterest Boards, designing pins, scheduling pins, running pin promotions and more.
You can learn how to become a Pinterest VA here.
19. Become a Bookkeeper
Working remotely as a bookkeeper is a good stay-at-home job for moms who are good at keeping their finances organized and like helping others to do the same.
You don't need a degree or certification to do work this work, but you should have a good understanding of financial statements and how financial reporting works.
20. Become a Business Coach
If you love helping people one-on-one with business strategies, you could work from home as a business coach.
For a short while, I offered live coaching services teaching people how to create blogs, how to build their first online course, and how to write and publish books.
As a business coach, you can offer individual and group coaching services, charge an hourly rate and even offer weekly or monthly coaching programs for a bulk upfront cost.
Here's How to Multiply Your Reach and Your Income as a Business Coach.
Feeling good about this list of work from home jobs for moms?
Hopefully, you found this list of stay-at-home mom job ideas to be very helpful! The most important thing to realize is that you can raise a family and make money from home with a flexible schedule that you are in charge of.
Remember that it may take a few tries to find the best work-from-home opportunity. Don't give up! You can find a great mom job that fits your lifestyle and needs.
Related Article: 10 Genuine Home Based Jobs Without Investment
Pin for Later!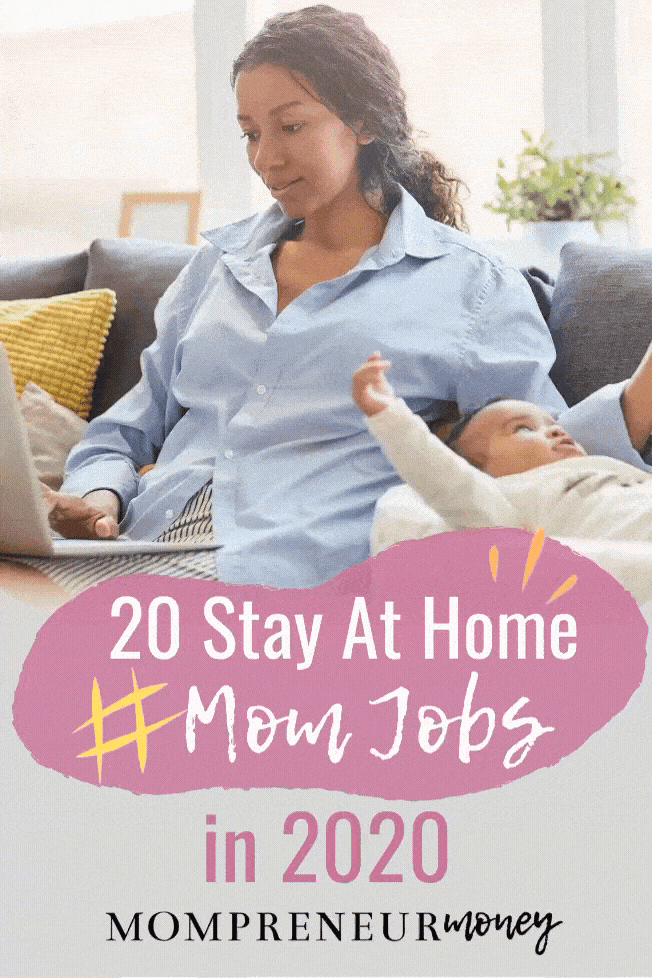 Keep Learning:
7 Ways For Stay At Home Moms To Make Extra Money
How to Find a Remote Job Opportunity