How to Become a Social Media Manager
There are many businesses, both large and small, that are looking to hire social media managers to share their content and grow their online brand presence.
If you are someone who is really good at coming up with creative content and you have a love for graphic design and social media, becoming a social media manager could be the perfect opportunity for you.
To help you learn more on what it's like to work as a social media manager, I reached out to Maggie Stara, a successful social media strategist and online instructor. Maggie shared some really helpful tips on becoming a social media manager. Here's what she had to say.
Become a Social Media Manager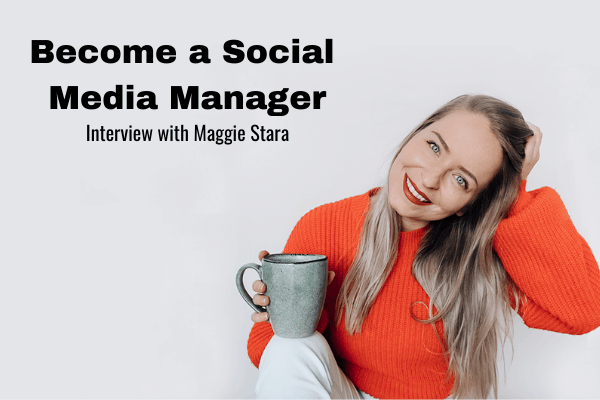 Tell us about yourself and how you got started as a social media manager.
I first started working as a social media manager after quitting my job as a tour manager in Europe and moving to Australia with my partner Nick. I was on a really restrictive visa that limited my traditional job options. Not to mention, we had both been getting paid to travel for years while working in Europe so the idea of a 9-5 office made us both very nervous.
I stumbled upon a Facebook group full of people working online as social media managers while traveling the world. It was like this big weight was just lifted off my shoulders. I could see a way that I could work as much as I wanted, whenever I wanted, while I continued to travel and live a nomadic life.
I spent a few months learning the skills to work online and managed to get enough clients to replace a full-time income in just a couple of months. 
Since those days, I have expanded my skills into the fabulous world of digital marketing and teaching online courses.
What would you say is a good social media manager job description?
I get bored easily if I have to do the same thing over and over again. So, lucky for me, there really is no single job description for a social media manager. What it means to one client is usually totally different from what it means for another client.
Generally speaking, it involves engaging with a brand's audience through social media on their behalf. But this could entail doing graphic design work, copywriting, video editing, running paid ads, community engagement with the brand's followers and so much more. It could also involve simple tasks such as scheduling posts or doing administrative work. 
When it comes to social media management, the world is your oyster and more often than not, the role becomes whatever you make it! The best kind of clients are the ones who are more than happy to cater the role to your passion and skill set, and let your crazy creativity shine.
What social media manager skills are necessary for success?
Again, this varies a lot role to role. But generally speaking, the skills would entail being able to create human content for humans. While maintaining the brand's tone of voice and branding style, of course. I like to think of it as becoming a bit of a digital chameleon –ready to adapt to a new brand whenever the opportunity strikes.
The kinds of skills a great social media manager would possess in terms of creating content would be:
Conversational copywriting

Some graphic design

Knowledge of each social media platform and how content needs to vary across these platforms based on their respective audiences
Then of course, they need to be able to schedule posts and analyze data to determine what's working and amplify those efforts. 
Bigger brands will have separate media buyers who will manage paid advertising on socials but for smaller brands, a social media manager may also be responsible for running ads on Facebook, Instagram, LinkedIn etc.
They should also be a bit research-obsessed when it comes to checking out the brand's competition; understand what's working for the industry in terms of hashtags, content, promotions, giveaways and all of that good stuff.
Related Article: 10 Genuine Home Based Jobs Without Investment
What are the social media manager tools you suggest?
I always recommend that my students insist on clients paying for and managing their own software subscriptions. This is something that should never sit with the social media manager in terms of tool ownership.
However, clients do often look to their social media manager for recommendations of the various tools they should be using to get the most out of their social media growth. In which case, I recommend Tailwind for scheduling and analyzing posts for Pinterest and Instagram. Facebook has a native (built-in) scheduling tool. Buffer is also a great option for those wanting to schedule to Facebook, Twitter and LinkedIn through the one platform. 
And of course, Canva is my number one resource for creating amazing static images as well as GIFs and videos for social media.
How do you become a social media manager?
I can only speak from my own experience here. I know a lot of people will lean towards more formal certifications and degrees, but in my experience clients don't care about your qualifications. They care that you know your stuff and that you're passionate about what you do.

I myself spent a couple of thousand dollars on online courses to teach myself the skills in not just social media management but email marketing, blog management, copywriting, video editing and just about everything I could get my hands on. But I've had students who have paid $10 for one of my courses, and were working for their first paying client within a couple of days of finishing it.
So, everyone has to go at their own pace and do what's right for them. However, I'm a big advocate for not spending too much time and resources on a career path until it's already making you money. It's easier to continue to invest into your education and learn new skills once you're already working for clients and loving it!
How do you find social media manager jobs?
There are lots of resources out there now for freelancers wanting to directly apply to jobs on platforms like Upwork and Freelancer. Upwork is actually how I got my start, and to this day there are lots of wonderful clients on there. But there's also a lot of competition, making it harder to not only get work on the platform but even to be accepted there as a freelancer.
For that reason I recommend engaging with potential clients in Facebook groups where they would be found. Lots of Facebook groups exist specifically for entrepreneurs and small business owners looking for answers and support from others.
You'll often see people specifically asking for support with their social media and it can be a wonderful way to start a relationship with your client by offering them support, answering their question and building that connection before working with them.
Related Article: How to Find a Remote Job Opportunity
How much does a social media manager make?
It's entirely dependent upon how you structure your business. I began by charging $20USD/hr and worked with my clients in blocks of time every week. This allowed me to project my income as I would know that every week I would be earning a specific amount by working with each client for a specific amount of time.
I quickly raised my rate as soon as I felt comfortable doing so, but even still, this is not the most sustainable way of earning money as a social media manager.
I believe that the best avenue is for you to work with each client on a monthly retainer, where you effectively have a set monthly fee for the services you're providing. This means that you are getting paid for the value you provide to their business rather than getting paid for the number of hours you work, which is better for you and better for the client. 
In this case, I would say that for a social media manager who is working as a freelancer there is no cap to their earnings. But going off of averages, Indeed.com reports that an average salary for a full-time social media manager is $87,723 AUD ($62,558 USD) here in Australia. Though I would say that's a bit inflated and based on people with a few years of experience under their belt.
What's your best advice for someone wants to start a side hustle as a social media manager?
Show potential clients what you can do by building your personal brand. It's a misconception that you need to have past client work to show off your skills. You can practice what you know by growing your own brand and use yourself as an example of how amazing you are.
You don't need a fancy website and a business name to start, just make an Instagram account and get creating!
When clients ask to see what you can do, you can send them your profile as a portfolio of your writing style, your hashtag research, your photo editing and graphic design skills.
Don't make things more complicated than they need to be. Done is ALWAYS better than perfect!
Tell us about your social media marketing courses.
My Powerful Social Media Marketing for Beginners class on Skillshare is a great place to start for anyone wanting to pursue this career. I have taken years of experience and thousands of dollars worth of my knowledge and designed a class that is suited to complete beginners. In this course you will not only learn the skills and tools you need to get started, but you'll also learn how to build your freelance business and start earning money as soon as you finish. 
I have also created my Social Media Graphic Design for Beginners class for those who want to create stand-out graphics for their clients to impress the pants off them with your creativity. You will learn how to create content for Facebook, Instagram, Pinterest and YouTube in this class.
And finally, I'm currently working on more advanced digital marketing classes for my students on Skillshare who want to do something similar to what I have done and branch out into digital marketing. These classes will teach people how to build full-blown marketing funnels by building strategy, landing pages, email sequences and running profitable paid ads through social media.
To anyone reading this who is considering this amazing career, I wish you the absolute best of luck with your social media management journey. I hope to see you in one of my classes!
Ready to work from home as a social media manager?
To learn more about digital marketing and social media management, visit Maggie online at Living to Roam. If you're already convinced you want to learn how to become a social media manager, considering taking one of Maggie's online classes to get a jump start!
Pin for Later!
How to Become a Social Media Manager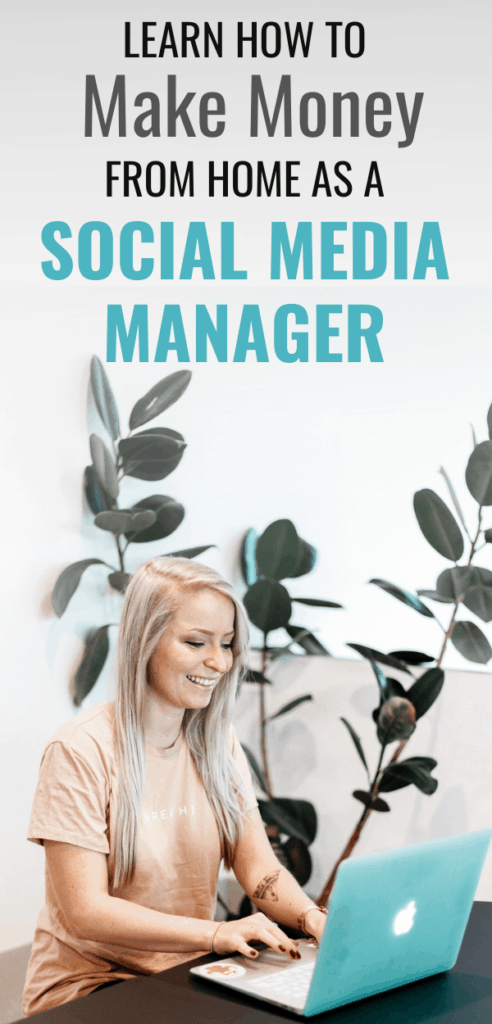 Keep Learning:
10 Genuine Home Based Jobs Without Investment
7 Ways For Stay At Home Moms To Make Extra Money
How to Start Affiliate Marketing