How to Market Your Side Hustle
Side hustles are a wonderful way to make extra cash and supplement your monthly income.
You can grow and nourish your business idea on the side, in your spare time, while you continue to work your day job.
Before I ever started a blog or made money with affiliate marketing, I created a side hustle of writing and publishing books on Amazon.
I was still working a 9-5 day job at the time. It was great for me because I was able to use money from my day job to fund my dream job of working from home as my own boss!
Getting your side hustle up and running is an exhilarating process.
However, even after you have decided what your side hustle will be and set up the infrastructure to actually run the business, you are still faced with probably the most time-consuming task of all–growing your side hustle and finding potential clients!
Understand Your Potential Target Audience
I'll be honest. I love the creative side of my business more than I love the marketing side of my business. However,  I know that to be successful, you can't have one without the other.
If you don't learn how to find clients to support your business then eventually you'll have no business at all!
When you are just getting started with your side hustle, a really good tip is to have a solid understanding of who your potential audience is.
What's their gender? Age range? Marital status? Do they have kids? What hobbies do they like? What do they love? What pain points do they have?
Knowing who your target audience will help you to better create content they love, offer types of services they need, and give you clues as to how to best market your side hustle to them.
7 Ways to Find Customers for Your Side Hustle
Once you have a better understanding of who your potential clients are, you can create your strategy for where to find them.
Below are seven ways to find customers for your side hustle.
1. Start With People You Know
It's always good to promote your business within your inner circle first. This is not so much about trying to "sell" to family and friends, rather you should focus your efforts on asking them for a referral.
Let's say, for instance, that you've started a freelance writing side business. Write up a short text and/or email explaining what your business is, what services you offer, and humbly ask them to pass your business information on to anyone they may know who is looking for writing services.
2. Market Yourself on Your Website
This one may seem like a no brainer, but if your side hustle involves offering any type of service, you want to make sure you feature this in a highly visible spot on your website.
The easiest way to do this is to create a services page on your website and include a link in your navigation bar that says "Work With Me".
Your services page should list all of the services you offer. You can also list the cost for those services or ask that you be contacted for pricing. Personally, I prefer when the prices are included on the page already.
3. Market Your Side Business on Social Media
Let me start by saying that you don't have to be a professional social media marketer nor do you have to market your side business on EVERY SOCIAL MEDIA PLATFORM.
In fact, if you are following my advice on having a good handle on who your potential clients are, you should know which social media platforms they are most active on.
If you are not certain, just pick one or two platforms to start. You'll want to make sure your profile area on each social media account is fully optimized.
In your profile, let people know your title, tell them what you do and who you help.
For example, if your side hustle is creating book cover designs for authors, Instagram is likely a very good platform for you to market your side hustle.  Instagram is highly visual and a great space to flaunt samples of your book cover designs.
In the example below, this book cover designer has done a great job of making a simple profile that very effectively says who she is and what she does.
Of course, you also want to make sure you provide a link to your website or services page so that people can learn more about your business.
Pro Tip: Make sure that you have created a business account (rather than just using a personal account) especially for Pinterest and Instagram. You get access to more promotional tools when you are using a business account.
4. Use Remote Job Sites to Find Project Work
Using a remote job site is a great way to find contract jobs that fall in line with your side hustle!
The gig economy is all about temporary positions and short-term contracts which can work in your favor as a way to build a portfolio of client work.
Sites like Upwork and Fiverr have hundreds of postings for short-term projects/jobs that side hustlers can apply for.
Personally, I've hired writers from Upwork and graphic designers from Fiverr and had very positive results.
Sites like FlexJobs and Hire My Mom will typically showcase jobs with contracts that are more longer term, but still provide a great way for you to get a paying gig under your belt. (Read here to learn how Sara found her first clients on Hire My Mom.)
5. Answer Questions on Public Forums
I was very surprised a few years ago to find that answering questions on a public forum helped to bring traffic to my website and eventually translated into paying customers.
One example is Quora. Even though I am not super active on my Quora account, I still receive traffic to my blog from reader questions about creating online courses that I answered years ago!
Here's an example from a question I answered about making money on Skillshare. In bold, you can see that someone asked "Has anyone made considerable side money teaching Skillshare classes?"
I simply chimed in with my own personal experience and tried to be helpful. At the bottom of the snapshot, it shows that my answer was viewed 17,000 times–pretty good additional exposure in my opinion.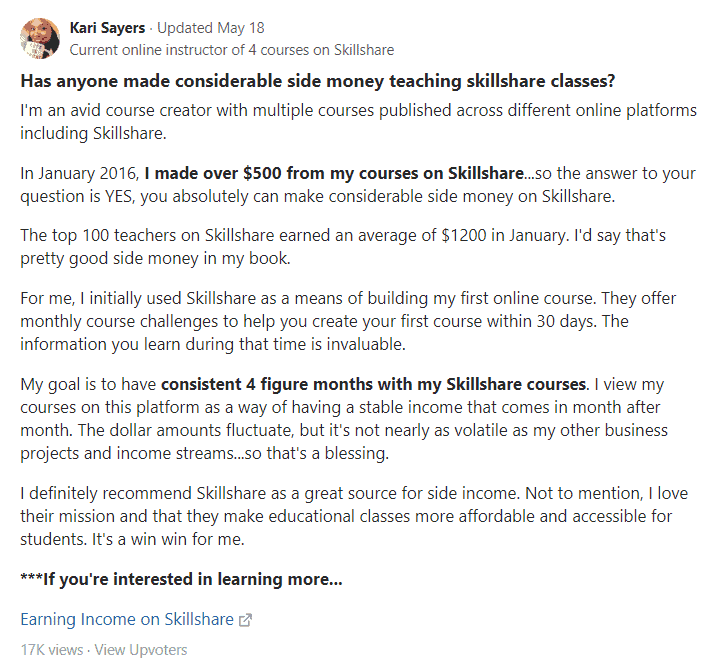 6. Teach a Class on a Course Marketplace
With a side hustle, you typically have to create quality content that showcases your knowledge to potential customers and eventually convinces them to hire you.
Most side hustlers don't even consider the idea of crafting that quality content into a video format and taking advantage of a built-in audience of potential clients on a course marketplace.
Skillshare is a great example of a course marketplace that allows you to teach what you know and market your class to thousands of paying students.
Let's say you are starting a side business selling water color art on Etsy. You could teach a class on The Basics of Water Color Art on Skillshare. In your Skillshare profile, you can link to your website or Etsy shop and this could potentially bring you clients.
At the very least, you've created an additional passive income stream from your class being on Skillshare.
7. Pitch Your Business to Clients
Pitching your services to clients is one of the best ways of marketing your side business to potential customers.
If your side hustle includes offering a service such as freelance writing, graphic design, virtual assistant, etc. then it is very likely that you will need to pitch yourself to clients.
Before you start pitching clients and submitting proposals, make sure you create a portfolio with a few samples of your work. These samples don't need to be from paid clients. You just need to be able to showcase your skills.
Here's a free class that shows you how to pitch successfully.
Growing Your Side Hustle
Hopefully, this post has given you some practical tips and marketing ideas for growing your side hustle! The ability to offer your services or sell a product as a way to make extra money on the side is incredible.
Maybe you just want to run a side business as part-time job and creative outlet that brings in extra cash. Maybe you have a goal of eventually turning your side hustle into a full-time business like I did.
No matter what your motivation or goal is, you will need paying clients to make that dream come true. Start with the ideas above and take things one step at a time!
How to Promote Your Side Hustle
Pin for later!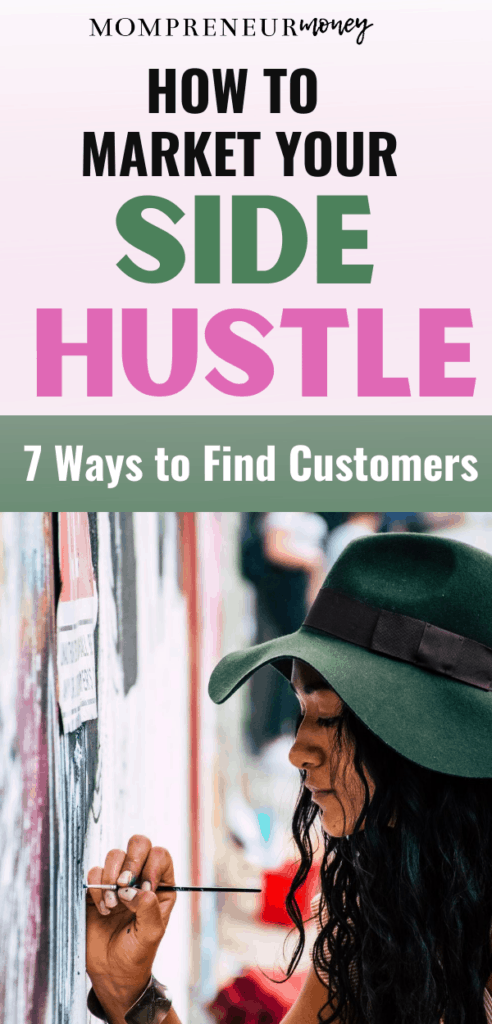 Keep Learning:
20 Best Stay at Home Mom Jobs to Make Money Online
10 Profitable Services for Mom Bloggers to Offer