How to Publish a Book on Amazon:  Maybe you've browsed the Amazon bestseller lists a million times.
Or maybe you've even purchased and read books both by well-known authors and even by lesser-known authors who happened to be writing a book on a topic you love.
Now, you're ready to get into the writing and publishing game for yourself. There's just one problem–you don't really have a clue where to start!
Read on for an intro first-steps guide on how to publish a boo on Amazon. And for more in-depth training, watch my How To Publish A Book In 7 Days training.
5 Helpful Steps to Publish a Book on Amazon
When I started my book publishing business in 2014, I had no idea where to start either. All I knew is that I wanted to write books (both fiction and non-fiction), and that I wanted to publish them online.
I started devouring articles about the self-publishing book process. I studied blog posts, purchased related books, and even took 2 popular online courses about it. I really dug in trying to figure out the publishing process.
At first, I was on a mission to write a 50,000-word novel…because that's what I thought it would take for me to be in the book publishing business.
But then, I was introduced to writers like Joanna Penn, S.J. Scott, and Kristen Joy just to name a few.
These writers produced shorter works and were earning good money from publishing on Amazon and other book sites.
I realized that it was less about the number of pages in your books and more about providing quality information that your readers will love.
This information was liquid gold for me and basically gave me a license to start writing and publishing shorter works packed with valuable information.
I've learned a great deal about the self-publishing process since 2014. After publishing on other platforms like Kobo, Barnes & Noble, and Smashwords, I decided to focus my publishing efforts on Amazon…here's why.
7 Reasons I Decided to Publish Books on Amazon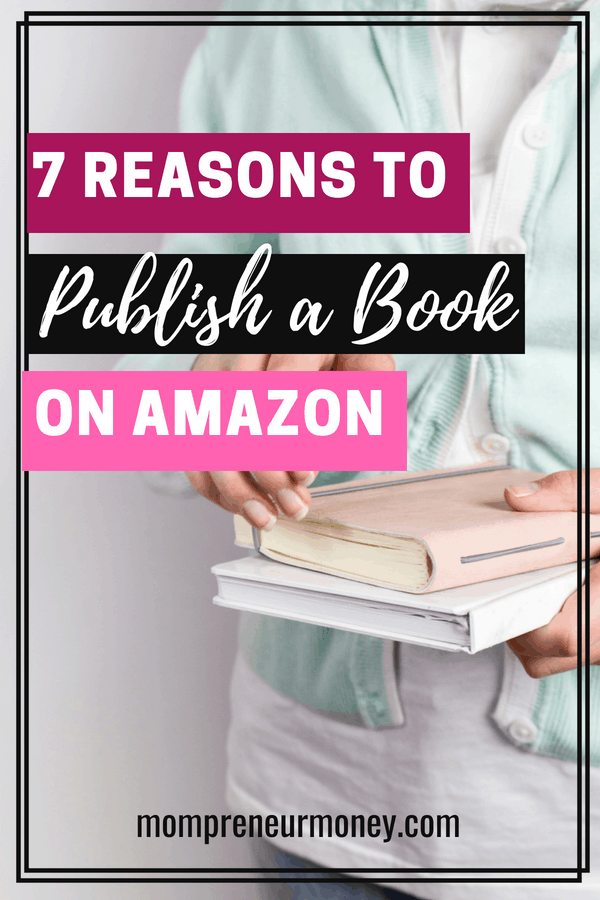 Reason #1
Amazon is the #1 marketplace for books, and one of the most trusted brands in the world.
They are the second largest search engine in the world. People searching on Amazon are looking to make a purchase.
Oh! And did you know that Amazon has over 200 million credit cards on file?
This means a built-in audience of potential customers for writers who decide to publish a book on Amazon!
Reason #2
Amazon offers book publishers an awesome royalty payment system.
Authors receive royalties that range from 35-70%. All you need to do is make sure that your ebook is priced between $2.99 and $9.99 in order to secure the 70% royalty payment…pretty easy, right?
This is unheard of in the traditional publishing industry where royalties are not nearly as high (somewhere in the 8-15% range).
And that's if you've somehow managed to even get a traditional publishing deal.
Reason #3
Amazon handles all of the technical, back-end work for you…for no additional charge.
This means they take care of everything from hosting your book sales page to customer service to delivery transactions to book promotions and more!
And they pay authors every 30 days! Amazing, right?
Reason #4
The Amazon marketplace gives you instant access to research that is important to your writing topic.
You can see what books are trending, what people are buying, and even mimic successful book covers that are best sellers.
By using the keyword search tool, you can find commonly searched words. You can even check out bad reviews to know how to make your book better.
The keys to success are right at your fingertips courtesy of Amazon.
Reason #5
Amazon sells your books in a dozen different ways other than just on the website.
They pay big bucks for outreach and retargeting campaigns to stay top of mind with consumers. They sell your books via email marketing, count-down deals, shopping cart reminders, book review requests, paid ads on Google and Facebook, and many other ways.
Amazon knows how to stay in front of customers, and get the sale!
Reason #6
Amazon creates a zillion ways for people to find, purchase, and read your Kindle ebooks.
Readers are able to access Kindle books on tablets, kindle readers, computers, smart watches, and more.
On all of these different devices, you can download the Kindle App.
This means very little barriers to access for your potential book readers, and less hassle for you.
Reason #7
You can double your book royalties by transforming your ebooks into soft cover books using Amazon's KDP Print on Demand (POD) service.
With KDP Print on Demand, you don't have to worry about printing, storage, shipping, distribution or other typical steps associated with selling physical books.
Your readers have the option of purchasing a soft cover book, an ebook, or both, while you get to easily increase your payouts with just a few extra steps!
Now that you understand a few reasons why Amazon is a good platform to publish a book, let's look at a simple outline to get your self-publishing business up and running as quickly as possible.
I've put together the following step-by-step instructions to give you a sense of direction in the process and motivate you to get started.
These 5 high-level steps have more detail to them, but it's important to grasp that it's not extremely hard to get started.
5 Steps to Publish a Book on Amazon
Step 1: Choose a Book Writing Software
If you already have a book written, well that's great! You can skip to Step 3. But if you haven't started the writing process, I suggest using a writing program such as NovlR, Reedsy, or even Scrivener to help you with your writing progression.
These amazing platforms really help you to organize your book writing and keep track of your writing metrics.
I've used NovlR in the past and loved it. Now I'm trying Reedsy's free writing tool.
Related Content: How to Overcome Writing Barriers and Write Your Book
If you want a book design template with formatting already setup, I recommend these templates used by many self-published authors
Step 2: Find Keywords for Your Book Title
Do a little Amazon Research. You are going to need a compelling book title and book description using keywords that apply to your book. It's a good idea to use Amazon's search bar to check out which keywords are frequently being typed into the search by book purchasers.
For instance, if you are writing a self-help book, you want to use the Amazon search bar to see what phrases populate as you begin to type certain keywords that are important to your book.
For instance, here's what happens when I start to type "self-help".
As you can see, several phrases pre-populate. These are popular search phrases that real purchasers have previously typed into the search bar.
It's a quick high-level research technique you can use to find keywords for your titles and book description that you will need to add to your Amazon book page.
Amazon's current algorithm picks up on keywords in your title and book description which helps you to show up in searches of potential buyers. You can also use a program like Merchant Words or Kindle Samurai to find great keywords for Amazon.
Step 3: Make Sure Your Manuscript is Properly Formatted and Edited
It's easier than ever to make sure that your manuscript is edited properly. Kindle Create is a free interior formatting tool that allows you to turn your manuscript into a professional-looking ebook. You can check it out here.
Note: You can always pay to have your book formatted properly if you don't want to do it yourself.
Next, get your manuscript edited.
I know it is tempting to self-edit, but you absolutely need another set of eyes to glance over your work. Even if you can only afford to pay for basic editing or proof-reading, it's better than nothing.
Try finding an editor on Reedsy, Fiverr, or Upwork.
Step 4: Create a Book Cover
Create a book cover. Here are three great options.
1) You can save money by creating your own cover (Tip: I use Canva for my book covers!)
2) Purchase a pre-made cover online. This can save you time and money. A premade cover means that the artist has already spent time creating covers for certain book genres.
You just need to browse through the pre-made selections, find a cover you love and pay the artist a fee to have your book title, subtitle, and author name added. Here's my favorite designer for pre-made covers.
3) Purchase a custom-made book cover. This option can be more expensive, but places like Fiverr.com make it easier and more affordable to get a custom cover created. You can also find a cover designer on places like Upwork.com and 99designs.com.
Step 5: Sign-up up for Kindle Direct Publishing
Create a Free Amazon Kindle Direct Publishing (KDP) account. If you already have an Amazon account, you can use your same Amazon email address.
Thankfully, Amazon does not make us pay to get started with this platform. It takes just a few minutes to get access. Click here to go directly to the KDP sign-up page.
Note: If you choose to enroll in KDP select, this means that you are agreeing to make the digital format of your book exclusively available through the Kindle store (your print books do not fall under this exclusivity). The downside is that this means for the "exclusive period" you cannot sell your ebook on any other platform, including your own website. The upside is that you can earn high royalties.
Once you have created your KDP account, you will:
Update your account info and tax information (here's a video about taxes for digital content).
Add you book information including author name, title name, book blurb, etc.
Upload your book file.

Be sure that your manuscript is edited and properly formatted.

Upload your book cover (PDF file).

Price your book (List prices should range between $2.99 to $9.99. Closer to $2.99 is more of the sweet spot.)

Hit publish. Remember, it may take 24 hours to find your book in the Kindle store.
Next Steps to Publish a Book on Amazon:
So, are you ready to finally write that book you've been thinking about publishing?
The most important advice I can give you is to JUST GET STARTED! You don't have to wait until everything is perfect to publish a book on Amazon.
Think about it, just adding your book to Amazon has the potential to put your name in front of millions of new viewers each and every month. You don't have to be a marketing genius to know that those kinds of numbers can have an amazing impact on your business including:
Increased traffic to your website (and more opt-ins, too)
Critical "social proof" in the form of testimonials
Instant "expert status" (the kind that's only afforded to authors)
New interview requests and other opportunities
More clients
I created a short course, Write a Book in 7 Days, to help you with what you need to know about outlining and writing a book. It's not as difficult or overwhelming as it seems, especially if you can break it down into manageable tasks.
I've also added a bonus 10 Step Book Planner to the mix. Click here to learn more.
Don't hold yourself back because you think the process might be too tedious. Let me walk you through the steps I use to publish books on Amazon.
The writing and book publishing process can very rewarding. If you want to make your books available to the world, you have to take action!
Self-publishing a Book on Amazon
Pin for Later!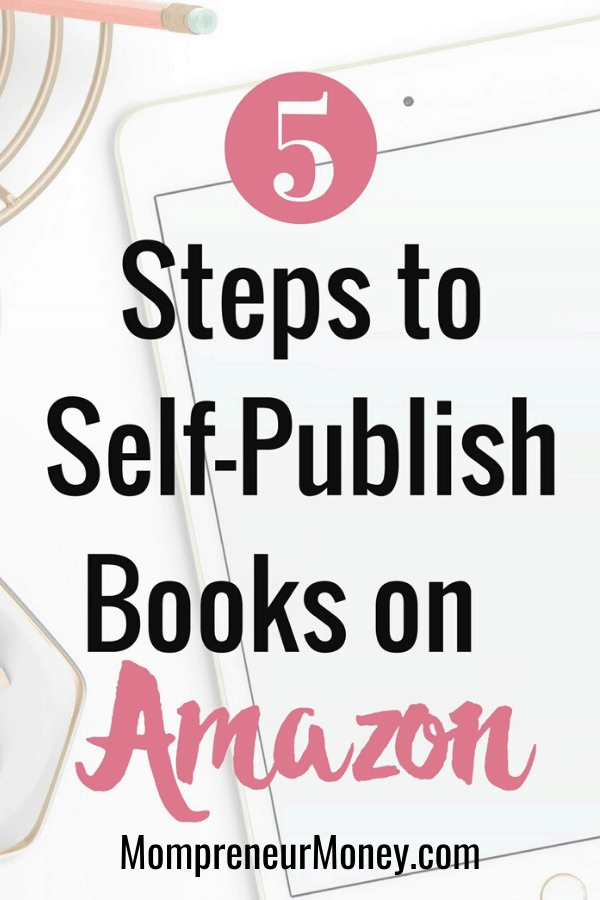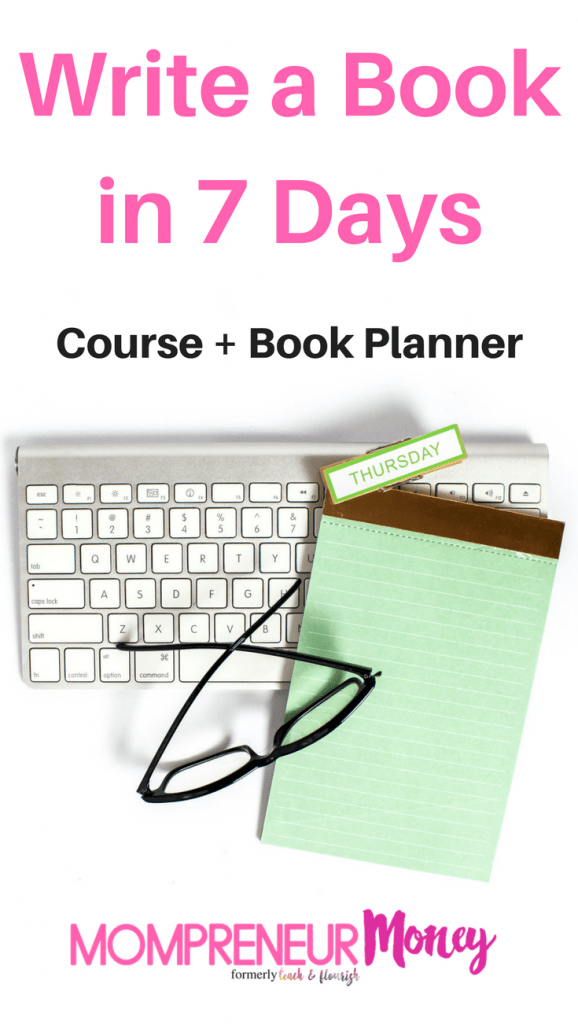 Keep Learning:
5 Ways to Create Passive Income on Your Blog