Looking for ways to create passive income from your blog? Have you already figured out that you need to create passive income in your business?
About a year into my blogging journey, I realized that I had to find a way to monetize my passions without having to sacrifice a ton of time–because quite frankly, I HAD NO EXTRA TIME TO SPARE!
As a wife and mom of two active twin boys, life is CHAOTIC (at best) on most days. Discovering how to create passive income helped save me from THE BURN OUT that I was experiencing as a mompreneur.
I put together this post to quickly introduce you to five ways you can begin to create passive income in your business this year.
The goal is to help you with generating more income passively so that you can actively have more time to spend with your family and more financial freedom as well.
Create an eBook Using Existing Content
The truth is that you have a great deal of knowledge to share with the world! One of the very best ways to share that is with an eBook. And it's not as complicated as you may think.
Here's how to get started:
If you've been blogging or creating other content for more than a few weeks, you likely already have everything you need to "write" your book.
Simply go through all of your blog posts and gather pieces of content that fit well together, organize it into a logical format, and do some light editing.
Related Course: Plan Your Digital Product
You can then turn this bundled content into an eBook that you can sell via Amazon, using Gumroad or SendOwl, or any other platform that allows you to sell a digital product.
For example, on a blog that I ran a few years back, I'd written several blog posts that talked about how to create a WordPress website.
Later, after I had restructured my blog to have a different focus, I went back and re-purposed those old blog posts into a book!
#2 Create a Profitable Resources Page
Chances are, even if you have a resource page, it's not being utilized as well as it could be.
Your readers are curious. They want to know:
• Which tools you use in your own business
• Who designed your logo
• Which training programs you've studied and recommend
• What advertising platforms you use
• What books you've read and loved
• Whose blog you read
• Who you turn to for technical advice
• Where you go for marketing advice
• And a host of other resources
In fact, next to your "About" page, a well-planned resource page might just be the most visited page on your site.
Here's an example of my resource page for mom bloggers.
It's time to capitalize on that potential traffic with some strategic monetization in the form of affiliate links and partnerships.
Start by making a big list of all the tools you use on a regular basis.
Next, think of all the training programs you've purchased.
What about JV partners? Have you worked with other coaches or service providers you'd recommend? Even if they don't have an official affiliate program, you may be able to work out a private referral program, so don't be afraid to ask.
Finally, don't forget your own products (see #5 if you don't have your own product)! Add those to your resource page too!
Be sure when you're adding links to your page that you use your affiliate link when one is available, and be sure you have the appropriate disclaimers in place when you do–I typically add my disclaimer at the very top of the blog post near the date and author name.
#3 Monetize Your Blog Posts with Affiliate Products
Each and every blog post has a job to do. You should never spend your time writing, editing, formatting, and promoting a post whose only task is to take up space on your site.
Instead, each post should have a strong focus that naturally leads to a solid call to action. Calls to action can be:
An offer to buy a product or service.
A recommendation to check out an affiliate or JV offer.
An opt-in offer.
Or even a link to read more about the subject, join your Facebook group, or leave a comment.
The point is that each post is an opportunity to grow your following and create passive income—either directly or indirectly—and your call to action should be foremost in your mind as you're writing each article.
Personally, I'm a huge fan of monetizing your blog posts with affiliate products.
It's highly likely that when you are creating your blog posts–no matter what niche you are in–you are mentioning products or services that you use.
For instance, if you are a mommy blogger writing a blog post about your experience using different types of bottles for your child, you can monetize your post by using Amazon links to the bottles you love and suggest for other moms.
Another example, if you are a business blogger writing a post about your favorite email tool, you can become an affiliate for that specific tool and add your links to your blog post.
This way you get paid for talking to others about something you already use and love!
To get started with affiliate marketing, try the Affiliate Marketing Income Planner.
It's affordable, easy to comprehend, and easy to implement for results–and by results I mean MOULAH.
#4 Monetize Your Emails
Every week you send emails, either privately to potential and current clients, friends, and colleagues, or possibly through other online platforms that you use.
These emails are a golden opportunity to not only provide stellar support through product and tool recommendations, but they're also a great way to create passive income.
You can create sales opportunities in a variety of ways within emails by:
Offering (linking to) related products and services
Making recommendations for further reading/learning
Linking to a well-monetized blog post
Recommending a free download
Helping your buyers make good use of your products/services
You can do this in the body of the email itself, or in an automated signature (try WiseStamp.com) or a standard P.S. (For example, you can include an invitation in your automated signature to check out your latest course offering.)
Convertkit offers several free workshops to learn how to make money with your emails.
#5 Create a Short Digital Course or Online Training Program
Creating digital courses has pretty much become the cornerstone of how I monetize my blog. I'm a huge supporter of other online entrepreneurs doing this too.
Here's a simple 3-step plan to brainstorm a small course or training product:
1. What problem does your ideal client struggle with the most? Is she tech challenged and needs a step-by-step on how to create a landing page? Does she lack confidence, and suffer from mindset issues? Does she want/need to write a book but just can't seem to get started?
Whatever her trouble are, a small training product or course can help. Remember—you don't have to solve all her problems, just this one, so keep it simple so you don't get overwhelmed.
2. What format does your ideal client prefer for training? Your product can be video, audio, written, or any combination. It's completely up to you, but think about what your client might prefer.
3. What resources do you have that you can repurpose? You very likely have blog posts, short reports, eBooks and other material you can quickly pull together to create a complete training.
---
Summary
Remember, you don't have to do it all at once. Start with just one of these passive income ideas and run with it!
Be sure to comment below with any questions you may have. I would love to help you kick-start your passive income journey!
How to Create Passive Income as a Blogger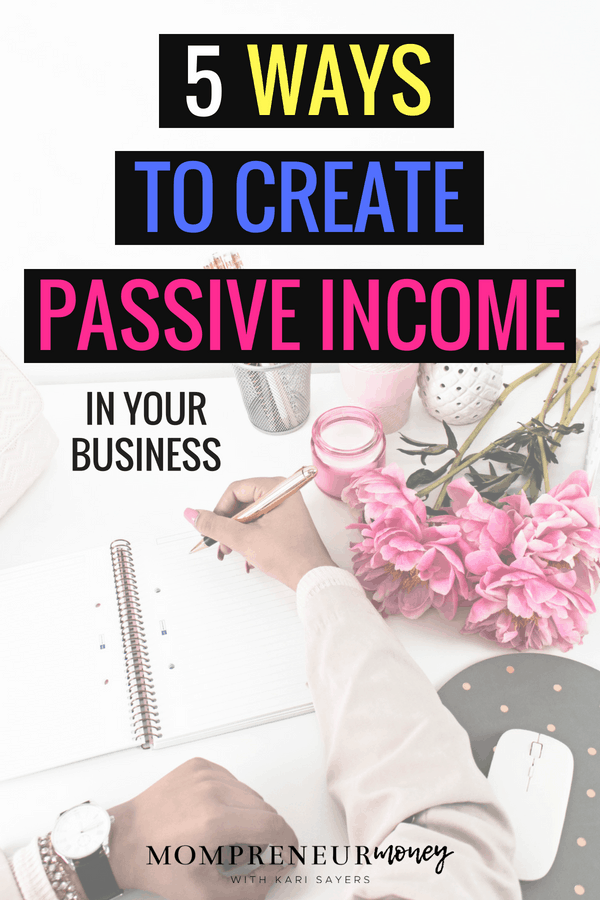 Keep Learning:
How to Market Your Side Hustle
Multiple Income Streams for Mom Bloggers
How to Create Passive Income with a Photography Business