Looking for the best online teaching platforms to teach online classes?
I'm a course creation junkie and I'm absolutely fascinated by the fact that I can teach online classes–taking what I know and turning it into a digital product!
More importantly, I love that I can share my knowledge to make an impact on the lives and businesses of multiple people at once.
Read on to discover the best places to teach online courses.
Best Online Teaching Platforms: Where Should You Teach Online Classes? Skillshare, Udemy, Teachable or Thinkific
[toc]
Every month I get questions from writers and bloggers who are interested in launching their own online courses (which I think is absolutely awesome).
One of the biggest questions I get asked is about my opinion on the different teaching platforms.
In particular, the following platforms are asked about the most:
These are the most well-known, best online teaching platforms.
So, in this post, I'm sharing my overall thoughts on these teaching platforms because I have experience with each one.
Yes, there are MANY other platforms for selling online courses out there, but since these are some of the more well-known platforms we will just start here.
Best Online Teaching Platforms to Earn Income from Teaching Online Classes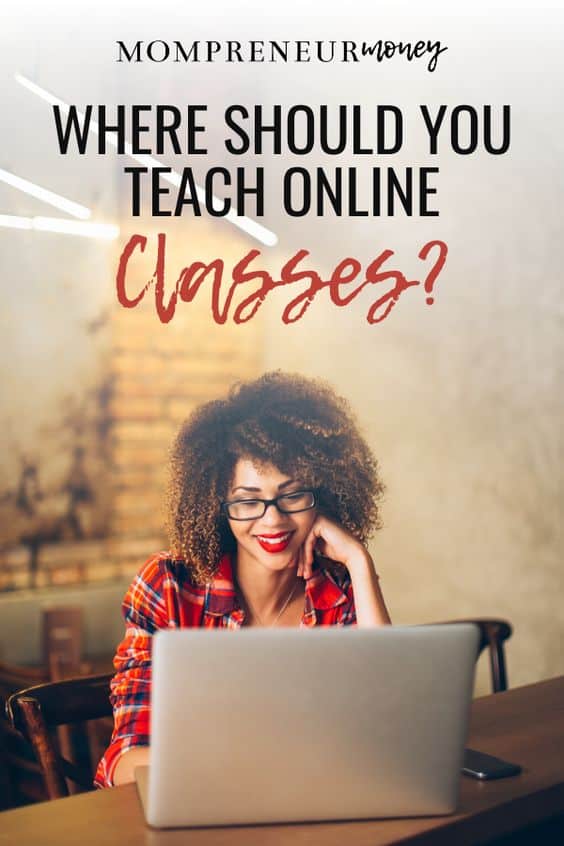 Teach Online Classes on Thrivecart
Thrivecart recently launched a fabulous new feature: online course hosting!
That's right, Thrivecart is now an LMS platform, in addition to being an incredible cart software.
And the best part is that you can get it as a lifetime deal, meaning that you only pay once and get the software for life. No monthly fees, ever!
==> Learn more about Thrivecart
Teach Online Classes on Skillshare
What I love about Skillshare is its mission to provide affordable online classes that virtually anyone can take.
Here are a few key things to note about Skillshare:
Skillshare runs on the membership model. Students pay $19 per month for access to unlimited premium classes on the platform. This means you have no control over your course pricing. It's kind of an a la carte situation for students.
Instructors were previously paid approximately $1.60 (or so) per premium student enrollment in a class. As of January 1, 2017, teachers are being paid per minute watched. My rate for May 2020 was $.027 per premium minute watched.
You do not get access to your student's email addresses, however, the system does allow you to post internal announcements which can be automatically sent by email to all of your students.
You get a $10 referral bonus for any first-time Skillshare students that sign-up for a premium Skillshare membership through your referral link.
Skillshare is an online course marketplace. This means that your course will be searchable via their directory of courses. By promoting your course, getting new sign-ups, and reviews you can boost your course and get it "trending" on Skillshare. This means more visibility and more sign-ups.
The biggest problem I have with Skillshare is that unless you are getting thousands upon thousands of minutes viewed each month, you are now getting paid much less for the hours of hard work you likely put into creating a class.
For me to make at least $500 per month using this platform, I need 18,500 premium minutes of class time watched by paying Skillshare students each month based on the numbers mentioned above.
This is certainly a goal that can be accomplished and exceeded by instructors, but it will take some work to build up your student base.
Still, for newbie course creators, the platform offers a good way to get your feet wet with the online course world.
I also love that Skillshare continues to host a monthly challenge for new teachers that will guide you through the process of creating your first course in 30 days.
Read more: How to Teach a Class on Skillshare
Teach Online Classes on Udemy
I currently have one course available on Udemy, but to be perfectly honest, I'm completely unengaged with this platform and haven't updated my profile in FOREVER.
Still, it's worth mentioning because they are a platform with tons of students who purchase courses. There is still an opportunity to instructors to earn good money from this platform.
Like Skillshare, Udemy is also an online course marketplace.
Here are a few insights about the platform:
Students pay individually for each course they decide to enroll in.
You have some level of control over your course price. However, there are maximum and minimum base prices that must be adhered to depending on which country you live in.
One of my biggest issues with Udemy in the past was that they frequently discounted courses at outrageously low prices if you opted into their 'Udemy Deals Program'. For instance, I once set my course price at $99. They ran a 75% off discount, which meant the course sold for around $25-ish dollars. I received about $12 payment on a $99 course because you split commission 50/50 with Udemy.
In general, instructor pay is broken down like so: Instructors receive 97% of the revenue share for sales made using their own course referral link (less a 3% fee). If a student is browsing the Udemy Marketplace and makes a purchase, the instructor will receive 50% revenue share. Udemy also partners with affiliates to promote courses, and a sale from this avenue typically yields a 25% revenue share for instructors.
You also do not have access to the email addresses of your students. Udemy owns the email list they accumulate. However, Udemy does have several built-in communication tools that allow you to connect with your students from the inside of your Udemy platform.
There are plenty of course creators who enjoy publishing on Udemy and make an awesome living doing so.
It's a platform that I may revisit in the future. I encourage you to explore it for yourself and see what you think.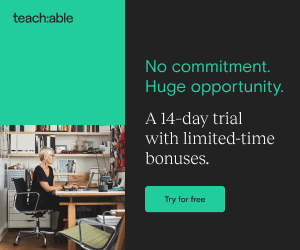 Teach Online Classes on Teachable vs. Thinkific
Both Teachable and Thinkific are online platforms for building your own course brand–basically with your own rules.
Your courses are hosted on their platform (both of which have a user-friendly interface), but you are in full control of the design aspects in terms of color schemes, images, link placements, etc.
Related Content: 11+ Platforms to Create and Sell Online Courses
Here are a few tidbits you should know about these platforms:
Teachable and Thinkific are NOT a course marketplace like Udemy and Skillshare.
This means that people don't find your course in a digital catalog like they would on the other platforms.  This means that self-promotion is ABSOLUTELY integral when using either of these platforms.
When you create your courses on Teachable or Thinkific, you are given a business URL that looks something like this:
YourBusiness.Teachable.com or YourBusiness.Thinkific.com. It's up to you whether or not you choose to use a custom domain (which falls under the paid plans for both platforms).
Just know that using the URL with ".teachable.com" or ".thinkific.com" attached to it is perfectly fine as well! Plenty of people do it!
You don't need a separate website to launch a course.
You can actually use your Teachable or Thinkific website as your main website. I did this for a few months until I created my main website in WordPress.
Pricing
With both platforms, you set your own pricing and it can pretty much be as much or as little as you want it to be.
This is unlike Udemy which has a minimum and maximum base prices or Skillshare in which your premium courses have no option for setting a price because they are included a la carte in the monthly membership fee that students pay.
Payouts
On Teachable
You get paid for revenue earned in the previous month at the end of the next month. F
or instructors in the US and Canada, you may be eligible to enroll in Teachable Payments which allow you to receive payments on a daily, weekly, or monthly schedule.
Payouts On Thinkific
Once you integrate your payment processor, you receive your funds directly from the payment processor by withdrawing your funds manually.
Paypal or Stripe?
Both Teachable and Thinkific now allow Paypal or Stripe payments starting with the free plan.
Customer Service
On the free plan for Teachable, you have limited access to customer service. When Teachable first launched, it was able to better serve clients simply because the client list was smaller.
But as the platform grew, it seems that they have scaled back on access to trouble-shooting. They do, however, have a library of helpful questions/answers/tutorial videos that you can access.
Most times when I have questions, I find the answers there. For Thinkific, I'm still new to the platform, so I haven't had to engage customer service yet…will get back to you on my experience at a later time.
Teacher Community
Both platforms offer a Private Facebook Group for Teachers that allow us to connect with each other.
Most people are very helpful inside the groups and are very encouraging towards new course creators.
Access to your student's email addresses
Another huge plus on these two platforms is that you get access to all your students' email addresses (not just a message system like on the course marketplaces.)
This means that even if you leave the platform, you have the personal contact information for your students.
You can take a closer look at Teachable's pricing plans and Thinkific's pricing plans. Both offer a $0 starter plan which is helpful.
Premium plans with more features start at $29 a month on the Teachable platform.
Thinkific's lowest premium option is $49 per month (it's less for both platforms if you pay the fee annually rather than monthly).
But again, you can start on the free plan and move up from there.
Related Content: How to Create a Money-Making Course on a Budget of $50
I'm currently using Teachable to host several of my self-paced courses. I have also used Thinkific's platform and love it.
Honestly, I go back and forth between which one I think is best–both offer a ton of resources and helpful tools to instructors.
For the purposes of this particular post, just know that either one is a good option when you are looking to create a course where you have the freedom to set your own price and have control over your email list.
Best Online Teaching Platforms To Teach Online Classes – Conclusion
There are definitely advantages of publishing to course marketplaces like Skillshare and Udemy.
It's possible to get extra exposure to an audience of students that you may not have reached otherwise.
Unfortunately, this comes at the cost of not building your own email list of students. It also means you do not fully control the pricing for your course.
That's why I love the money-making potential and user-friendly interface of Teachable and Thinkific.
I would say the best online teaching platform is Teachable!
The biggest issue with using these platforms is that you are entirely responsible for marketing your classes and attracting students.
However, these options also allow you to build your own email list which you have control over.
The best part of all of these platforms is that there is no exclusivity to any one platform.
You can create your course once, add your lessons to Teachable or Thinkific to sell directly, and also then post it on Skillshare and Udemy if you like!
Doing this puts your work in front of various audiences of students. The more exposure, the better!
Your classes become available through multiple different access points! That's called leveraging your work and turning it into a multi-sourced income stream!
This is exactly what I did when I created my very first course.
I posted it in multiple locations and brought in income from various sources using the same content. I encourage you to do the same if it makes sense for your business.
Which online course platform are you thinking of trying first? Do you teach online using other platforms now mentioned above?
Leave me a comment below and let me know!
Keep Learning: