Looking for profitable services you can sell?
Even before I had my children, I knew that I wanted to work from home. The traditional workspace was simply not my cup of tea.
Once my boys were born, I was absolutely convinced that I needed a more flexible schedule to be able to spend more time with them without worrying about missing work for doctors appointments, school activities, and extracurricular events.
I began searching for opportunities to work from home and selling services was high on the list.
Selling profitable services is one of the best ways you can work from home and start earning money.
Check out these 10 work from home ideas for selling services: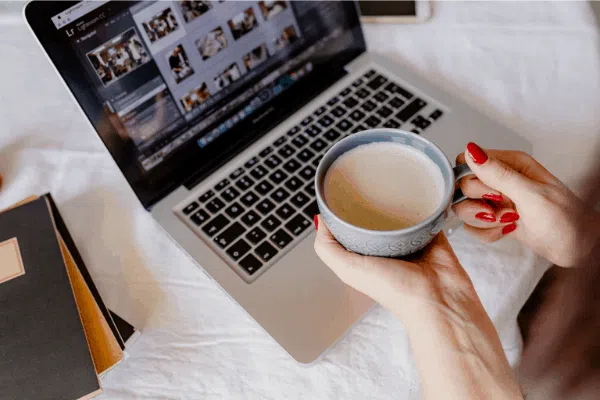 Become a Virtual Assistant (VA)
You'd be surprised at the number of small business owners/bloggers looking to hire a virtual assistant to help them run their businesses more smoothly.
As a VA, your duties may include managing emails, setting up email marketing campaigns, research for blog posts, calendar management, transcriptions, monitoring comments, etc.
Check out this 31 Day VA Training Program from Sara over at Virtual Biz Partner or the Pitch Like a Boss Course by Ciara at Nomad Mom Like.
Become a Pinterest VA or Pinterest Manager
Are you a Pinterest fanatic? Pinterest is a business resource that is used by many online business owners across many different niches so it presents a great service opportunity.
Pinterest VAs are paid to manage the Pinterest account of the business owner with a goal of driving traffic to the website and ultimately increasing sales. Gina Horkey offers an in-depth training on becoming a Pinterest VA.
Create and Design Websites
Are you really good at designing websites? There are several ways you can make money with this service. You can design WordPress websites, create websites for business owners using hosted platforms like Wix or Squarespace, or even help write website copy for about pages and sales pages.
Become a Business Coach
If you have expertise in a given area, you should consider offering coaching services to people who are in your field of expertise, but not quite as experienced.
For instance, you can offer blog audits and live coaching sessions to bloggers who are looking for guidance to grow their businesses. My belief is that you only need to be a few steps ahead of the person you are helping to make an impact.
People more likely to hire you as a coach because your success level is likely more relatable to the average person, as opposed to them hiring a MILLION DOLLAR COACH with results that seem completely out of reach.
Sell Stock Photography
This is a cool service to offer if you are really into photography. You can sell your photography on sites like Creative Market, Shutterstock, etc. (Have you seen this post on Passive Income Photography?)
You could even create a stock photography subscription service like Ivory Mix, Oh Tilly, or SC Stock. With this, you can even sell custom photography branding packages to bloggers.
Become a Virtual Tutor
This type of service has exploded recently! With companies like VIP Kid, SayABC, Kaplan, Class of 1, and SmartThinking, you can work from home as a tutor and make good money.
Become an Editor/Proofreader
Has anyone ever called you a Word Nerd or the Grammar Police? If so, then offering editing and proofreading services to bloggers and authors could be in your future! You can offer editing/proofreading services on websites like UpWork, Reedsy, Freelancer, and Fiverr just to name a few.
Proofread Anywhere is a good resource for learning about selling your proofreading services to business owners.
Sell Graphic Design Services
Do you have an eye for graphics? If you love creating and designing in Photoshop or Canva, selling your graphic design services is a great option. There are many online business owners who are graphic-design challenged. They would rather pay someone to design their books covers, social media graphics, etc.
Become a Social Media Manager
This is an oldie but goodie. If you enjoy being on social media and have great organization skills, you can sell this as an outsourced service to overwhelmed business owners.
Read how Maggie started a profitable business as a social media manager.
Become a Freelance Writer
Another oldie but goodie here. There are tons of freelance writing opportunities out there. You can ghostwrite ebooks, batch write blog posts, write email marketing series, write for large publications and much more as a freelance writer.
Check out Elna Cain's blog to get more tips on how to get paid to write!
Wrapping Up
If you decide to sell a service as your side hustle, one of the most important parts is coming up with a plan on how to market your services and find paying clients.
It all starts with understanding your target audience. Having a good handle on your target audience wants and needs will make marketing your services a much smoother process.
Are there other services that you think create a great opportunity to work from home? Let me know in the comments.
Profitable Services to Sell Online
Pin for Later!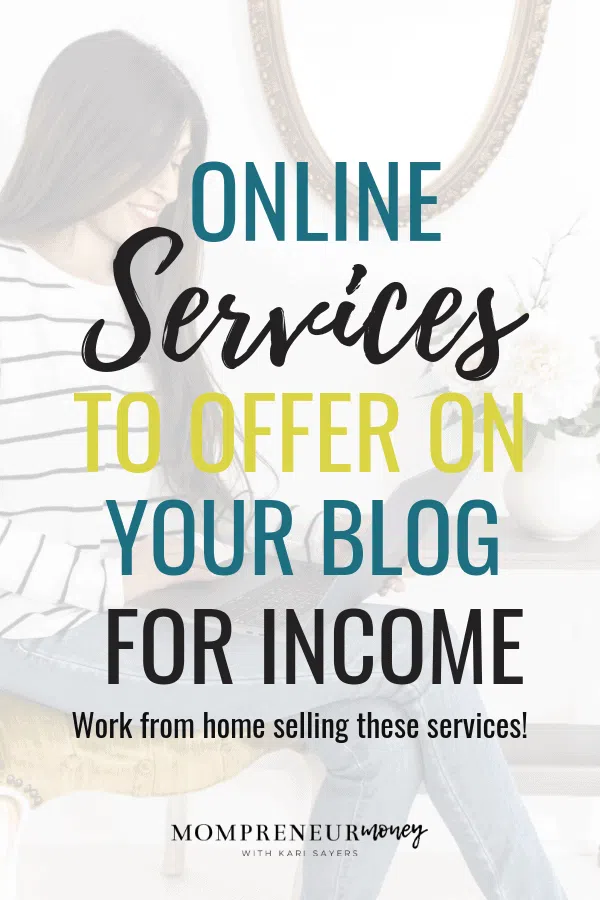 Keep Learning:
5 Ways to Create Passive Income in Your Business
How to Build Your Own Freelance Writing Business from Scratch