How To Make Money on Pinterest
Trying to figure out how to earn money using Pinterest? I can tell you with 100% certainty that Pinterest works and it is actually possible to make extra money on Pinterest as an online creative!
When I started this blog a few years ago, I had no clue how to make money on Pinterest. Like many bloggers, I didn't realize that Pinterest could be used as a business marketing tool!
Fast forward to today, I now know that Pinterest can be an excellent source of traffic for bloggers and for brands. In fact, Pinterest is one of the easiest ways for new bloggers to drive traffic to their websites.
It doesn't matter if you run a parenting blog, a gardening blog, a fitness blog,  a mom blog, a personal development blog, etc. You can tap into the power of Pinterest and start using it to produce an income.
But, you have to be strategic. Here are some initial steps you should take:
Create a Pinterest Business Account
If you really want to harness the power of Pinterest in your business, you must create a Pinterest business account.
Creating a Pinterest business account is free. Doing so gives you access to resources and tools that do not exist on a personal Pinterest account, such as the ability view your analytics, run Pinterest ads, feature your website URL, and more!
Update Your Pinterest Profile
Your Pinterest profile gives you an opportunity to add keywords (for Pinterest SEO) that are relevant to your business with a short written statement that tells Pinterest users exactly what the focus of your business is.
Create Relevant Pinterest Boards
Pinterest, like everything else on the internet, is constantly changing. Once upon a time, joining tons of active group boards and constantly posting on those boards was the best way to grow your Pinterest traffic.
However, times have changed. The focus has now shifted to creating relevant personal boards on your own account that include specific keywords to subject that are relevant to your business.
Create Eye Catching Pins
There is definitely a difference between a good pin and a bad pin when it comes to Pinterest.
In general, you want to make create pins that have:
A relevant image that is related to your blog post
Keywords featured in bold, but simple font (don't use curly, swirly font (as I like to call it) for important keywords)
A light colored background with dark font overlaid
Your logo or your website URL included
Below is an example of one of my pins that follows these guidelines.
As you can see, "Stay at Home Moms" is one of the main keywords in this pin so I highlighted and bolded those words. I also used used a picture of a mom in front of her computer with her child near. It's relevant to the fact that the post is about jobs for stay at home moms.
Implement a Pinning Strategy
Back in the day, 100% of my pinning was automated. But overtime, with all of the changes to the Pinterest algorithm, automated pinning was no longer giving me the same results in terms of driving traffic.
Nowadays, I use a combination of mostly manual pinning with a small amount of automated pinning using the Tailwind App. For some bloggers, automated pinning still works great for them. You'll just have to see what works vs. what doesn't work for your business.
Another thing you should know…don't worry about the number of followers you have on Pinterest! No, seriously. The number of followers you have on Pinterest does not equate to the amount of page views you drive to your website.
I'm a perfect example of that. While I have over 20,000 Pinterest followers, I am not getting 20,000 page views from Pinterest to my blog (I wish). So while you do want people to follow your Pinterest account, focus instead on frequently creating and sharing fresh pins that drive traffic to your new and existing content.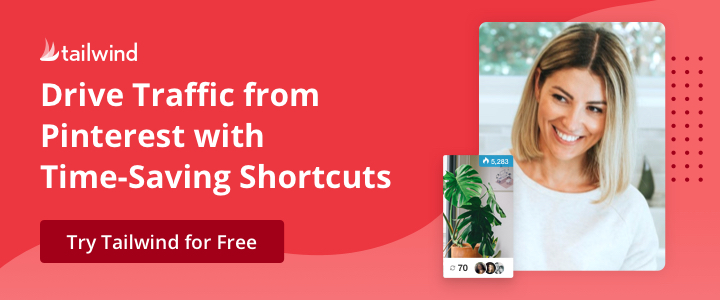 Once you complete these steps, you are ready to monetize your Pinterest account!
The Fastest Way to Earn Money on Pinterest is Through Affiliate Marketing.
Yes, there was a point in the not too distant past when affiliate links were not allowed on Pinterest.
However, Pinterest changed their positioning on this subject and now affiliate marketing on Pinterest is allowed! This means that you can monetize your pins with affiliate links (as long as you properly disclose that they are affiliate links–which you should be doing anyway).
This change has made it possible for so many bloggers to start earning income online.
But how exactly do you do it?
The simple answer is to do this:
Sign-up to be an affiliate for products and services you love to use
Create a beautiful pin in Canva or PicMonkey
Start pinning to your Pinterest boards
Again, this is a very high-level description of what you can do to get started. If you need help understanding affiliate marketing, start with this affiliate marketing blog post.
What you really need is a strategic plan for how to make money on Pinterest. Just pinning for the sake of pinning will not do your business any good.
Now, there are a lot of resources online that offer to show you how to make money on Pinterest, but not all resources are created equally.
In the list below, I'm sharing the high-quality, trustable Pinterest resources that I've found can actually help you learn how to make money on Pinterest.
But first, let me show you a quick example of how I use affiliate links and Pinterest.
Two Examples of How to Make Money on Pinterest with Affiliate Marketing:
In this first example, I used Canva to create a beautiful pin. I then uploaded the pin to Pinterest and chose to link it to an existing blog post that contains affiliate links to online course platforms that I have reviewed.
I this example, I used the promoted pin function to send more traffic from the pin to my blog post, thus increasing the chances of making affiliate income from this pin. You can learn all about Pinterest ads here.
In this second example, I used a graphic provided by a company for which I am an affiliate partner. I uploaded the image directly to Pinterest and added my direct affiliate link to the product.
You will notice in the description of the pin that I have added "afflink" as a hashtag. Anytime I add I direct link to an affiliate product (rather than a link to my own blog post), I make sure I add some indicator that let's the reader know the pin leads to an affiliate product.
Note: This is a brand new Pinterest pin I just created today, so it doesn't show any impression, saves, or links yet.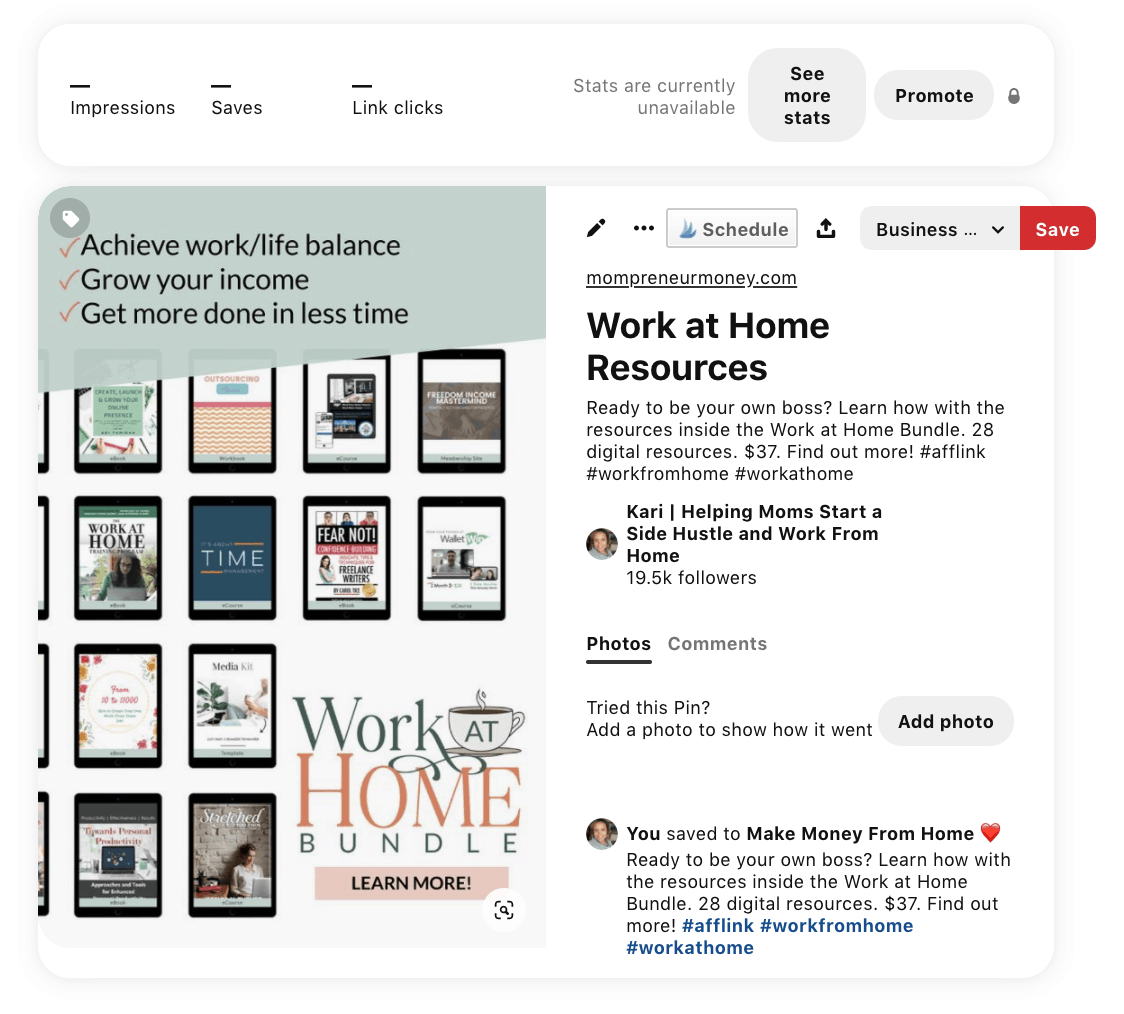 An Additional Way to Make Money with Pinterest
Another way that you can make money with Pinterest is by becoming a Pinterest Virtual Assistant.
Because the power of Pinterest as a business tool continues to grow, there is also a growing need for Pinterest Virtual Assistants who can assist small business owners in using the platform to grow their brand presence, website traffic, and even product sales!
A while back, I was paying $250 per month for a Pinterest VA to spend an hour or less each week creating and scheduling pins for my account. Imagine that…$250 from just one client!
As a Pinterest Virtual Assistant, you should at least:
Understand Pinterest best practices
Keep up to date with the changes to the platform
Know how to make beautiful pins with compelling pin descriptions
Know how to create relevant boards with keywords
A few of the services you can offer as a Pinterest VA include such:
Setting up Pinterest business accounts
Creating and organizing Pinterest boards
Designing pins
Scheduling pins
Running pin promotions and measuring outcomes
You can learn how to become a Pinterest VA here.
5 Resources to Help Make Money on Pinterest
Now that I've given you a quick overview on how to use Pinterest to make money, I also want to leave you with a few resources that can help you save money and time when it comes to learning Pinterest.
by Tracie Fobes
Tracie runs the blog Penny Pinchin Mom. Precision Pinning is her $47 ebook that will help you create a Pinterest strategy that works for your account.
by HerPaperRoute
HerPaperRoute's course shows you a step-by-step system Chelsea used to scale her affiliate income from $0 to over $1,000 per month in six months using Pinterest.
The Perfect Pin ($47 online course)
by Jeff Proctor
Jeff is one of the guys that runs the blog Breaking One Percent. He uses Pinterest to help drive traffic to the blog which now generates over $10,000 per month. The course is a combination of video and text-based lessons and it teaches students how to explode their Pinterest Traffic.
by Michelle Schroeder-Gardner
You may recognize Michelle as the now well-known personal finance blogger who makes over $50K per month with affiliate marketing. She runs the blog Making Sense of Cents. Her online course is text-based and includes bonuses such as a Pinterest strategy guide, copywriting tips, Facebook ads training, and more.
Remember that all of these resources are from bloggers who really know their stuff. Their strategies show you how to make money on Pinterest based on experience and tested results.
My suggestion is to start with the one that resonates with you the most and is within your budget. But more than anything, just start.
---
Wrapping Up
Making money from Pinterest is definitely an income stream for bloggers and other many other types of online entrepreneurs!
Additionally, if you create an Etsy shop or if you start a Shopify store, you can use built-in Pinterest tools to make extra money from those online shop platforms!
When it comes to Pinterest, you really just have to experiment and see what works best!
Did You Enjoy This Post on Ways to Make Money with Pinterest?
Keep Learning:
4 Phenomenal Pinterest Mavens To Teach You Pinterest For Business
Marketing With Pinterest: Fix Your Pinterest Strategy With These 3 Hacks!
Everything You Need To Know About The Making Sense of Affiliate Marketing Course in 3 Minutes