3 Hacks for Marketing With Pinterest
Okay–I'm channeling my subtle South Carolina accent today ya'll–let's talk about marketing with Pinterest and the easy-to-fix mistakes bloggers are making.
Please note that I am BY NO MEANS a Pinterest marketing expert.
For expert advice, read this post about the women in this nitty-gritty Pinterest arena that I trust and see the list of resources at the bottom of this post.
What I am is a big proponent of using Pinterest to grow your business.
About a year and a half ago I had 45 Pinterest followers and pretty much no monthly viewers or really any Pinterest traffic at all.
Then, I got serious about using Pinterest as a business tool, I invested in some training to help me learn what the heck to do, and I haven't looked back since.
So nowadays, even though I'm still nowhere near to being a Pinterest Maven (nor do I intend to be), I do know a thing or two that can help Pinterest marketing beginners.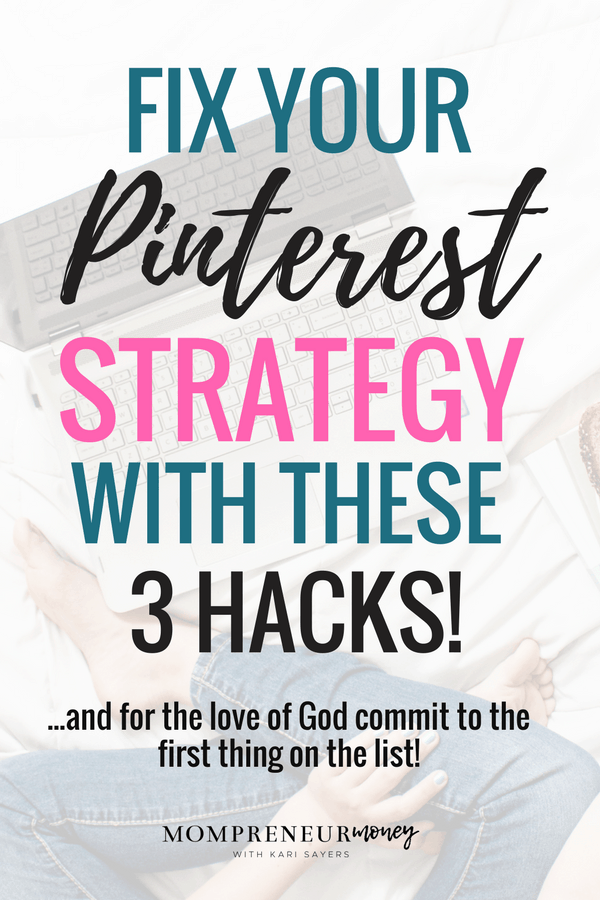 Tip #1: Ditch The Ugly Pin Designs
For the love of God, please please please make nice-looking pins!
I say this with a lot of sass, but I truly mean it out of love.
It absolutely kills me when I'm searching for good content to share from other bloggers on Pinterest and I come across multiple HORRENDOUS-looking pins.
What am I suppose to do with that ladies?
I'm no saint. I have some pretty horrible pins floating around the Pinterest Universe myself.
But eventually, I had to get it together and recognize that my pins needed a makeover.
Hell, I'm still in the process of making new graphics for many of my pins for this exact reason.
Here's My Suggestion:
Take some time to really study the different pin graphics being used by popular bloggers in your niche. Check out their pin style, and then get started on creating your own.
Create a Canva (or PicMonkey) account and start experimenting with creating a Pinterest Pin Template. If you feel like you're not confident in your ability to make your own pin designs, you have two choices:
You can purchase a Pinterest Template from Creative Market (here's a link to some I found).
Hire someone to make a Pinterest template for you. Just search for Pinterest VA Services on Google or within Pinterest.
Having a good Pinterest template will change your Pinterest pinning life!
Tip #2: Make Sure Your Image Description Is Not Blank
I've been guilty of this too. It just happens sometimes.
However, we all need to get in the habit of checking and then double-checking that we have the title, description area and alt text completed when we upload images to WordPress posts.
I usually type in my title, then create my description. I then copy the description and paste it into my alt text area as well. Here's what it looks like:
Again, it drives me bonkers when I find a pin that I want to schedule to one of my Pinterest boards but it's missing wording in the description area.
When I'm scheduling, I'm doing so very quickly so for the pins that pop up as "missing description" or have "no source URL" I immediately delete those pins and do not schedule them.
Honestly, it happens every single time I go to schedule pins.
I notice that it happens more often when I'm trying to schedule pins from my homepage feed rather than when I'm scheduling pins from the group boards I follow.
It's possible that this information was actually inserted by the blogger but something happens where it simply doesn't show up in my Pinterest scheduler.
But for sure there are some bloggers that are just flat out not adding this info to their pin images.
Tip #3: Organize Your Profile Before Requesting to Join Group Boards
Here's my last tip.
Before you request to join a group board, make sure that you've taken the time to get your Pinterest profile together.
I actually check the Pinterest profile pages of people who request to join my group board.
No, I don't care how many followers they have.
No, I don't care what their monthly Pinterest views are.
What I do care about is that they have taken the time to at least create a few organized boards and are pinning nice-looking pins related to my board niche.
If I look at your profile and see that you haven't set up any boards or that you have set up boards and they are filled with ugly pins (or worse, they are empty), I will almost certainly ignore your request.
This isn't because I'm mean, it's just because AINT NOBODY GOT TIME FOR THAT! (again…said with love)
My constructive feedback is to do this: Try having at least 8-10 boards (with good titles) that have at least 10 pins in each of them.
You can accomplish this is just an hour or two–I know this because I did this myself.
Doing this will make your Pinterest page look a million times better and make you look like you are serious about being a contributor to the Pinterest Universe 🙂
Wrapping Up
If you need more help with Pinterest, you should really connect with a Pinterest expert. Think about getting on the email list of Catherine Oneissy Kate Ahl, or another trusted Pinterest expert.
These experts have great Pinterest-related content and can help keep you in the loop of the constantly evolving world of Pinterest.
What other Pinterest resources do you use? Comment below and let me know!
Best Marketing Tips for Pinterest
Keep Learning:
How To Make Money on Pinterest
Best Pinterest Experts to Follow Online