How do you start a virtual assistant business?
Six Simple Steps to Become a Virtual Assistant is a guest post by Sara Lingenfelter at Virtual Biz Partner.
Before I tell you how to become a virtual assistant and start making money, it's important you know a bit about me!
I started my business in 2011 due to the weak economy and little job security. Even as I started my business, I didn't realize that's what I was doing.
At the time, I was unhappy at my 9-5 office job but didn't know what I wanted to do. I eventually started working my job from home and only going to the office one day a week because I moved pretty far away when I got married.
It was great at the time because my then-infant son got to stay home with me. I was still unhappy, bored, and there was no room for growth within the company.
I paid a lot of money for my degree, so I looked into using it to become a probation and parole officer, but it meant putting my son in full-time daycare, which was not an option I wanted to consider.
Then I Came Across the Words "Virtual Assistant"
One day on Facebook I came across the words Virtual Assistant. I started researching and found a thriving online world of businesses that needed Virtual Assistants.
I found that the average rate for an experienced Virtual Assistant is $30 to $40 an hour and even more if you specialize in a particular niche. A new Virtual Assistant could make $15 to $25 per hour, which is better than most part-time jobs where I lived!
Long story short, I started a Virtual Assistant business. I did make many mistakes along the way and learned by experience but I'm so happy I learned of this opportunity!
Even though I needed to bring in an income, I also wanted the flexibility to care for my family. As I learned more about starting and running a business, I felt an immense desire to teach other moms to do the same.
And that's what I want to tell you. You can bring in reasonable income and still be there for your family when they need you!
If you think starting a Virtual Assistant business might be for you, I want to help you get started with steps that are easy to implement. We have a lot going on, ladies, and I don't want to add stress to your life!
6 Simple Steps to Get Started with Your Virtual Assistant Business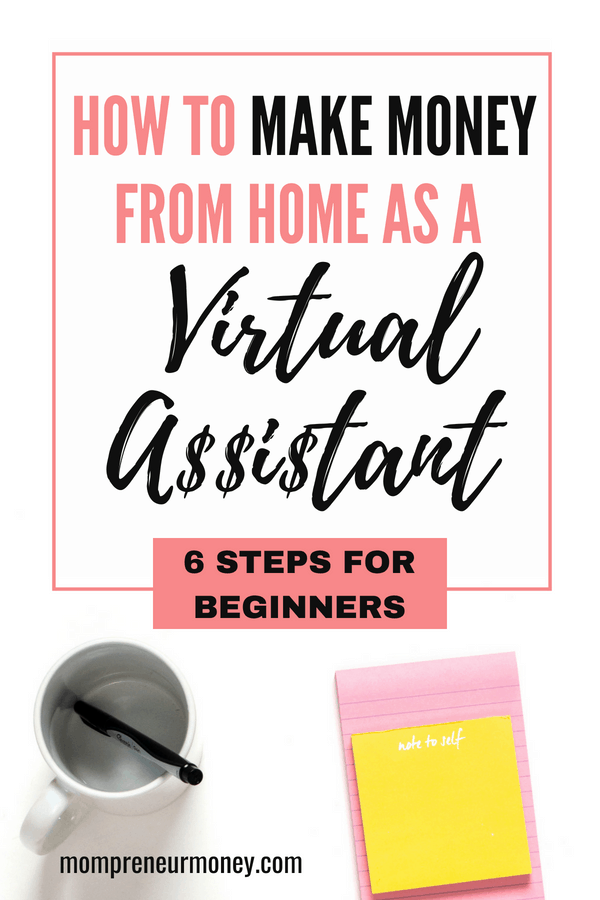 Step 1: Brainstorm Your Skills
Everyone has some skills that could benefit others. Your skills could be administrative, writing, management, research, and the list goes on and on. Brainstorm a list of skills you have to offer others. The cost to do this, zero!
Step 2: Check Your State Requirements
Check the requirements of your state to operate a home-based business. A sole proprietorship is the easiest to have but also doesn't give you much legal protection. You can always start out this way and then eventually register as an LLC. When I filed my fictitious business name with the state of Missouri, it cost $7, and when I became an LLC, it cost $50.
Step 3: Decide on a Business Name
Even if you don't want to set up a website for your business right away, you need to make sure there is a domain available for the business name you choose. Buy the domain once you decide on your name so you can set up your business email and look more professional. The cost to buy a domain is $12.99 or less. If you start a website right away, it's an added expense but can be done using templates for less than $250!
Step 4: Determine Your Rates
Determine your rates and put together packages you will offer. If the thought of creating packages scares you, start with hourly work. I advise creating packages at some point, as packages lead to more consistent income. Cost of doing this, zero!
Step 5: Create a LinkedIn Profile
Create a LinkedIn profile. If you already have a LinkedIn profile, make sure it is up to date. When I started my business, I didn't have a website. I used my LinkedIn profile, a helpful information sheet, and a resume. My potential clients accepted my profile, information sheet, and resume. A paid LinkedIn account is not necessary, so the cost of using LinkedIn, zero!
Step 6: Start Submitting Proposals
Now you are ready to start submitting proposals! One of my favorite sites for getting started is HireMyMom, which is where I found my first two clients.
Rates are usually lower, BUT it's a great place to start and gain some experience. To join HireMyMom there is a fee of $29.95 per quarter. I found my first two clients within two months of joining.
Equipment and Software
You may notice that I left out office equipment and software. To start, all you need is a computer and high-speed internet. Microsoft Office is very helpful, but most people already have that on their computer. Most other programs you need to get started are free, and you can find a list of them on this page, along with some other resources.
Start-up Costs to Become a  Virtual Assistant
Your start-up costs will be around $50 but may increase to approximately $340 if you purchase a domain name and file an LLC with your state. You might want to factor in business insurance, so ask your insurance agent about rates and whether you need a policy.
These steps may sound too simple to lead to a larger business, and I thought so also. The first year I had my business, which was a side job, I made about $11,000 in additional income. Not bad! The next year, I doubled that number.
At that point, I had to quit my job because I was working all the extra hours I could. I realized I LOVED having my own business. In January of 2013, I left my full-time job and made $10,000 MORE than my previous yearly salary.
In my first year of running my business full-time, I got pretty close to the six figures, and my overhead was LOW! I tell you this not to bring attention to myself, but to show you it IS possible to build a big business on a small budget. I started low, and as my business grew, I invested in keeping it growing and thriving.
Over time, I invested in training that helped move me forward even faster, and you have that option as well. I know not everybody wants to build a big business, I just want you to know it is possible. If a single mom living in a tiny rural Missouri town can do it, I know you can too!
If you want to become a Virtual Assistant, take a closer look at my 31 day program.
Did you enjoy this post about creating a virtual assistant business? You might also enjoy these posts: