7 Ways For Stay At Home Moms To Make Extra Money
Making the decision to be a stay at home mom can be really challenging. On one hand, you have the desire to stay home and be able to raise your children. On the other hand, you may still have the desire to work and earn money to contribute to your family's income.
My twins were just getting ready to start "official" preschool, when I decided to quit my educational marketing job and become a full time stay at home mom.
I still remember the rigmarole of having to drop them off at daycare each morning by 8:30am. Then I'd rush to get to my job before 9am (a creativity lacking job in which almost my entire check went towards daycare). Then I'd rush to pick them up from the daycare before 6pm. It was mentally and physically exhausting.
By the time we made it home, had dinner and bath time, there was no time left before it was bed time for them. I'd barely had the chance to spend any quality time with them and it was super frustrating!
The transition to being a stay at home mom made me very happy. Being able to drop them off at their new (less expensive) preschool by 8:30am and then having nearly 5 hours to do whatever I wanted/needed to do before picking them up around 1:30pm was amazing!
Finally, I was able to spend good, quality time with my kids every afternoon. Not to mention, taking them out of full time daycare gave us the added benefit of saving money on that expense because half day private preschool cost us almost 65% less than full time daycare for two kids. Can you say WINNING?
However, even though I was delighted to be spending more time with my children, I knew that I still wanted (and needed) to feel like I was contributing to my family finances. The side hustles that I first used to bring in extra money while working a full-time job became my way of making money as a stay at home mom.
For me, it was a transition from a 9 to 5 working mom, to a stay at home mom, and then to a work at home mom. It felt really good knowing that I could successfully do both things–be home/present for my kids and make money at home!
In this post, I'm sharing different ways you can earn extra cash while being a stay at home mom.
The money-making activities below are a few that I believe can be done whether you have a toddler running around you all day or you're home (like me) overseeing your children's virtual school schedule or you have a few hours of quiet before you have to get your kids from the bus stop.
The ideas below can help you earn money from home without sacrificing your desire to be present for your family.
7 Ideas to Make Money as a Stay at Home Mom
Becoming a Freelance Writer
Average Pay: $20 – $30 per hour
Skills Needed: Strong writing skills, ability to meet deadlines, and ability to accept criticism
Tools Needed: A laptop, a website to sell your services, and a way to find clients
If you have a passion for writing, freelance writing is a great way to earn extra cash! Freelance writers have the flexibility to set their own rates and schedule. It's possible to make a full time income working part time as a freelance writer. This makes freelance writing a great option for stay at home moms.
If you are building a freelance writing business from scratch, you'll want to focus on creating a writing portfolio to show potential clients examples of your work. You can create writing samples by rewriting articles from popular blogs and websites with your own personal flare.
You can also build your freelance writing portfolio by starting your own blog, writing guest posts for blogs in niches you have an interest to write for, and by submitting articles to publications on a writing platform like Medium.
Here's a free class on How to Start a Freelance Writing Career.
Becoming a Virtual Assistant (VA)
Average Pay: $15 to $25 per hour
Skills Needed: Good planning and organizational skills, ability to multi-task, and good communication
Tools Needed: A laptop, a website to sell your services, and a way to find clients
Becoming a virtual assistant is a great way to earn money from home part time. Virtual assistants are hired to take care of a variety of tasks including responding to emails, setting appointments, conducting research, responding to social media inquiries and more!
The average rate for an experienced virtual assistant is $30-$40 per hour and anywhere from $15 to $25 per hour for a new virtual assistant.
For a stay at home job that can be done part-time, that's pretty darn good income!
Here are 6 steps to get started with your Virtual Assistant Business.
Becoming a Social Media Manager
Average Pay: $20 per hour
Skills Needed: Graphic design skills, knowledge of social media platforms, and good conversational writing skills
Tools Needed: Social media scheduling tool and graphic design tool
If you love social media and graphic design,  becoming a social media manager this could be a lucrative way to make extra money while working from home.
I made $2000 per month as a part-time work from home social media manager for real estate agents. I spent about 20 hours per week scheduling social media posts for Facebook and Instagram. I also regularly updated their profiles, responded to direct messages, and ran paid ads for special promotions.
Canva was my go-to tool for creating social media graphics. I used a scheduling tool called Later to schedule social media posts to Instagram and Facebook.
Here's a Q&A on How to Become a Social Media Manager
Teaching English Online
Do you have teaching experience? Do love working with children? A remote teaching gig could be the perfect flexible job to help you earn money from home.
Companies such as Qkids, VIPKids, Dada, and TeachAway are just a few platforms that allow you to earn extra money by teaching English online.
Most of these companies require you to have at least a bachelor's degree and be fluent in English. Pay can be as high as $25 per hour for some of these remote jobs as English teachers.
Here's a step-by-step guide on How to Make Money Teaching English Online.
Transcribing Audio and Video Files
A transcription job involves listening to an audio or video file and typing out the information that you hear.
Don't worry about being a fast at typing. To make money from home as a transcriptionist, you don't have to be lighting fast at typing. It's more important that you have good grammar skills and a fair amount of patience for this type of job. You must be able to accurately transcribe the words you hear into written form.
You'll notice that under 'tools needed' I wrote foot pedal. Purchasing a foot pedal will allow you to be able to pause, rewind, and fast-forward the audio files while you are using your hands to type.
Here's a free class to learn more about How to Transcribe.
Selling Printables
Average Pay: Varies
Skills Needed: Graphic Design
Tools Needed: Laptop, Online storefront, and graphic design software
Starting an online shop selling printables is one of the most fun and flexible side hustles you can start as a stay at home mom in my opinion! You can create printables at any time of day or night and publish them for sale and automatic distribution via your online shop.
Even as a new shop owner, it's not unheard of to make hundreds of dollars per month in your first few months. I learned this from my interview with Emily Cromwell who earns nearly six figures from a printables shop.
Just a few ideas of the types of printables you can create and sell include:
workbooks
planners
cheat sheets
calendars
coloring pages
and more
If you're a Pinterest lover like me, you've undoubtedly came across hundreds printables being featured on the platform. You will find that most of those pins lead to either an Etsy or a Shopify site.
Selling printables on Etsy, with its built-in audience of over 45 million buyers each year, can be a very profitable online job for moms. You can also make extra money by selling printables from your own Shopify site.
If you like designing your own graphics, and you are able to tap into a good niche with a loyal audience, selling printables is a great way to earn from homes.
Here's a really helpful post full of details to help you learn how to start selling printables.
Starting a Mom Blog
Average Pay: Varies
Skills Needed: Ability to multi-task, good organizational skills, and ability to prioritize
Tools Needed: Laptop and a website
Learning how to start a blog will always be on my list of ideas to make money as a stay at home mom. You can make money blogging by writing content on a specific topic of interest that you have and then monetizing that content.
Profitable blogging niches include personal finance, lifestyle, parenting, food, health and fitness, business, DIY, and personal development. There are also many good sub-niches within these main blogging niches.
Related Article: How to Start a Baby Blog
Choosing a niche and narrowing your target audience will make it easier it is for you to create content that you can monetize.
The easiest way to monetize a blog is with affiliate marketing. Simply put–you make money promoting affiliate products or services that your readers and followers will find useful.
It's important to recognize that starting a blog is not a way to make money quickly. It takes time to build up content and an audience. But with time, it is possible to earn a full time income from blogging.
Here's a guide to learn How to Start a Mom Blog from Scratch.
Summary
There are many ways of earning money from home as a stay at home mom. There are even survey site opportunities out there that pay by gift card instead of cash. I certainly prefer to be paid in cash!
The ideas mentioned above are just a few of my personal favorites that I believe will work well for a stay at home mom to make money from home. If you have other ways that have worked well for you, I would love to hear about it. Leave a comment below and share what you know!
7 Ways For Stay At Home Moms To Make Extra Money
Pin for Later!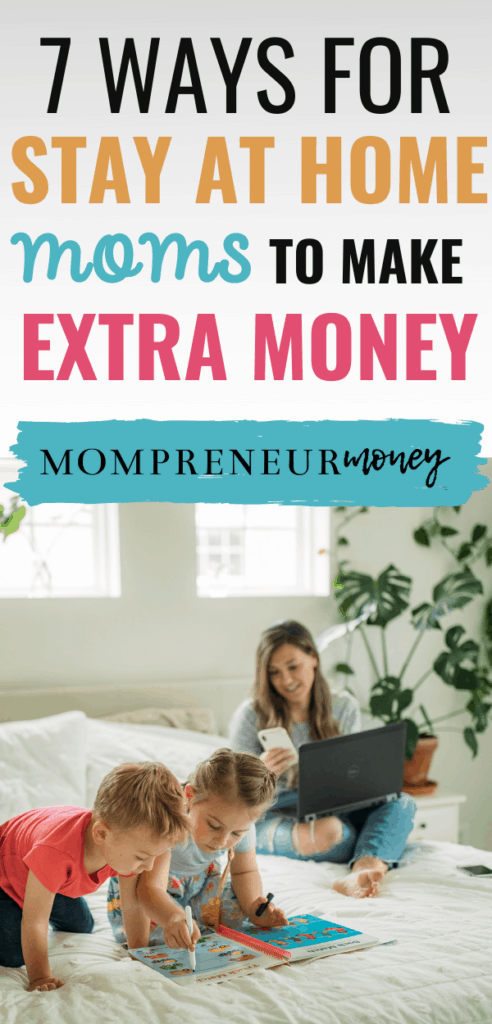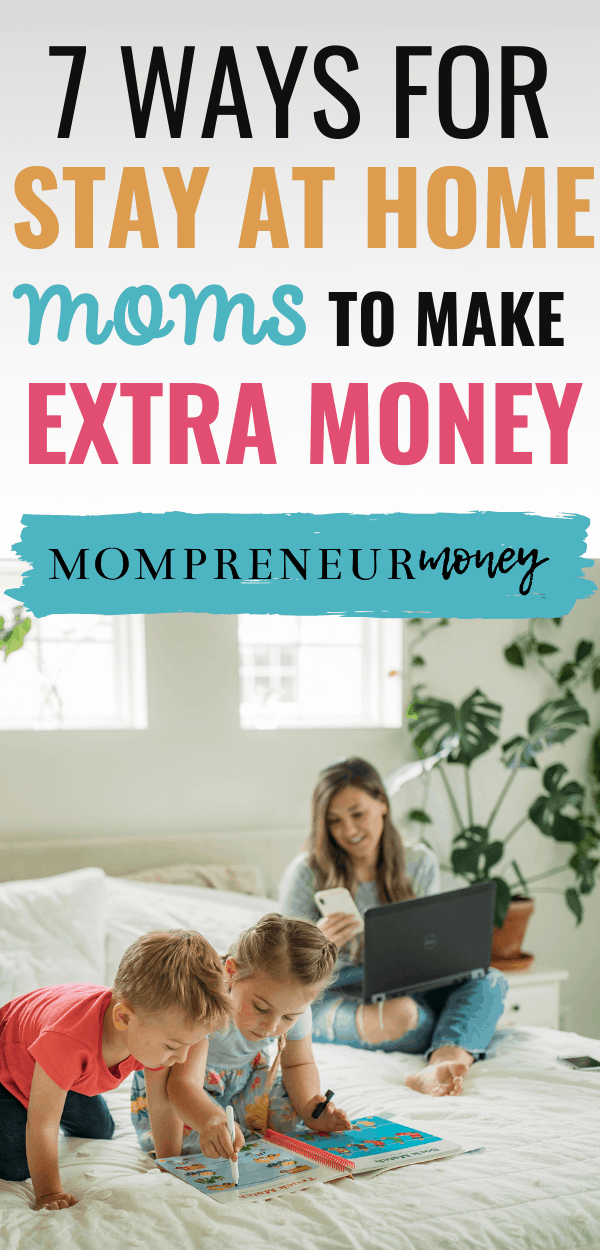 Keep Learning:
10 Genuine Home Based Jobs Without Investment
10 Profitable Services for Mom Bloggers to Offer