How to Start a Baby Blog
Starting a baby blog is a great way to keep track of your pregnancy and baby experiences. Of course, it's also an excellent way to make money from home while sharing those experiences with other moms who are looking for answers!
Think about it. How many times have you found yourself Googling information to help you learn how to soothe a fussy baby, best pillows for pregnancy, how to boost your milk supply, how to choose the best crib for your baby, how to stay sane as a new mom, etc.?
You were looking for answers, and it's likely that your Google search led you to explore multiple baby blogs written by mom bloggers.
Baby blogs are categorized in the parenting blogging niche. This is niche is very popular and profitable.
As you know from experience, parents spend money on their babies constantly! They invest in different products and services to make their parenting life easier and keep their babies healthy and happy.
This presents an opportunity for mom bloggers to offer helpful tips and resources through their blogs and social media. Mommy bloggers can make money with affiliate links promoting the products and services they love and recommend.
This is one of the easiest ways to make money from mom blogs.
The great news is that with so many great blogging resources at our fingertips, anyone can start a blog.
While I do know several stay at home moms who have started a baby blog, it's absolutely okay if that title doesn't apply to you.
If you're working a full time job (like I was when I first started blogging), build your baby blog in your spare time!
In this post, I'll walk you through the steps you need to get your baby blog up and running, and help you get started with some initial blogging topics.
Choose a Blog Name
When choosing a name for your baby blog, try to follow these tips:
Use keywords
Keep it short and make it memorable
Check to make sure it's available
Use Keywords in Your Blog Name
As you are getting into the blogging world, you will start to realize the importance of keywords.
Keywords used within your blog content will help tell search engines like Google, Yahoo, Bing, etc. what your blog is all about and subsequently send more readers to your blog.
For baby bloggers, a few common keywords include baby, pregnancy, breast feeding, newborn, diaper, mommy, bottle, etc.
Using a popular keyword in your blog name will help not only help to make the point of your blog easily identifiable, but it could also eventually help to bring your more web search traffic.
Keep Your Blog Name Short and Memorable
Of course, your blog name can be as long as you want it to be, but shorter is always better.
You don't want a blog name that is so long people have a hard time remembering the name. You want to make an easy first impression with your blog name. You can and should make it unique, but not at the expense of making it too long or not easy to spell.
Here are a few catchy baby blog names include:
Make Sure Your Blog Name Is Not Taken
After you've come up with a couple of potential blog names, do a quick search to make sure they are not taken.
The first thing I like to do it type the blog name into the Google search bar and see what pops up.
Second, I pull up the GoDaddy homepage and type in my potential website address. For instance, if my blog name was going to be New Mom Answers, I would type the name plus the dot com into the search area. GoDaddy will tell you if the website address is available.
Pay for Website Hosting
When I first started blogging, I made the mistake of using a free blogging platform. I thought I was saving money, but really I was setting myself up for a bigger headache down the road.
While you may be tempted to save a few bucks and start a baby blog using a free platform like Wix or Blogger, let me encourage you to STOP RIGHT THERE.
If you plan to make money from your blog (and run it as a real business), you need to invest in a paid, self-hosted WordPress blog.
You can start a self-hosted WordPress blog using SiteGround or start a blog using Bluehost for less than $85 for an entire year! You can start with the basic hosting plan. (Note: When you sign-up with Bluehost, you typically get a free domain for one year.)
For both SiteGround and Bluehost, one click installs WordPress for you. But if you are worried about the tech aspects, their customer service teams are excellent and can do this for you.
By creating a self-hosted blog, you have more flexibility to customize your blog and more options to earn money from your mom blog down the line.
Brand Your Blog
After you've secured your website hosting, you can start the fun part of making your baby blog look cute!
You want to find a reliable WordPress theme for your blog. Themes are basically bundles of computer code that allow you to beautify your blog.
While there are thousands of WordPress themes available online, please know that not all themes are created equally.
Investing in a good WordPress theme upfront will save you from an unnecessary headache later on.
Personally, I love using Restored 316 Design themes for my blogs. They are gorgeous themes and the theme designer is very reliable.
You can also find really lovely WordPress Themes on Creative Market. Just make sure you thoroughly read the reviews on the theme and choose one that has a good feedback.
Start Writing
Once you have the foundation of your blog created, it's time to start writing!
Because you are juggling motherhood and blogging, time management is even more important!
Since you are just getting started blogging, you should try to focus mostly on "How To" and "List" blog posts. Writing these two types of posts in the beginning will help you to get more traffic to your blog. (It's a secret that all the best mom blogs know!)
Most importantly, you want to make sure that you are writing valuable content that is properly formatted and SEO-friendly. I talk about this in more detail in my blog post on how to start a mom blog.
What To Blog About
The possibilities for blog post ideas are endless!
Do you have a favorite Facebook group for moms or a new mom forum you like to read? These are both great places to find blog post ideas.
Creating an intriguing title will help to get more people to click on your blog post. Using keywords in your title that a mom might type into a Google is a really good tip for beginner baby bloggers.
For your list posts, using a number in your blog post title also helps.
To get your creative juices flowing, here are some blog post ideas for your baby blog.
How To Posts
How to Get a Fussy Baby to Sleep
How to Start an Online Baby Journal
How to Make Your Own Maternity Dresses
How to Decide If You Should Get an Epidural
How to Purchase Baby Products for Less
List Posts
5 Tips to Increase Your Milk Supply
4 Easy DIY Projects for Your Baby Nursery
10 Things No One Tells You About Child Birth
7 Potty Training Tips for Toddlers
5 Gift Ideas for Baby's First Birthday
Product Review Posts
Best Baby Crib for Under $100
Best Car Seat for Newborns
Review of Popular Organic Baby Food
Review of White Noise Machine for Nursery
Wrapping Up
Starting a mom blog was one of the best decisions I ever made. Having a blog to work on gave me a much needed creative distraction from my day job and gave me an outlet to help other moms.
Your blog will be an expression of you. Mold it into what you want/need it to be. It's yours! Have fun with it!
Beginner Baby Blogger Tips
Pin for later!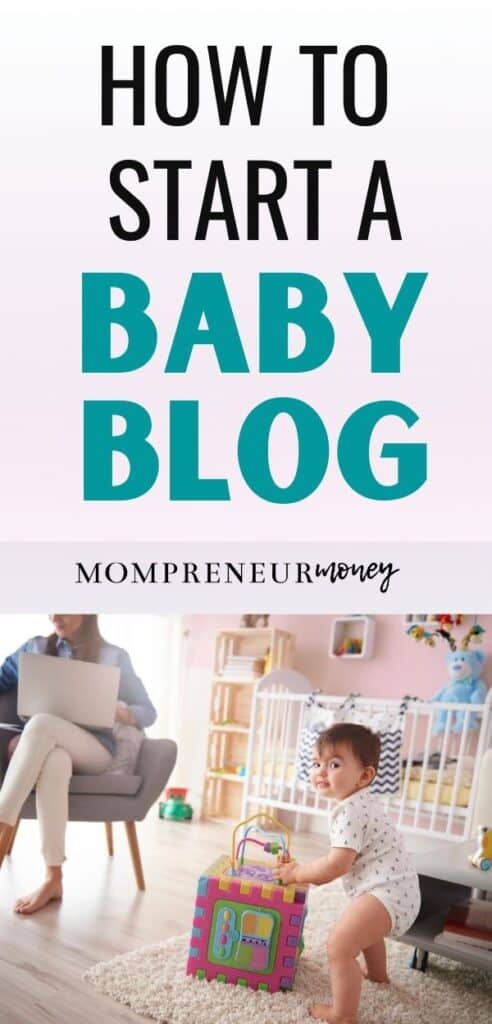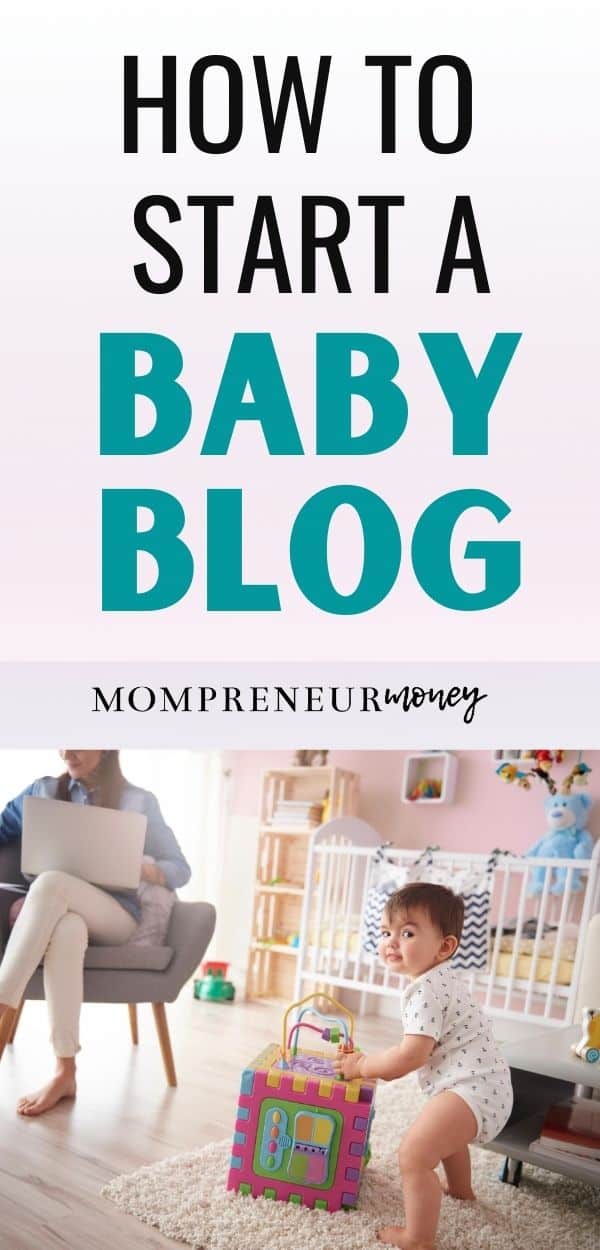 Keep Learning:
5 Steps to Start (or Restart) Your Mompreneur Business
Affiliate Programs for Mom Bloggers