How do you balance blogging and being a mom?
Learning how to balance motherhood and blogging is a process that I continue to work on years after starting my first blog.
To-do lists have become my saving grace. Sometimes I write things down that I've already done just so I can check them off my list! But balancing those business to-dos with daily household responsibilities can be challenging, to say the very least.
Having a husband who works outside of the home, and two little ones to look after (even with them being in school most of the day), and not having a butler, a maid, a chef, and a gardener, leaves lots of chores that mama has to get done throughout the day.
So how am I supposed to do it all?
Here are 3 tips on how to balance life as a mom and blogger.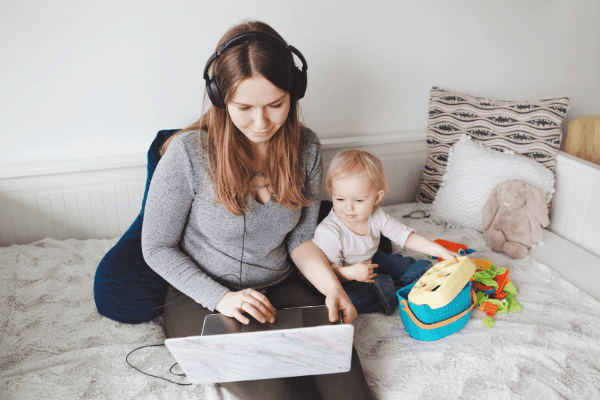 Tip 1: Stop trying to do it all.
This is first and foremost. You do not have to do it all. Not all at once. Pace yourself.
The keyword here is BALANCE. Figure out what tasks are priorities and do those things first.
And don't put 100 things on your list. Make a list of 3-5 things you want to accomplish every day (on the homefront and the workfront) and list the ones with the highest priority at the top of each list. That way it is the first thing you see when you look at it.
If you can cross that ONE THING off your list, congratulations! You're making progress!
Note: Fellow blogger Monica has a great post about what no one tells you when you are trying to be a mom and a blogger!
Tip 2:
Work when you feel most productive.
If you are a morning person, focus on your business first thing. Knock those things off your "Work" to-do list and leave the afternoon for chores and other household responsibilities.
If you like knocking out your housework early, schedule time in the afternoon to remove all distractions and dig into your work.
I, myself, have always been a night owl. I only get up early because I have little ones. After they are dropped off at daycare, I kick my feet up with a nice hot cup of coffee and read a book, or listen to music, or watch a little mindless tv. Me time.
The afternoon is usually reserved for my chores (laundry, dishes, grocery shopping, etc.) before I pick up my babies.Then in the evening when everyone is asleep, I get down to business.
Whatever works for you, do that. Don't try to follow someone else's formula. Do what works best for you and you will get a lot more accomplished.
Tip 3:
Be consistent.
It takes some time to form a new habit (according to Maxwell Maltz, a minimum of 21 days) so the best thing you can do for yourself and your business is to be consistent.
Even if you work from home full-time, set your alarm and wake up at the same time every day.
Try to have your "breaks" and meals at the same time. Schedule your work and your chores for the same blocks of time.
Granted, your day is not going to look exactly the same every day but if you set aside blocks of time for housework and work-work, you will be able to remain consistent and check more off of your to-do lists.
Balancing business and housework can be tough. But you can totally do it. Consistency is key.
Staying on a schedule as if you are still punching a clock can be very useful. Show up on time for yourself just as you would for someone else you work for.
And don't try to do everything at once.
Balance means "stability produced by even distribution of weight on each side of the vertical axis."
You are the vertical axis. In order to maintain some stability in your life, you need to make sure you are evenly distributing your time and effort on each side – with your business and your household.

I hope these tips help you to find some peace with trying to balance motherhood and blogging. If you have any additional tips, leave a reply below. I'd love to hear them!
Did you enjoy this post on worklife balance tips for mom bloggers?