Is affiliate marketing for mom bloggers a good income strategy? Yes!
As a busy mom entrepreneur, trying to find a balance between my work and my family can be pretty tough.
But affiliate marketing is a form of passive income – so you make sales while you sleep!
Read on to learn how to get started with affiliate marketing today.
Affiliate Marketing for Mom Bloggers
Not long ago, I was working a full-time day job and trying to focus on growing my side hustle in the evenings but only after I tended to my family (which of course included my two rambunctious toddlers who had no chill or pause button that allowed mommy to get anything done.)
It's an understatement to say that after a long day at work and then family time, I was often short on energy and creativity, and consequently short of productivity. Sound familiar?
I know that as entrepreneurs many of us create these grand schemes in our mind for the amazing products or services that we plan to create and sell.
And there's nothing wrong with this–actually, planning to sell a product or service is a great plan for your success.
However, it can be very disheartening to see your income reports stuck at $0.00 each and every month because you haven't had the time or energy to put into creating your amazing product idea–which of course means you have nothing to sell in order to earn income.
So what's a busy working mama to do?
Busy Mom Bloggers Should Monetize With Affiliate Marketing
My suggestion is that you should first take a professional Affiliate Marketing course.
Then, start promoting high-quality affiliate products (aka affiliate marketing) on your blog.
This is a fantastic way to start to earn income from your blog or website while you develop your own brainchild.
It is fairly easy to earn money by sharing affiliate links in your blog content.
Here's a simple explanation of how affiliate marketing works:
Find a great affiliate network to join. Becoming a Shareasale affiliate is a good starting point.
Inside the affiliate network, apply to join a few great programs for companies or products you love.
Once you are accepted, you will have access to unique affiliate links to promote products.
You can create content that revolves around a particular affiliate product you want to promote or you can embed your affiliate links within existing content.
Your unique affiliate links have a tracking code within it. When someone clicks on your unique link and makes a purchase, you earn money for referring the sale.
Earning a commission from simply promoting products and services you enjoy is a smart way to monetize your blog.
Recently, I helped a couple of moms start their own blogs using the same service I use for my own blog.
Because I'm signed up as an affiliate partner with that particular company, I received a commission payment of $240 for simply sharing a blog post about a service I use and love.
That's $240 from one product in one month!
I didn't spend hours of time and energy on it nor did I spend bucket loads of dollars creating myself. I helped someone to help themselves.
Pretty simple, right?
Imagine what could you do with an extra $240 in your pocket. Imagine if you were to earn 20 commissions from promoting a single affiliate product.
Now, imagine that number doubling, then tripling month after month as you help more people to help themselves.
I know from real experience that you can earn good money blogging and promoting affiliate links. There are a ton of affiliate programs for mom bloggers that make for an amazing income stream on many mom blogs.
Just in case you need more convincing, here are 5 reasons mom bloggers really should try affiliate marketing as one of your many income streams.
Why Busy Mom Entrepreneurs Should Be Using Affiliate Marketing
Reason #1 – Make money without creating a website
You can promote products using an email list, on your social media accounts, etc. Your own personal website is NOT MANDATORY–but if you want to create a website you can read my post on how to start a mom blog.
Reason #2 – You don't need a huge online following to be successful
Even I was guilty of believing that I needed hundreds of thousands of social media followers and email subscribers to be successful in selling products, but this is simply not true. Having even a small online following can result in sales, especially if the affiliate product you are offering is very specific to your audience's needs and solves a problem.
Reason #3 – No need to spend money on product inventory
Affiliate marketing doesn't require you to make any upfront purchases of products to then have to resale on your own. You're not keeping track of inventory. You're simply sharing affiliate links that allow someone to purchase the product directly from the company.
Reason #4 – You don't have to spend time creating your own product
Again, as mompreneurs, we tend to be extremely short on time. Creating and selling digital products is a process that takes time. Why not make some side income promoting products that are already created, especially if it's a product you love and use anyway?
Reason #5 – No need to worry about paying for shipping or customer service
Dear God this is a big one! Once you start selling your own products and services, you become responsible and liable for shipping and customer service…which can become a time drain in itself. Affiliate marketing means you are hands-free in those two aspects.
The crazy thing is that it took me a while to really embrace affiliate marketing.  I put it off as a primary income source because I was stuck on the notion that I needed MY OWN PRODUCT in order to be super successful.
But I need you to understand that this belief is false. You can start generating income quickly, and the reasons listed above shed light on how this is possible with affiliate marketing.
The Best Affiliate Marketing Courses for Bloggers
You may have heard about the Making Sense of Affiliate Marketing course by Making Sense of Cents.
But have you heard of The Blog Monetization Course by HerPaperRoute?
One blogger received their first affiliate sale just two days after taking the course (and they were a brand new blogger too!)
Another blogger doubled their monthly affiliate income from $2,500 to $5,000
And just look at the reviews from successful students of The Blog Monetization Course!
Investing in quality affiliate marketing training one of the best money-making investments that I have made to-date!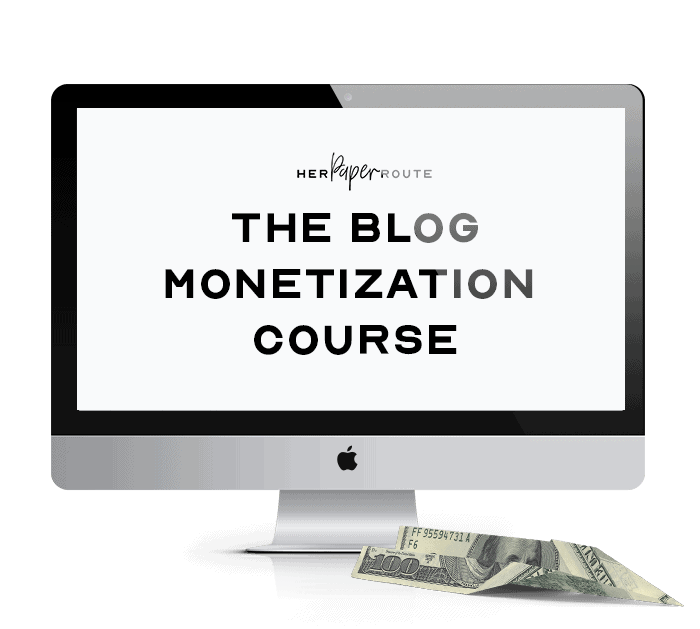 This course is ridiculously affordable and you get a tone of value for the price.
It teaches you what you need to know to be successful in affiliate marketing.
Give Affiliate Marketing a Try
When all is said and done, your business is not going to make money unless you take action. There are a ton of ways to monetize. I simply believe that affiliate marketing is a good way to get started.
Also, get this Affiliate Marketing Income Planner.
After reading this post, I hope that you will seriously consider making affiliate marketing a part of your monetization strategy.
Start promoting those products and services you absolutely love and start earning a commission for the work you put in!
Keep Learning: