Can you earn a full-time income from blogging?
For many of us moms, one of the biggest reasons we start blogging is to eventually make some extra income or possibly even to create a full-time income from our blogging efforts.
Elna Cain is a stay-at-home mom who blogs and writes for a living. She started her income journey as a freelance writer.  Within 6 months of starting, she was earning a full-time income only working part-time hours.
I had the amazing opportunity to ask Elna a few questions about her blog monetization strategies. I think it's important to read about the success stories of other women in this space and be able to take away little nuggets of helpful advice to apply to our own businesses.
Every blogger's journey is different, but I truly believe that success leaves clues. Keep reading to learn more about Elna's success and advice to other mompreneurs.
What's the name of your blog and when did you first start blogging?
My first blog is under my name, Elna Cain, and it's my freelance writing blog. I originally started blogging 3 years ago as a freelance writer. I put up a writer website with my portfolio and services and started a blog.
My blog primarily focused on freelance writing and my journey starting a business. I was learning something new and wanted to share it on my blog. It wasn't until a year so later that my audience grew and I started coaching and also created a course called, Write Your Way to Your First $1k.
During the following year, I gave up coaching as it was too time-consuming along with my client work and created a new blog, Twins Mommy.
This is a blog to help other moms become mompreneurs. I share tips to grow your blog traffic, email list and income. I monetize Twins Mommy with affiliate income and course income.
How many kiddos do you have? How do you balance your blogging and mom life?
I have twins! They will be 5 years old in January. During the entire time I was blogging and freelance writing, my twins stayed home with me. This year they started kindergarten and while this is a very challenging transition for this mama and my twins we are getting through it one day at a time (it's hard letting go!!).
When I was building my business, I only worked when my twins napped or at night when they were in bed. When they dropped their nap, I would set 20-minute blocks to check my email and social media. I would also do research or topic ideas for my blogs and client work.
I would then devote most of the night (7-10:30pm) to blogging, client work, and business growth.
Now that my twins are at school, I can work more in the morning, giving me time to create course lessons for future courses.
Related: The top mom blogs to follow
What was your job prior to becoming a fulltime blogger?
Before I was a fulltime blogger, I worked in the school system helping children with autism. As a support teacher I developed curriculum and behavior management strategies to aid in success at school.
I also worked in the home helping children with autism developing language skills and social skills.
How long did it take you to make money from your blog?
For my Elna Cain blog, I made $400 within two months. This was from client work. I soon grew to $1k and landed more blogging clients.
For Twins Mommy, I made some income – less than $20 – 6 months blogging. I was doing affiliate marketing, but wasn't focused on this strategy as I was working harder building my freelance writing business.
My affiliate income quickly grew to $200, then $2,000 and recently, $6,000/month.
How long was it before you made a full-time income from blogging?
I was able to replace my income within 6 months of starting a freelance writing business. For Twins Mommy, since this is a passion project of mine, I didn't have goals to replace my income.
What the most successful way you've been able to monetize your blog?
The quickest way I generated income was to have a service like writing or graphic design or Pinterest management. Service-based business does trade time for money, but if it's something you love to do, why not do it all day?
But, the most income comes from creating your own products. The more products you can help your audience with, the more income you can potentially have. This diversifies your income stream so that you are generating sales every day
What was the first product that you ever created? Did you consider it a success?
My first product was called Write Your Way to Your First $1k.
I consider this a success. In March I revamped my sales page, put my course on Teachable and really started making multiple sales a day. I'm hoping to create more products for my Elna Cain site this quarter.
How often do you publish new blog posts?
I aim for creating a blog post on either of my blogs once a week, but lately, with course lessons and other projects on my plate, it might be longer.
When I started Twins Mommy, I published two posts a week. These were around 1,000 words or longer and I did this for around 6 months until I couldn't anymore!
How important is your email list to your income strategy?
For both my blogs, I do have a healthy email list. For me, my email list is a way to nurture my followers, get to know them and create that connection.
This helps me be more credible and relatable. And for many people, that connection helps them trust me enough to buy what I recommend.
Without my lists, I definitely wouldn't be this successful so soon. If you build an email list, my best list-building tips are:
Create multiple freebies to offer your readers.
Create freebies that relate to your blog posts. These are cold content upgrades and this is how I first started growing Twins Mommy.
Try promoting a webinar or giveaway. These are highly valuable and I was able to generate hundreds of new subscribers this way.
Make sure your freebie solves a problem your readers have and is a quick win.
What is your favorite blogging tool?
I simply love Pinterest and Tailwind to bits! They've both helped me grow my traffic quickly (and email list). My favorite blogging tool is anything that saves me time. Tailwind.
What's your best advice for moms who want to make a full-time income from blogging?
If you want to start making money from your mom blog, you should try affiliate marketing. The best income-generating posts you can have on your blog are tutorial-based or review-based posts. Share your affiliate product by showing how it works and giving a review of its features.
If you want to go the service route – create your service package, your hire me page and start blogger outreach to get some experience. Trade your service for a testimonial.
Pin for Later!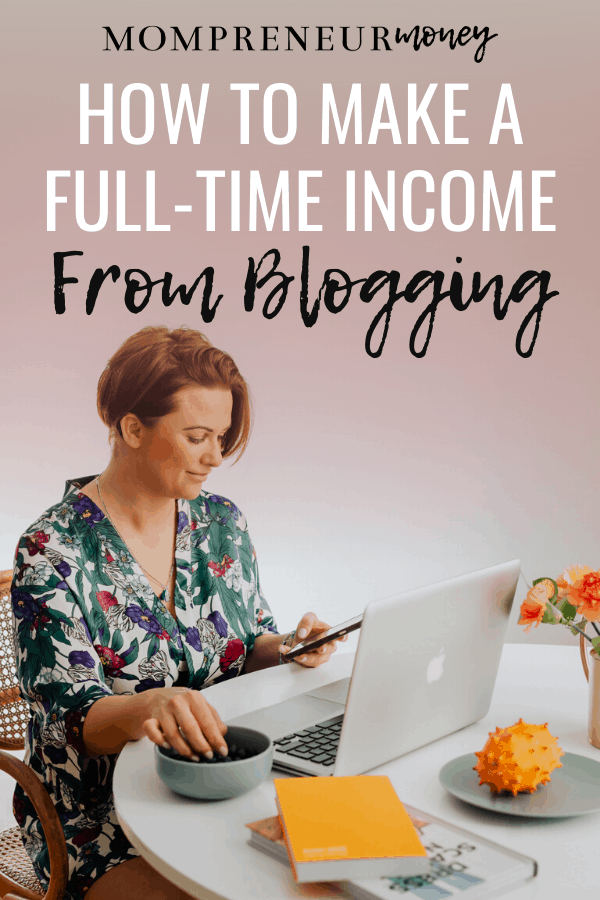 Did you enjoy this blogging advice from a full-time mom blogger?
You may also enjoy these: