Need to know how to start a blog and make money?
You've probably wanted to start a blog for a while now. Let me begin by saying it is never too late to start a blog!
Even if you've been putting this off for ages, you can still start a blog in 2020 and make money.
In this post, I'm sharing what I believe are 4 essential steps to start a blog that will earn you money.
Pay for a Self-Hosted or a Fully-Managed WordPress Blog
The free blogging platforms, while convenient,  will present problems in the future when you are ready to monetize it. This is partly because having a blog on a "free" platform is often considered less professional than self-hosting your own blog.
(Important Note: If you plan to make money from your blog, you'll be creating a WordPress.org site…NOT a WordPress.com site).
Most advertising networks and affiliate programs will not even look your way if you do not own a self-hosted website.
In the beginning, I used a web hosting company called SiteGround. The company offers one of the most reliable and speedy hosting solutions in the industry. I can vouch for their great customer service.
SiteGround is considered to be one of the best and is a great place for new bloggers to get started.
Click here and follow this step-by-step guide to start your blog on SiteGround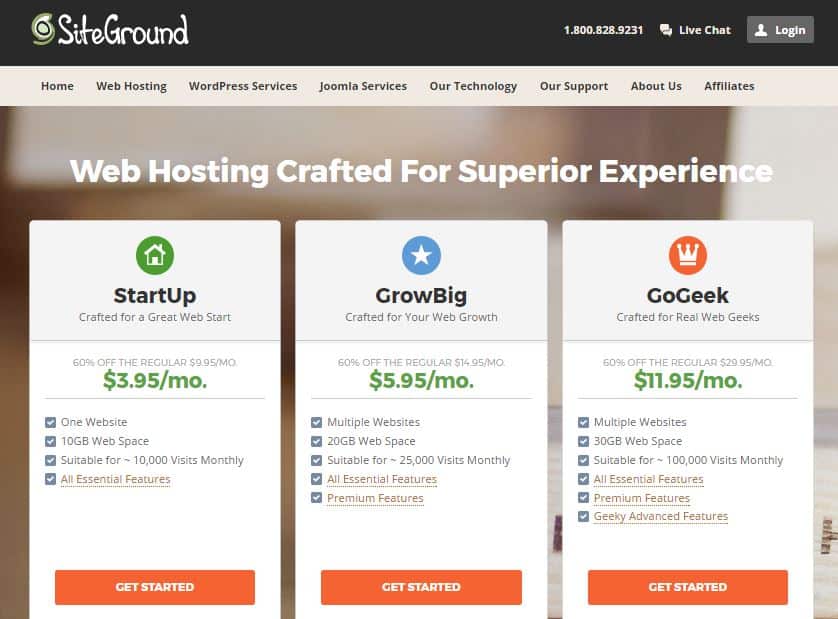 I recently moved my websites to Bigscoots, which is a fully-managed WordPress service. While this service is more costly than a self-hosted site, I get more bang for my buck with Bigscoots in terms of add-on services, website speed, and more.
Bigscoots is also one of the few web hosting platforms that allows you to pay month to month instead of all your costs up front.
Choose a Reliable WordPress Theme
Your WordPress theme is what gives your blog a beautiful and unique look. Unfortunately, not all WordPress themes are created equally.
You need to make sure that you choose a theme that is well made, has good customer service, and will not slow down your website (Google hates slow websites and this will affect your blog traffic).
Currently, I use Genesis Framework by StudioPress on my websites.
When I first started blogging in 2014, I was utterly lost when it came to choosing a theme for my blog. First of all, I had no clue that not all WordPress themes were created equally.
I didn't realize that just because a theme looked ABSOLUTELY GORGEOUS  in the demo version, that hidden pieces of broken HTML code and unresponsive theme developers could make your blog GO UGLY real fast!
Before I found Genesis Framework and their many reliable WordPress theme options (like
Pretty Chic Theme
and
Pretty Creative Pro Theme
), I racked up hundreds of dollars worth of website theme purchases that simply never worked out.
It was both costly and frustrating. But lesson learned. Be picky with your themes and invest wisely!
Another well-trusted creator of Genesis themes is Restored 316 Designs. I love their feminine designs.
Bluchic is also a theme designer that I trust. I've purchased their WordPress themes and landing page templates and found them to be user-friendly, beautiful, and functional.
Although their themes do not run on Genesis Framework, they are still a great option to explore.
Create a Content Plan for Your Blog
After you've made it through the initial steps of how to start a blog including setting up reliable hosting and installing a reliable theme on your website, you will want to focus on content.
Every piece of content has a job to do, whether it's selling a digital product or encouraging people to join your email list. It pays to have a plan, rather than just waiting for inspiration to strike.
My suggestion is to set up a content calendar. I give more tips on content planning for bloggers in my free course.
Now, if you are blogging for income (which I'm guessing is the case since you are reading this blog), all your blog posts should have a purpose and fill a need for your readers.
Writing a blog post is so much more than just putting words on paper. Why are you writing? What are your readers struggling with and how will your content be a solution to their problems?
Your blog posts should also have a call-to-action. That could be inviting them to sign-up for your free offer (aka lead magnet). Or – if you've really nurtured your readers with great content, you can use a paid call-to-action (i.e. offering your online course, working with you one-on-one, promoting an affiliate product, etc.)
Don't forget that after you create all this great content, you need a plan to market it.
Work on making your blog posts SEO friendly so that you can take advantage of organic traffic from search engines. But also remember that you to share your content:
On your socials
Via commenting and guest posting
With paid ads on Facebook or Pinterest
To your email list (which brings me to the final tip)
Start Growing Your Email List
The last crucial component to start a blog you can monetize is to start collecting email addresses of your website readers and turning them into subscribers.
Communicating with your audience via email is an integral part of the blog and income strategy for many successful bloggers.
While you may write tons and tons of amazing blog posts that you publish to your blog, most people will not be checking your blog every single day to see "what's new".
You're going to want to ask them for their email address so that you can keep in touch and keep them updated when your most current content becomes available.
Down the road, your email list will provide a platform to help people get to know, like and trust you enough that they want to purchase your products and services.
I started off using MailChimp as a means to capture the email addresses of my readers and communicate with them. It's a free option that's not a bad choice.
As your blogging needs get more complicated, you may want to check out a tool like ConvertKit which allows you to easily add opt-in boxes directly to your website to collect email addresses of your readers and automatically sends them a free gift like a printable planner or workbook.
You can check out these free list building workshops from ConvertKit.
Whether it's MailChimp, ConvertKit, or some other email marketing platform, the most important part is that you use some reliable method of building your email list right away–it will be super helpful and allow you to make more money from your blog down the line.
Next Steps
So, there you have it! If you really want to start a blog and monetize it, I've just given you the steps to get started. Don't worry about being perfect, just concentrate on making progress.
As always, if you have any questions while setting up your blog or need recommendations for website themes, don't hesitate to comment below or email me. I'm here to help.
Pin for Later!
Did you enjoy this post on monetizing your mom blog? You may also like these…