How to Make Time for Yourself as a Working Mom
How to Make Time for Yourself as a Working Mom is a guest post by Ginny Hurst at Modern Work-At-Home Mom.
Have you seen this meme?
"Can't wait to homeschool my kid while working from home while trying to eat healthy while avoiding the coronavirus while trying to keep sane while keeping up with the news while getting five minutes to myself while cleaning the house while writing a book while being a mom."
That's us right now. Right?
Please tell me I'm not the only mom completely drowning in to-do lists, dirty laundry, school schedules, meal plans, and piles of mail.
And now, we are supposed to make time for ourselves? Like… self-care? 
How in the world are we supposed to fit that in?
Well, you need to. Because otherwise, you could experience serious burnout!
If you Google "self care for working moms", I bet that most of the results include things like, "get a massage", "hire a babysitter", "go on a vacation".
Yeah right. During a global pandemic? 
Instead, I want to share with you easy, free, clever ways to carve out time for yourself as a working mom. These tips don't involve a babysitter, extra money, or even a free schedule.
Curious? Let's dive in!
Five Ways to Practice Self-care as a Working Mom
1. Spend 15 Minutes Somewhere Quiet
This is my favorite way to get 15 minutes by myself.

I just walk away. Literally. 
I lock my kids up (kidding! kind of…). I walk outside and just breathe in the quiet air.
If you have babies and toddlers, just put them in a crib, play pen, jumparoo, or a safe space, and let them exist. (See how I create a safe play area for babies in my living room here.) Even if they are screaming and crying. They'll be fine.
If you have older kids, let Netflix do the babysitting.
This works best when your house is crazy loud and you are losing your mind. 
Some of my favorite ways to escape are to: 
Hide in my closet

Get the mail

Walk around the house a few times

Take a drink onto the back porch

Jump in the shower (this is especially amazing because you can't hear the screaming)

Lay on my bed with my

portable back massager

and latest audio book (see more about this below)

Lay on the floor in a quiet room and just breathe.
Before you say that this is a bad parent move, think about the positive effects. 
Your kids won't remember this moment…they will just remember the moment you come back to them in 20 minutes totally refreshed. 

You'll avoid yelling at them and regretting what you say.

You'll gain perspective.

You'll enjoy being in the house again. 
Try it! Give yourself 15 minutes tonight and let yourself breathe and think. You'll be a new person.
2. Remove One Thing From Your To-Do List
Kendra Adachi (ie. The Lazy Genius) once shared in one of her podcasts: "Figure out what matters to you. What does 'clean' mean to you?"
If "clean" to you means wiping down your kitchen – but ignoring your play room – then forget your playroom! Take "Clean the playroom" off your to-do list.
The same goes for any category. What matters to you? 
Do you care about feeding your kids – but not about cooking homemade meals? Do you love exploring with your kids – but hate bathing them every day? Give yourself the grace and take that pressure off of yourself.
Stop being influenced by Pinterest, and don't try to be the mom that has a hundred things on her to-do list. Here are some ways you can free up your to-do list:
Get grocery delivery instead of shopping in the store

Have your kids eat their lunch as a picnic (outside or inside) to avoid the kitchen cleanup

Lighten up your cleaning schedule – or even hire it out

FaceTime or call your friends/family less often if your social obligations are exhausting

Buy more socks and underwear so you can do laundry less often

Bathe your kids every other day if they aren't that dirty

Skip family dinner and feed your kids dinner early to give you and your husband time to be alone later

Spend one day a week as a "vacation" day. Ignore your emails, leave your messy house, and get your kids outside to explore your town.

Learn how to

clean your kitchen in 5 minutes

. Seriously, life changer.
As moms, we are slaves to our calendar and schedule. Figure out what matters to you, and remove one thing from your to-do list.
Keep reading for more ways to make time for yourself as a working mom!
3. Create An Evening Routine
Recently I was talking to my husband about our evening time, and asked why we didn't have more fun at night.
He responded with, "You always look so exhausted and ragged."
Haha. Never truer words.
But, it made me realize that my appearance and mental state at the end of the day are a choice. I can choose to be fun at night. I can choose to change up my evening routine.
So, the next day I bought new wine – and also some new Le Croix –  to change it up. I took a shower immediately after the kids were asleep, and changed into a fun summer lounging dress. I turned up Beyonce while I washed the day off. And it felt good.
I think we allow ourselves to wallow in our slow, long days, and forget that we can change up the evenings. We can leave the day behind.
If you find yourself on the couch night every night with the day still hanging off of you, then try this instead:
Take a quick shower and do one thing that makes you feel

fresh and new

Grab a glass of something yummy (Decaf coffee? Wine? Topo Chico?)

Turn up Spotify

Dance in the kitchen – or grab your partner for slow dance

Dim your lights and light a candle

Put your phone away

Just breathe
Need to change things up in the romance department? Lately I've been carving out quick fun date nights for me and my husband (at home during quarantine) and the time at night has been FUN. See my quick at-home date night ideas here!
Remember in Sound of Music how the family used to dress in evening wear just for dinner? Let's do the Twenty-First Century version of this and take back our evenings.
4. Date Yourself Once A Week
This idea is similar to the one above, but instead – it's all about you.
If you are a single parent, you might feel that you date yourself all the time. That's all you do, dangit. If you are in a relationship, you might feel that you don't remember the last time you had an evening to yourself.
No matter what your week has been like, you need to focus on yourself.
If your week has been crazy full, wait until your kids are asleep and tell your husband to peace out. You'll see him tomorrow.
If you haven't been able to breathe all week because you are surviving on 1%, then find an evening (or a Saturday morning if there are childcare options – drop-in daycare? A neighborhood mommy's helper?) and give yourself a couple hours to enjoy yourself.
Get yourself ready and look amazing. I recently took a Saturday by myself while my husband watched the kids, and I wore stacked heels to Target. Yep. It was incredible.
Eat your favorite food. Takeout? A hundred appetizers from Trader Joe's? Brunch at Starbucks? That Indian food that your husband hates? Don't hold back. You can still eat healthy most of the time, and endulge some of the time. 
Make it a spa night. Paint your toes. Do your hair. Try out that mask you have in the back of the cabinet. Take a long bath catching up on your favorite podcast or show. Light a freaking candle.
Do something scandalous. Drink a bottle of wine and watch Magic Mike? I'm just saying – have fun!
The best kind of dates are the ones that you anticipate all week long. Start searching on Pinterest. Make a list of movies you want to see. Build up that anticipation and make it worth it!
Do you have any favorite ways to pamper yourself? Share your favorite self care ideas for working moms in the comments!
5. Turn Monotony Into Magic
Recently I discovered audiobooks. 
I don't mean that I figured out that they exist. I mean, I listened to over 30 audiobooks this summer. 
I listen to them while I take my kids to the park, while I wash dishes, while I give kids baths. Y'all audiobooks have changed my routine. 
Instead of dreading the 5 o'clock witching hour when I watch my daughter ride around the cul de sac a hundred times and I follow around a roaming baby, I look forward to it. I'll be able to hear who killed the daring bridesmaid Merritt. Who??
Instead of hating that growing pile of dishes that needs to be washed, I can pop my AirPods in, tune out the world, and hold my breath while Gabriel Legend woos Scarlett Priest.
Ok, I admit, I'm not reading high literature. But I love it. And, I can't stop.
Instead of using the Audible app and paying per book, I use the Libby and Overdrive apps to borrow books for free through my library. You just hook up your library card, and check out any books that are available in your library!
The key is to use AirPods so you can listen to audiobooks hand-free. I love how I can keep the pods in my ears (sometimes I wear them all day and forget if they are in or not!) and they automatically begin playing when I hit "play". If I need to talk to my daughter, I just pull them out of my ears, and they pause the book until I place them back. 
I absolutely love AirPods and use them for everything – books, podcasts, phone calls, YouTube, training videos, FaceTime, basically everything! 
If you aren't into audiobooks – try out podcasts! My favorite podcast by far is The Popcast – where my faves Knox and Jamie turn pop culture into a comedy routine. Seriously, I would listen to them read a cereal box.
Aren't into audiobooks? Try music. Or educational videos. Or, schedule your phone calls while you are giving your baths. 
Turn those crazy mom-ming hours into something you look forward to!
Easy Ways to Make Time for Yourself as a Working Mom
Pin for Later!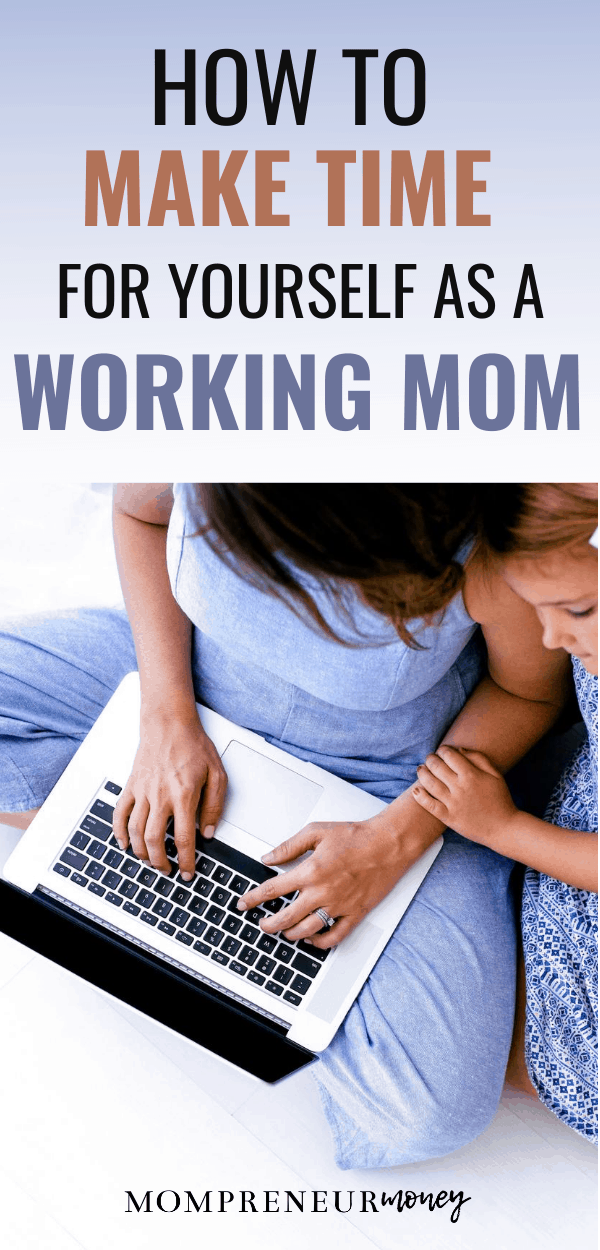 ---
Ginny is married, has two kids, and works 8-5 for an employer (while watching kids, cleaning her house, and making sure dinner is on the table). 
Be sure to visit her at Modern Work at Home Mom and say hi!
You can also follow her on Instagram where she shares everyday tips about laundry, meal planning, kids play areas…and just general fun WAHM things.
---
Keep Learning:
20 Best Stay at Home Mom Jobs to Make Money Online