Looking for an affiliate marketing success story for inspiration?
Because part of the mission of my blog is to show you how I make money online, I wanted to give you a breakdown of how I earned $643.20 by sharing my love for a particular affiliate marketing training for beginners.
Clearly, I haven't been shy about the fact that I think affiliate marketing is a great income stream for mom entrepreneurs.
In fact, affiliate marketing was one of the first income streams that I created on this blog.
I've also made it blatantly clear that it's important to make sure that the affiliate products and services you are promoting are actually ones that you have experience with and genuinely love.
I'm not a fan of just selling something for the sake of making a dollar! You need to really believe in what you're promoting to others.
After taking the Making Sense of Affiliate Marketing course by Michelle Schroeder-Gardner (and LOVING IT), I became an affiliate of her program.
This post is a breakdown of how I earned $643.20 as an affiliate of her program. And yes, this post contains my affiliate links…surprise, surprise 🙂
You'll get to see a Facebook promo I used, an example of one of my emails, and get a few other tips on what I use for promotions. Let's get to it!
Affiliate Marketing Income Example
Below is a snapshot of the program sales I made in 2017. You can see that I receive a 40% commission for each sale which is $67.60. If a payment plan is chosen by the buyer, the commission is broken into two payments of $42 each.
Facebook Ads for Affiliate Promotion
Let me just put it out there right now…I'm not very knowledgeable when it comes to Facebook ads. My ad strategy (when I actually decide to use ads at all) is basically this: SPEND NO MORE THAN THE COST OF ONE COMMISSION SALE AND SEE WHAT HAPPENS.
Again, it's not the best strategy. However, I did make a small profit the last time I tried this method.
Here is what my Facebook ad looked like:
Here is my ad spend:
You can see that the ad ran for 3 days (this is because I was running the ad in conjunction with the flash sale on the course). I spent less than what I would earn if I made just one sale ($67) and my post reached 3,365 people at a cost of $.59 cents per engagement.
Note: Making Sense of Affiliate Marketing now includes a BONUS training section called "How to Maximize Your Reach, Your Impact, and Your Revenue with Facebook Ads". THANK GOD FOR THAT!
In a nutshell, I spent $57.68 on ads and ended up making 3 sales during that promo period which resulted in $202.80 in commission. That's a $145 profit.
Again, I'm not an ads guru and this was before the FB ads lesson was added to the course. But there is big potential there if you can learn how to actually test your ads properly.
My future plan is to use the information presented in the bonus FB ads training lesson, and also what I learned in a special training I was offered by another affiliate program where I earned over $1000 in one affiliate launch (more on that in another post) to boost my affiliate sales.
Email Strategy for Affiliate Marketing
That last thing I want to show you is one of the emails that I sent to promote this particular product.
Having a solid email strategy is a good way to keep your readers informed and help you to make more sales.
Here is a snapshot of one of the emails that I sent during a flash sale: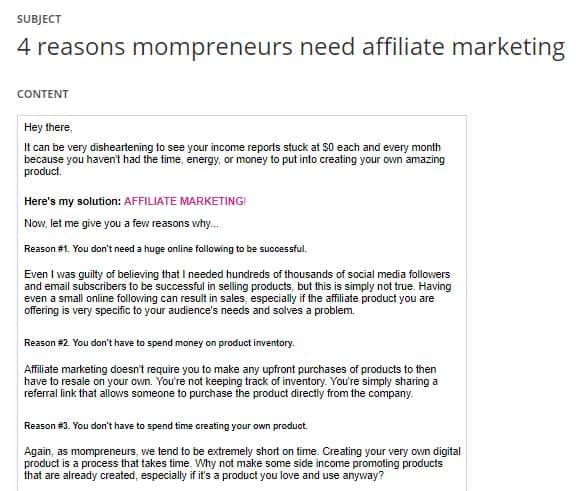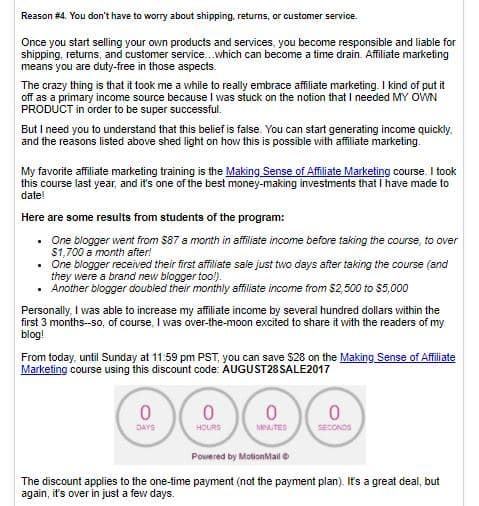 As you can see, I used a countdown timer to help add urgency to the promotion, especially since it was a limited time deal that Michelle only offers occasionally.
I also added a sign-up incentive. If the student enrolled via my referral link, then he/she would get a bonus blog assessment. Not every affiliate program allows you to do that, but it's really helpful when you can provide an additional incentive.
And there you have it! My breakdown of how I made $643.20 promoting Making Sense of Affiliate Marketing.
For some people, this might not seem like much money. But for me, I'm super happy to have been paid for simply talking about and sharing this affiliate marketing training that has helped me become a better affiliate marketer.
This also does not include any earning I've received from other affiliate programs as a result of implementing what I learned in Michelle's course. At this time, I've decided against doing full-blown income reports, but maybe I will change my mind in time.
How has your experience been with affiliate marketing? Any tips or tricks that have worked for you? Have you ever taken an affiliate marketing training? If so, which one? Comment below! Curious minds want to know!
Affiliate Marketing Case Study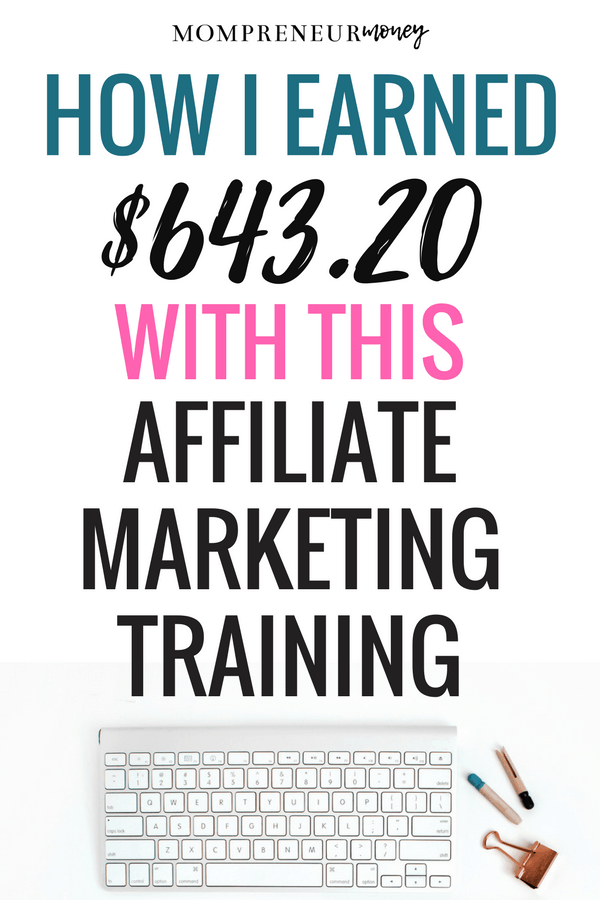 Keep Learning
3 Minute (Honest) Making Sense of Affiliate Marketing Review
How to Start Affiliate Marketing
Affiliate Programs for Mom Bloggers