Wondering if Elite Blog Academy is right for you?
Before I get into the nitty gritty of Elite Blog Academy, I thought I'd give you a brief overview of what led me to enroll in the program.
A few years ago I was looking for a way to balance family life and my day job, while also being able to unleash some creative energy by pursuing some of my entrepreneurial dreams.
First, I started dabbling in the practice of positive thinking, goal writing, and using affirmations and mantras to change my "stuck" mindset. As a result, a few months later, I started my first personal development blog focused on positive living and mindset coaching.
Around the same time, I started another blog as a way to document what I was learning as an online creative and help other aspiring creatives to get started on their own passion projects.
Suddenly, life was so much better! Working on my mindset made me feel less and less stuck. Writing on my blog as a hobby was a creative outlet for me and it brought me a sense of joy that I hadn't felt in a very long time.
After a few months, I realized that I wanted to take my blogging efforts from being a side hobby to an income generating business so that I could QUIT my day job and have more control over my schedule. But I had no clue HOW to make this happen.
Finding Courage To Invest in Myself and My Business
I was afraid to invest any money into real training for myself and my business. After all, how could I justify an educational expense that would affect my family's finances? We were barely getting by as it was–seriously, ya'll…our daycare bill for two kids was higher than our mortgage!
Once again, I started to feel stuck. But ultimately, I knew I would not get unstuck on my own. I'd frequently heard the saying, "Success leaves clues," and suddenly the meaning hit me like a bag of bricks!
I needed guidance from someone who had already achieved the success I was trying to achieve. I needed the candid support from someone whose message resonated with me and whose footsteps I could follow on this path to success.
So slowly, with a little resistance but far more optimism, I started investing in business tools and training to help me better run my online business.
I have to admit–some of the training I invested in was better than others. Some were totally worth my time, money, and effort, while some others I kind of just felt "meh" about it.
But with every experience, I improved. With every training a learned a new way to do something (or not to do something), and in time my business started to grow.
My Experience with Elite Blog Academy
In 2016, I learned about Elite Blog Academy. I'd heard it mentioned by a few bloggers before but never really took the time to look into it much. On a whim, I decided to take a glimpse at some of the Elite Blog Academy Success Stories and I was completely blown away!
It was success stories from bloggers like Gina Horkey, Saira Perl, and Rosemarie Groner (just to name a few) that ultimately convinced me to take a leap of faith and enroll in Elite Blog Academy.
On top of that, I felt a connection with the creator of the program, Ruth Soukup. She too struggled as a mom, wife, and creative. Her story resonated with me and I felt compelled to learn from her. The clues for success were right in front of me, and I could not ignore them!
Here are some of the accomplishments I experienced not long after joining Elite Blog Academy :
Narrowed down my target audience
Created a custom avatar (an ideal customer profile) to whom all my content is directed
Grew my email list to 1500 subscribers
Increased my Pinterest following to nearly 7,000
Tripled my website pageviews
And that's just to name a few accomplishments.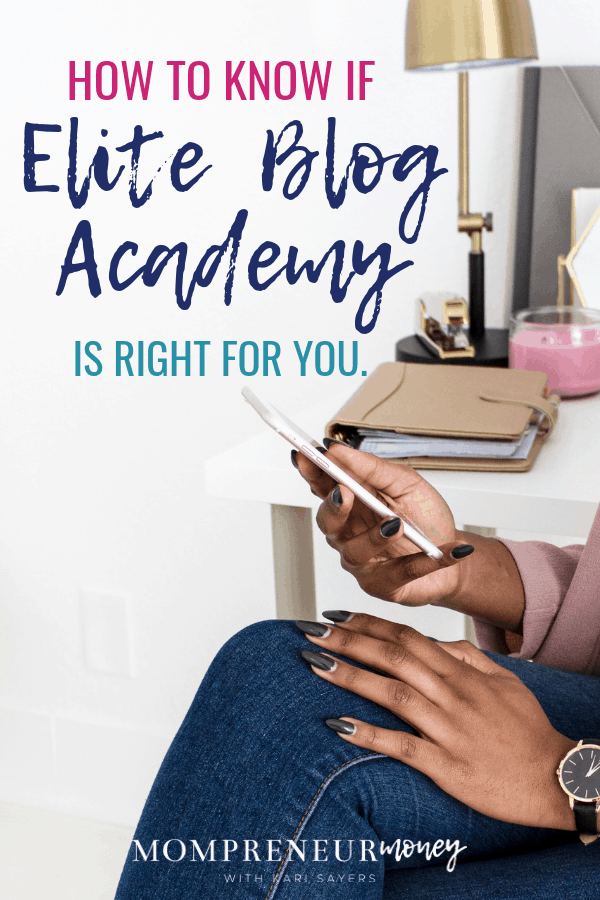 So is EBA right for you?
Well, it depends.
Elite Blog Academy is for people who are committed to following the process and actually doing the work. What most successful EBA graduates have in common is a willingness to complete the assignments in order.
The program works if you do the work.
It's not for people who are going to insist that they've already heard this all before.
The course is not for those who are going to argue that a task seems too basic or complain that it's too hard.
It's not for bloggers who just want to just "skip to the good stuff", picking and choosing the lessons they pay attention to, then write it off when they're not getting results.
The EBA process is designed to create success, but it only works if you are willing to commit to actually doing the work.
Cons of Elite Blog Academy?
Because I really want this to be an honest review, I must tell you my thoughts on the cons of Elite Blog Academy.
First, the program is a bit expensive. Years ago when I took the course I paid a $499 enrollment fee. Currently, the program is priced around $1000.
I believe this pricing is cost prohibitive to many bloggers who are just starting (and even many established bloggers). Which brings me to my second con.
Elite Blog Academy is probably not the best fit for beginner bloggers or those who haven't yet set up their first blog. My opinion is that the lessons and resources in the Elite Blog Academy program will work better for those who already have an established blog and don't need to focus on all the technical aspects of building out a new blog.
It's best for those who are ready to take an established blog to the next level.
But again…that's just my two cents.
It's worth mentioning that the program does include resources to help those who are creating a blog for the first time.
What's Included with Elite Blog Academy?
Elite Blog Academy gives you a proven framework for a profitable business. The course teaches you how to:
Refine your message
Grow your audience
Monetize your platform
and much more!
It is possible to create a successful business from a blog, and Elite Blog Academy shares exactly how it can be done, step-by-step.
Because EBA is designed to be self-paced, in order to do it right, you should give yourself plenty of time. Blogging is not for the faint of heart.
This course requires a willingness to buckle down and get to work. That said, for those who are willing to do the work, it also comes with a 100% money-back guarantee.
How to Enroll in Elite Blog Academy
Enrollment for Elite Blog Academy only opens ONCE each year and is currently closed for enrollment. However, I encourage you to join the waiting list by clicking here so that you can access all the free material and stay in the loop about the next enrollment period.
If you enjoyed this review of Elite Blog Academy, you may also like these posts…
This post may contain affiliate links, as we earn on qualifying sales.
Disclosure.