Monumetric vs 
Mediavine
One of the more popular income streams that bloggers use to monetize their blogs is ad revenue.
Making money from ad revenue can work extremely well for bloggers across a variety of different blogging niches. The key, however, to making money from ads is that you must have a high volume of monthly pageviews coming in to your blog in order to make this revenue stream more profitable.
To get organic website traffic, you need to have a good SEO strategy for Google. The more visitors you get to your blog, the higher your ad revenue will be.
Two of the most popular ad networks compared by bloggers are Monumetric vs Mediavine. In this post, we will discuss those two, but I encourage you to also read this article The Best, Highest-Paying Ad Networks For Bloggers, as well.
The Monumetric ad management platform was started in 2012. The platform was originally called the Blogger Network. They rebranded in part because they wanted a name to reflect the fact that the 2000+ publishers they work with include more than just bloggers.
The Mediavine ad management platform was started in 2004. The platform serves 7000+ publishers.
Below I'll walk you through a few of the most important similarities and differences between the two platforms.
Monumetric Requirements vs Mediavine Requirements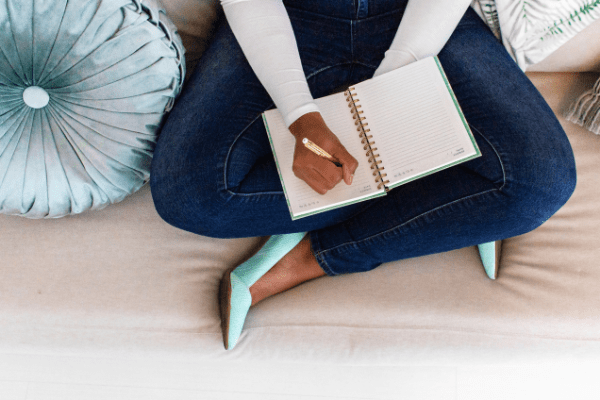 The General Application Process for Monumetric
Before you apply to Monumetric, you should:
Have a WordPress website.
Your site cannot be built using Square Space, Weebly, Wix, etc. If you are not currently using a WordPress website, you can easily migrate over. Here's how to start a self-hosted website.
Have a sidebar on your website.
Your website theme needs to have a sidebar in order to display ads.
Must get approved by major advertisers.
You will have to get approved by Monumetric's major ad partners. The ad partners will review your blog. This process can take as little as 2 weeks or as long as 6 weeks
The minimum of 6 ads per page.
Even though this minimum exists, you can choose which pages and posts on your blog will showcase ads.
50% of website traffic from US, CAN, AUS, and/or the UK.
These countries spend more on advertisements so the platform prefers organic traffic coming to your website from those locations.
The General Application Process for Mediavine
Before you apply to Mediavine, know that:
Your website quality matters.
Mediavine requires that publishers create original content that is highly engaged by users.
You must have clean, verified website traffic.
This means no black-hat SEO tricks or fradulent traffic being served by bots. They will look through your analytics to explore which countries your website traffic is coming from. They prefer to see that your website traffic is primarily coming from the US or European-based countries. Advertisers in these countries pay more which means higher income for publishers!
You must be in good standing with Google AdSense.
If your website has been banned by AdSense, you will not get approved as a Mediavine publisher. You should fix any violations you may have prior to applying to Mediavine.
They care about brand safety.
Mediavine will not approve a publisher whose content is deemed inappropriate. This means if your website publishes any kind of content that could publish their image, you will likely be denied.
Minimum Number of Pageviews
Monumetric has a minimum number of 10,000 page views to apply to their Propel ad management program. You will have to show 30 days of Google Analytics as a part of the application process.
Mediavine has a minimum number of 60,000 page views (which is about 50,000 sessions) to apply to their program. Mediavine will require access to your Google Analytics.
Implementation Fees
Monumetric requires a $99 one-time implementation fee. Mediavine does not require a set-up fee.
Exclusivity Requirement
While Monumetric does offer exclusive arrangements to some publishers, it is not a requirement that you only show Monumetric ads on your site. However, if you choosing an exclusive arrangement, you will typically yield higher ad payments.
Mediavine requires that publishers agree to an exclusive partnership with their ad network. This means that you are not allowed to run ads from multiple platforms on your site at one time.
Ad Installation Process
Once approved for Mediavine, you simply need to install their script and the Mediavine tech team will act as the ad manager handling all the ads on your website.
For Monumetric, you have the option to manually place the ads yourself or allow someone from the Monumetric tech team to optimize the ad placement for you. If you choose to place the ads yourself, a rep will send you ad tag codes to place where you want ads to appear.
Getting Paid
Both ad networks pay you based on RPM. RPM stands for Revenue Per Mile–which means ad earnings per 1,000 pageviews.
Based on my research, the RPM for Monumetric tends to be lower than the RPM for Mediavine but definitely higher than the RPM for AdSense.
For Mediavine, there is a revenue share agreement with 75% of revenue going to publishers and 25% of revenue going to Mediavine.
Monumetric takes a 15-30% commission on ad revenue earned.
Here's an interesting ad network income report from Melissa who blogs at Perfection Hangover. She explains in detail the difference in income she experienced with Monumetric vs. Mediavine.
What should you consider before implementing ads on your blog?
User Experience
You have to decide if you will be more or less aggressive with the ads you allow on your blog. The more ads you allow, the more cluttered your blog may appear. A cluttered blog can create a bad user experience and may cause an increase in your bounce rate.
Site Speed
Inevitably, the addition of ads on your website will slow your site speed down a bit. A slower site speed can negatively affect your user experience.
Good ad networks understand the importance of site speed for their publishers and advertisers so they do whatever they can to make sure site speed is minimally affected.
Which is Better?
Is Monumetric or Mediavine the better ad network for you?
If you have more than the 50,000 sessions (60,000 or so pageviews) required to apply for Mediavine, go for it! Overall, the information I researched seemed to point to the Mediavine ad management platform offering higher payments and having a better user experience.
However, if you are not yet able to qualify for Mediavine, but have at least the 10,000 pageviews required for Monumetric, it's a good platform to get started with. Monumetric is great for publishers who are still growing their website traffic.
Monumetric Ads vs Mediavine Ads
Pin for Later!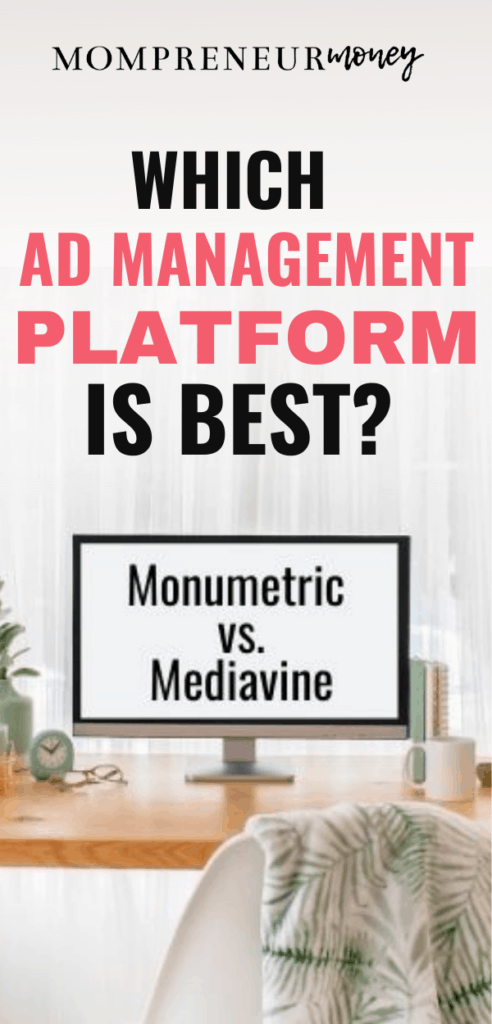 Multiple Income Streams for Mom Bloggers
5 Ways to Create Passive Income on Your Blog
How To Sell Products On Your Blog
10 Profitable Services for Mom Bloggers to Offer
Follow my blog with Bloglovin